Ucommune - A Timely Reminder That Not All SPACs Succeed
Please Note: Blog posts are not selected, edited or screened by Seeking Alpha editors.
Summary
The excitement over SPACs is receding and not a moment too soon to my mind. For not all of them do succeed.
Ucommune is a useful example of one not succeeding, the stock has been on a downward path since listing. It does matter what is bought, not just the method used.
The underlying business itself doesn't hold great attractions either - a small scale and Chinese version of WeWork?
The Ucommune (UK) SPAC
Seeking Alpha is not tracking the Ucommune stock price as yet although there are a couple of pieces - not wholly supportive to be fair - from a year and a bit back when they first started to talk about a US listing.
We might note that the current market cap of perhaps $230 million is under a tenth of what a private investment round valued it at back in 2018 according to one of those earlier SA pieces. This might not be wholly what we're looking for in an investment.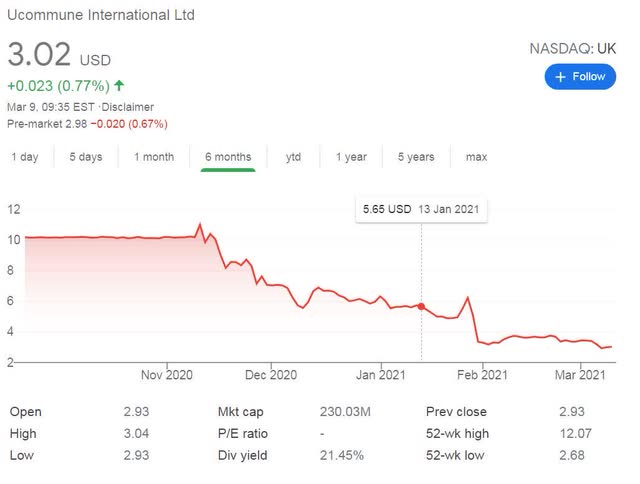 (Ucommune stock price from Google)
That's also what we might not wish to see in an investment. A near steady decline since flotation is, well, it's not what we want at all actually.
The history
A rough pencil sketch of the history is that Ucommune decided to be, saw itself as, the Chinese equivalent or possibly replacement for WeWork. The $2.8 billion valuation in 2018 at which they raised some capital is clearly and obviously coincident with the period when WeWork was going to change the face of business and usher in that brave new world along with Softbank.
Matters didn't quite turn out that way as we know. 
As WeWork imploded - and managed, just, to avoid collapse - the valuation of those following that design and flight path equally declined. The excitement of the business model rather faded as the implications of that model became clear perhaps.
Ucommune was talking about an IPO at the end of 2019, early 2020. There was a slight embarrassment as Credit Suisse and Citicorp declined the opportunity to underwrite it - on the grounds that they couldn't achieve the desired valuation or, as we might put it, the desired price was too high - and there matters largely rested. Until November 2020 when Ucommune did come to market via a SPAC.
SPACs
A Special Purpose Acquisition Company is entirely all the rage at present. The idea is that a company is listed while having no business inside it at all. It simply has the founders' cash in it. The company will gain the listing then buy or merge with a currently privately held business at some point. If it doesn't then shareholders get their money back. If it does, well, dependent upon the joys of the business bought or merged with they might make money.
The advantage to the company being bought is that it's a manner of gaining a stock market listing which is a great deal less tortuous than jumping through all of the usual SEC hoops. As we might imagine this can be and is used by people who simply don't want to have to jump through the hoops. As we can also imagine it might be used by those who wouldn't be able to hurdle those requirements. Or, at its mildest, a SPAC might be used by those who could not quite gain an IPO by other means.
The other advantage is that merging with a pre-prepared SPAC takes very much less time than an IPO. This allows flavours of the month to gain a listing before fashion passes and that flavour is lost upon the bedpost overnight. It is this which, perhaps, explains the vast interest in SPACs in the EV market just recently. FT Alphaville has a handy spreadsheet showing that fashion working out in real time here.
There's nothing inherently wrong with a SPAC as a route to market just as there never was with the earlier technique of a shell company (essentially, merge the private business into the bombed out shell of a previously quoted company). It is true though that companies that use this route might have a little less scrutiny than those that go through the full IPO experience.
We thus might want to have a closer look at SPAC listed companies than those that arrived by those more traditional means.
Ucommune
The first thing we've got to say is that arrival on the markets doesn't seem to have impressed said markets. That $10 flatlining of the price is when it was just a funded SPAC looking for a business to merge with. The price has been in steep decline ever since it turned out to be Ucommune that was to be merged with. We'd probably not take this as a good sign.
Looking at the accounts we might find out why this is:

(Ucommune results from Ucommune)
These are unaudited, only cover the first 9 months of the fiscal year. That's the cash and assets position.

(Ucommune results from Ucommune)
Roughly enough current assets are about nine months worth of losses. Umm, no, we're not happy with that really. Because if that's entirely unchanged then it runs out of money soon enough.
Yes, this is partly unfair because this 9 months does cover the coronavirus times. And yet the vast majority of the business is in China where the lockdowns were much earlier and much shorter than elsewhere. The recovery has also been significant, China is already back to year on year GDP growth.
OK, there's been a secondary issue just very recently which raised some more cash. But it was only $20 million which doesn't extend that runway all that much.
But what about the underlying business? 
OK, yes, what about the underlying business? Leave aside any concerns we might have about the murk through which we view any China based business (Luckin Coffee anyone? Or perhaps the famed SinoForest?).
Think instead of exactly what it is that is being conducted as the underlying business activity. It's the provision of serviced offices. This involves, as with WeWork, signing on to long term leases on large amounts of office space. That's then rented out on short term lets in smaller lots. If you can sell out - or close to - the space then that's a fairly sweet deal as the per square foot rents to be charged on small spaces is very much higher than that on the larger lots being bought.   
But it carries with it vast risk. Because those leases on the purchase side are, in the nature of these things, long term commitments. Equally, on the sales side, the leases are in their nature short term commitments. This leaves the leasing company - WeWork or Ucommune - with one foot in the air. The risk of either pricing or occupancy changing is squarely upon the shareholders of the intermediary company.
To put it into banking terms they are buying long and selling short which is a very risky place to be. As it proved to be at WeWork of course. As I would suggest is happening at Ucommune.
My view
There are enough things wrong here that I don't think we need to look at Ucommune any further. The performance since the SPAC led flotation has been dismal. There's nothing in the accounts to tell us that things are turning in any substantial manner. The business model itself was extremely fashionable about the time of the corporate foundation and has since turned out to work not all that well - to be kind about it.
Money going in here seems to be a method of losing money by paying rents on Chinese buildings. If we wanted to do that no doubt we could more directly. Just sign up for some space and send bank transfers.
The investor view
It is, of course, entirely possible for me to be completely wrong. Perhaps this really is a jewel that is about to boom. If demand for coworking Chinese office space were to be consistently ahead of the supply of suitably sized space then that could indeed happen. But that's a pretty big bet to be taking based upon the track record so far - whether of this company or of the major name in the same sector.
My advice is just to leave well be. Treat it as something we've thought about and decided not to do anything about.
The more basic point to be taken being that not all SPACs turn out well. But then we should have known that all along as well.
Analyst's Disclosure: I/we have no positions in any stocks mentioned, and no plans to initiate any positions within the next 72 hours.
I wrote this article myself, and it expresses my own opinions. I am not receiving compensation for it (other than from Seeking Alpha). I have no business relationship with any company whose stock is mentioned in this article.
Seeking Alpha's Disclosure: Past performance is no guarantee of future results. No recommendation or advice is being given as to whether any investment is suitable for a particular investor. Any views or opinions expressed above may not reflect those of Seeking Alpha as a whole. Seeking Alpha is not a licensed securities dealer, broker or US investment adviser or investment bank. Our analysts are third party authors that include both professional investors and individual investors who may not be licensed or certified by any institute or regulatory body.