China Really Banned Bitcoin Over Financial Repression
Please Note: Blog posts are not selected, edited or screened by Seeking Alpha editors.
Summary
"Financial repression" here is a technical phrase, it's doesn't mean thugs called Fat Tony coming to take all the money.
It's a method by which a government is able to direct the savings of a nation into a desired investment channel, that's what it means.
China has long done this and Bitcoin - and other crypto - was a leakage in the system. That, in my opinion, is why they've banned it.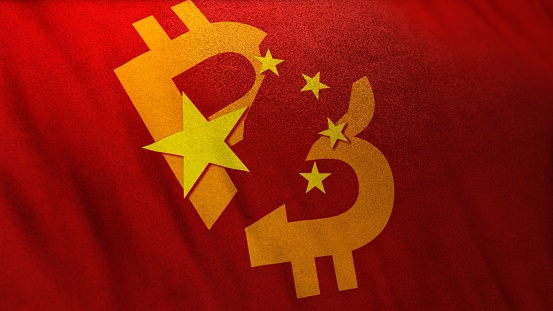 China and bitcoin
Please note this is not about investing in Bitcoin or any other cryptocoin or asset. What it is about is trying to divine why China has banned all transactions in any of them. For only once that is done - the why? understood - is it possible to work out the effects of the ban and whether it's likely to be rescinded at any time in the near or medium term future.
For the avoidance of stress as a result of narrative uncertainty my take on this is that the ban is going to stay. For it's a part of the underlying ethos and system of economic management in China.
The point of working through this is so that it is possible to make decisions about investments in any of the peripheral investments surrounding crypto and affected by China's decision. I have no intention of running through individual companies involved. The idea is to see whether the effects of the ban on the entire sector are temporary or permanent. I say that they'll be permanent effects.
Financial repression
As I say up at the top this is a technical phrase. It's not the idea of some leather jacketed thugs coming and taking all your stuff. Rather, within economics, it refers to the idea that government deliberately edits the savings possibilities of the population. By doing so it allows itself to direct those savings to its favoured destinations. The most usual method of this is to ban, or excessively tax, higher paying investment opportunities and so force those savings into investments with lower returns. 
The usual description of how China does this is to insist that retail savings aren't offered market rate investment opportunities. Yes, the rules on this have been relaxing in recent years but the inclination is still there. Investment outside China isn't something available to the average citizen - it's hard even for corporates. The intention has long been to channel savings into the state banking system. That then means that political decisions determine where loans from that banking system go - increasing political control of the economy.
To my mind at least some of the ire directed at Ant and other online money managers is about how they breach this wall. Just regular folks are able to gain decent, market, returns through varied online products, thus reducing the deposit base of those state banks.  
Whether this should be or not is of course another matter. But as a general description of the Chinese investment scene it is the usual one offered. Investment choices are deliberately limited, returns forced down, in order to push savings through the state banking system where they can be directed upon political grounds. 
Bitcoin
We're told that China has now banned all transactions in Bitcoin and any other cryptos. The reasoning floating around is:
The Chinese government's move to rein-in cryptocurrency also has to do with its desire to exert more control over economic activity in the country. Bitcoin and its brethren were designed as a tool for facilitating transactions without institutional authorities like banks or governments, so allowing them to flourish in any country takes some power away from state actors.
At which yes, but that's a bit wishy washy. Sure, we can understand that a communist ruling party, one that justifies its leading position on the basis of the ability to manage the economy, isn't going to be happy with losing power over money.
But I think it is more than that, it's that financial repression. As above, this also explains some of the unease over Ant and similar money market managers. 
Most specifically, it is difficult for a private citizen to take capital out of China. This for the same reason that the system tries to channel savings through the state banks. There's a possible amusement to this as well - communists are going to be hyper-sensitive about capital because being anti-capitalist is the cornerstone of the base political idea. The aim is to make sure that there's lots and lots of capital available, also that it's cheap, in order to be able to invest to grow the economy. This rather misses the grander economic point, that it's the efficiency of investment that matters, not the volume. But, there we are, this is the way they're running the place.
So, there are restrictions on our Man on the Qingdao Omnibus being able to invest outside China. Yuan to dollar conversions and so on, overseas stock purchases, money transfers and so on, all controlled to greater and lesser extents. The problem the authorities have with Bitcoin etc is that they blow a hole in this control.
Just as an example it has long been generally true that crypto is more expensive in China than outside it. Why? Because it's a way for people to move from inside China yuan to outside China dollars and they're willing to pay a premium to achieve this. That sort of hole in the system seriously undermines the more general system of financial repression.
The effects of this
We can all think of reasons why China has come in with this ban on crypto. Maybe they're worried about the crooks in the system. Or think that it's not safe or something. We could even believe - no, don't laugh - the claimed reason that Bitcoin uses lots of electricity and China is hoping to go green. The point about those and myriad other possible arguments is that they're all politically reversible arguments. It's easy enough to say, well, we've solved that problem now, you can trade in crypto!  
But if I'm right, if this is about maintaining the grip on the investment flows in the economy, then that's not a reversible policy. Because that grip on the economy is the justification for the CCP's power in the first place.
I'm also really pretty certain that I am right about the real justification for this.
My view
As at the top this isn't about Bitcoin itself or the crypto movement. It's entirely about why - note, why - China has instituted this ban. The reason for doing that examination is to try to work out whether it's some temporary halt or some new yet likely to be permanent feature.
I come down on the side of this being a permanent ban. It's not going to go away, certainly not in the next year or two. They mean this and they mean it for reasons of economic management and political power.
The investor view
The implication of it being a permanent feature is that there's no point at all in going looking for deals or bargains in this space. We're not looking at temporary reductions in price for exchanges, brokers, wallet makers and so on. This is a permanent disruption of the business model reliant upon Mainland China customers. Well, at least as legal customers that is.
Which is the point I wanted to get to in this analysis. Nothing to do with coins themselves nor even their valuations. But concerning the companies in the service economy to crypto. Are Chinese involved companies now going cheap as a result of a ban which might soon be rescinded? No, I don't think so. I think this is a permanent restriction upon the market.
Analyst's Disclosure: I/we have no stock, option or similar derivative position in any of the companies mentioned, and no plans to initiate any such positions within the next 72 hours.
I wrote this article myself, and it expresses my own opinions. I am not receiving compensation for it (other than from Seeking Alpha). I have no business relationship with any company whose stock is mentioned in this article.
Seeking Alpha's Disclosure: Past performance is no guarantee of future results. No recommendation or advice is being given as to whether any investment is suitable for a particular investor. Any views or opinions expressed above may not reflect those of Seeking Alpha as a whole. Seeking Alpha is not a licensed securities dealer, broker or US investment adviser or investment bank. Our analysts are third party authors that include both professional investors and individual investors who may not be licensed or certified by any institute or regulatory body.