Luokung Technology - 537% Revenue Gain, Acquisition Integrated, Capital Raised
Please Note: Blog posts are not selected, edited or screened by Seeking Alpha editors.
Tech, Banks, Gold & Precious Metals, Natural Resources
Seeking Alpha Analyst Since 2011
Tim Worstall is a wholesaler of rare earth metals and one of the global experts in the metal scandium. He is also a Fellow at the Adam Smith Inst in London and an writer for a number of media outlets, including The Times (London), Telegraph, The Register and even, very occasionally indeed, for the WSJ. This account is linked with that of Mohamad Machine-Chian: https://seekingalpha.com/user/52914142/comments
Summary
Luokung Technology Corp reported, in Q3 earnings, a 537.9% rise in revenues.
Their earlier in the year mapping technology acquisition seems fully integrated and contributes to that revenue rise.
The company has also raised capital since the half year results, aiding in sorting out the capital base.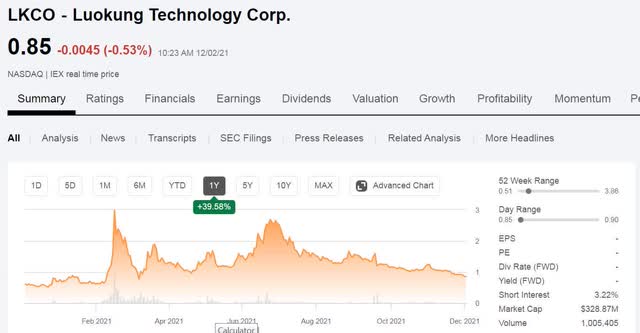 (Luokung Tech stock price from Seeking Alpha)
A slight puzzle
There have been concerns about Luokung Technology Corp (NASDAQ:LKCO) and those have held back the stock price. What puzzles now is that those concerns seem to have been largely met and solved and yet there's been no resurgence in that stock price.
This leads to the thought that perhaps there will be such a rerating. Although quite how the market as a whole is going to treat any individual stock is difficult to divine.
The business
The business itself within Luokung is one of those that should gain investor appetite. Location Based Services (LBS) is by far the majority of the business and this is a go getting sector at present. This is also the sector that has produced those startling revenue gains:

(From Luokung earnings release)
So we're in a thriving market sector, in a thriving market - China  - and we've got excellent results by those revenue gains. So, why no big reaction?
The past problems
There are a number of problems that have held back the stock price in the past. The first and most obvious of these is that the US Government was declaring that Luokung was one of those "connected" companies that shouldn't have a listing in the US. That was all solved over the summer and that issue was put to bed.
The second is that, well, the company had't seemed to be doing very much for some time. That was solved back in the spring with the takeover - or purchase - of  eMapgo Technology. That was of a size to radically change the company.
That in itself could be a drag on the stock price performance. For while a takeover can be done it is necessary to then integrate the new unit under the current management structure. But that question seems largely answered by the rise in revenues as that new unit is consolidated into the corporate figures.
So the three major - potential - drags on performance, those three big questions, all seem to be answered. 
The capital structure
There was one last point to be made, Which was that the company seemed to be capital light for what it was attempting. That's been solved since the last reporting period: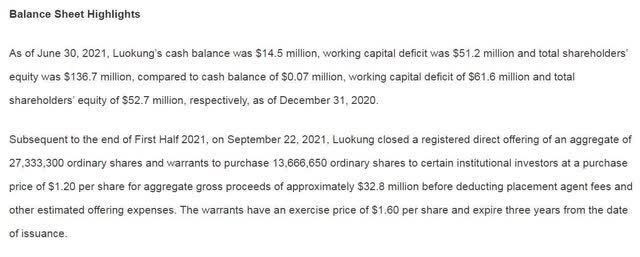 Only $14.5 million in cash was a little light there. The working capital deficit can be ignored as that's based upon historic figures that aren't unusual for a fast growing tech company. 
That issue of stock and the collection of the revenue from doing so also bolster the corporate capital position. There's plenty of time at this run rate to be able to grow revenues through to profitability and positive cashflow. 
Discussion
Those were the four questions about Luokung. What was it doing that was, in fact, exciting? That's something that has been answered by the eMapgo acquisition. The corollary question of how was it going to gain explosive growth is also answered by that same solution of eMapgo.
The worries about losing the US listing have gone. Essentially, the US was looking to apply its principles much too wildly and caught this company in the net. That's now resolved. 
Then there was that final worry over the capital structure. Which has been resolved by being able to place more stock. Sure, at the cost of some dilution but then that's always true. The company does now have what looks a reasonable cash and capital level.
My view
Normally, when a company is able to deal with the major questions being asked by investors there is a rerating. Because the price is being held down by those concerns, deal with them and that price repression should fade. 
The investor view
As you know I very rarely flat out recommend something. I'm of the "here's something to look at more closely" type of recommendation. Which is what I'm saying here too. 
There were those four concerns and all four of them have been addressed and largely assuaged. So, the task is to work out why the stock price isn't rising - that's different from the more usual task of working out whether it will. Luokung looks to me like it's worth more research to see if that rerating is about to arrive.
A fast growing Chinese tech company in the mapping and location services space? Well, why isn't the stock price rising now those possible problems have been addressed? 
Seeking Alpha's Disclosure: Past performance is no guarantee of future results. No recommendation or advice is being given as to whether any investment is suitable for a particular investor. Any views or opinions expressed above may not reflect those of Seeking Alpha as a whole. Seeking Alpha is not a licensed securities dealer, broker or US investment adviser or investment bank. Our analysts are third party authors that include both professional investors and individual investors who may not be licensed or certified by any institute or regulatory body.