With the S&P 500 is still close to 52 week highs & energy well off its lows.. it is starting to get hard to find 'obvious' value in the market.
However if you look outside the US, It is still possible to find some investment candidates which and least appear to present incredible value.
I regularly track insider trades in Hong Kong and a couple of months ago came across a small-cap energy infrastructure company that (In my view) presents such good risk-adjusted value that I couldn't resist writing my first article about them.
Who Are NewOcean Energy (OTC:NOCEF)? - A Summary of Operations
NewOcean Energy is listed in Hong Kong with a market cap of HK$ 3.1 Billion (~US$ 398m) making it a small cap. They have two primary income generating business segments:
1. LPG Import and Distribution Business (~53% of Revenue in H1)
They import and distribute LPG into Hong Kong, Macau & China's GuangDong Provide (Which includes major cites such as Guangzhou / Shenzen, as well as manufacturing hubs such as Donguan). They supply to retail (Bottled LPG for Cooking), wholesale as well as LPG auto-gas refueling.)
They own and operate infrastructure along the whole supply chain for this business. This includes a 'Deep-drafted sea terminal' in Zhuhai, 16 bottle filling plants, over 100 tanker trucks and 17 LPG refueling stations
LPG Volumes have grown about 10-fold over the past 5 years and are up about 20% YOY (H1 2016 Vs H1 2015). But it is likely the period of rapid growth is now over.
2. Oil Products Business (~45% of Revenue in H1)
A newer segment of NewOcean Energy, the oil products business was started in 2012. This business continues primarily of Bunkering / marine oil and gas for ships in Hong Kong waters. They hold a contract to supply ultra-low sulphur marine gas to all ships of the Hong Kong government. They also have the contract to supply Sands Group ferries that shuttle between Macau & Hong Kong.
Over the last couple of years, they have expanded the oil product business into China and completed construction of a 70,000 ton oil deport in Zhuhai. They are looking to expand the land based oils business by working to supply transportation fleet owners such as 'Conch Group' and continue expanding marine bunkering services at strategic locations across the entire pearl river delta.
The Oil Products business volumes have grown a staggering 7-Fold since 2013 and are up a solid 80% YOY (H1 2016 Vs H1 2015). This business still has some growth left as the China expansion continues to roll out.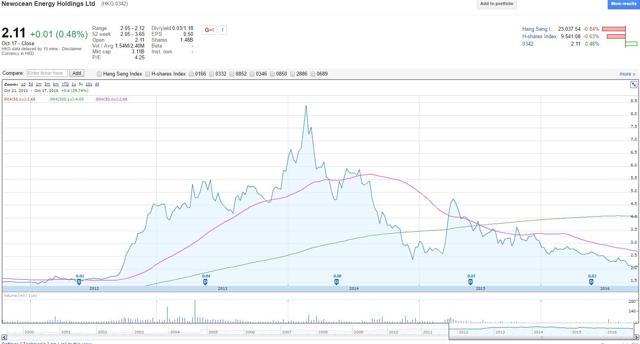 Okay so, first of all, are they profitable and is this sustainable? - A Financial Summary
The Company is profitable and has been for a number of years. They churned out HK$0.51 of EPS in 2015. (The companies share price is currently about HK$ 2.10 )
 
 
For the year ended 31 December
 
2015
2014
2013
2012
2011
2010
 
HK$'000
HK$'000
HK$'000
HK$'000
HK$'000
HK$'000
Revenue
15,514,990
19,633,037
14,433,446
13,462,296
10,116,643
8,477,715
 
Profit before taxation
795,755
922,218
812,225
832,966
332,944
155,451
Taxation
-36,783
-21,312
-29,378
-20,425
-29,915
-18,067
 
Profit for the year
758,972
900,906
782,847
812,541
303,029
137,384
 
Attributable to:
 
Owners of the Company
756,643
900,270
783,308
810,934
306,159
136,647
Non-controlling interests
2,329
636
-461
1,607
-3,130
737
 
 
Earnings per share
Basic (in HK dollars)
0.51
0.61
0.55
0.62
0.23
0.12
Diluted (in HK dollars)
0.51
0.6
0.54
0.61
0.23
0.12
While they have been in the green for a number of years, one thing that becomes apparent quite quickly is that profitability dropped by about 20% after 2014. However, the drop is not as pronounced when you look at (H1 2015 Vs H1 2016):
For the half year ended 30 June
 
2016
2015
 
 
HK$'000
HK$'000
 
Revenue
7,296,024
7,558,252
 
 
Profit before taxation
453,367
488,571
 
Taxation
-17,839
-36,617
 
 
Profit for the period
758,972
900,906
 
 
Attributable to:
 
Owners of the Company
434,464
453,017
 
Non-controlling interests
1,064
-1060
 
 
 
Earnings per share
Basic (in HK dollars)
0.294
0.306
 
Diluted (in HK dollars)
N/A
0.302
 
The Reason for the drop however has been because the company (Like so many others based in this region did in the earlier half of this decade) ventured into a completely different business for 'Electronics Trading' which they are in the process of wrapping up and liquidating inventories for. The Electronics Business revenues fell from over HK$300m in 2015 H1 to a negligible HK$ 40m in H1 2016.
The drop in profit is also due to a lower oil and LPG price post 2014 which has resulted in lower profit margins. This has partially been offset by growing volumes especially in the oil product / bunkering business with volumes up 80% YOY.
So being a China Based Energy Infrastructure company, they must be super leveraged right? (A Balance Sheet Assessment)
This is where things start to get interesting. This growing Chinese Energy company, has a surprisingly strong balance sheet! (Please note. I have not done a detailed assessment of any 'Off Balance Sheet' Liabilities)
For the half year ended 30 June
 
2016
2015
 
 
HK$'000
HK$'000
 
Current assets
8,191,949
7,867,265
 
Non-current assets
3,832,300
3,537,700
 
Total Assets
12,024,249
11,404,965
 
 
 
 
 
Current liabilities
4,360,336
3,866,582
 
Non-current liabilities
1,951,398
2,149,767
 
Total Liabilities
6,311,734
6,016,349
 
 
 
 
 
Total Equity
5,712,515
5,388,616
 
Current Assets less TOTAL LIABILITIES
1,880,215
1,850,916
 
 
 
 
 
Current Market Cap (On 17th Oct 2016 for Ref.)
3,100,000
 
 
In fact their balance sheet is so strong that it has a positive NCAV (Net Current Asset Value) equivalent to over 50% of the current market cap! (and hence, 0 Net Debt)
Of course it is always good to be cautious when dealing with balance sheets in China (Although they have been audited by Deloitte). Hence I propose the following 'Hypothetical' revisions to current assets when doing our analysis:
a) Write off the 'Electronics Business' Inventory of HK$100m
b) As per the latest interim report:
"In order to attract more customers (mainly the customers of the oil products business) under the unfavorable operational environment, the Group largely increased sales on credit for the customers after taking very cautious credit checking. As a result, the trade debtors receivable increased substantially leading to the incurrence of negative operational net cash flow in the first half of the year. Worth noting is that all these trade debtors receivable were gradually being collected, and we have already strived for reasonable credit terms from oil products suppliers in order to improve the operational net cash flow position of the Group in the second half of the year." - Source: Interim Report 2016
I propose to write off about 25% of 'Trade Debtors' which amounts to HK$875,000,000
All in we can write off about HK$1bn from current assets to be prudent.
However, and this is very important, even after this 'Hypothetical' write off, the company has positive NCAV of +HK$ 800m. The Gearing Ratio is 0.55:1 and the NET DEBT/EBITDA is super healthy under 1.5. Hence, the company has a extremely strong balance Sheet.
Surely it must be expensive then! (A Valuation Assessment)
Now here things get really interesting. I will do this analysis by calculating some ratios:
1. 2016 EST. EV/EBITDA
The companies EV/EBITDA (Calculated using the 'Prudent' version of the Balance Sheet calculated above) is
Enterprise Value: HK$ 3,100 Mn - HK$800mn = HK$2,300Mn.
EBITDA (Using H1 2016 Extrapolated): HK$1,182Mn
EV / EBITDA = 1.82
2. PRICE/BOOK
After Writing off HK$1Bn of current assets to be prudent we get a book value of
HK$ 5,700 Mn (See Balance Sheet above) - HK$ 1,000Mn = HK$4,700Mn
And a Market Cap of HK$3,100Mn (On Oct 17 2016)
Price / Book = 0.66.
What's even more incredible is that the Book Value has increased by over 100% in the past 5 years. (NOTE: I have not been able to find out if there has been any dilution in the past 5 years but forecast Book value per share is expected to continue increasing by approx 10% per year according to ThomsonReuters Estimates)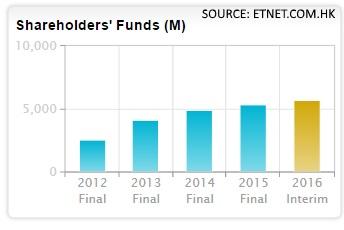 3. P/E RATIO & CASH FLOW
The current TTM P/E Ratio is about 4.2 the Forward P/E Ratio for 2016 is similar.
Please note though that is is an energy / infrastructure company so P/E Ratios have limitations due to high CAPEX expenses. Having said this, NewOcean Energies major CAPEX Expenses seem to be behind them. Nevertheless, here will surely be ongoing expenses. (In the past quarter they spent the equivalent of about 50% of Operating Cash Flow on CAPEX)
Well then if its that Cheap are insiders buying shares?
Yes, Absolutely. The Insiders who are already substantialshareholders have been purchasing.
Check out the CEO's Purchases over the past 18 months:
26/09/2016 Shum Siu Hung +2,372,000(NYSE:L) HKD 2.145
14/09/2016 Shum Siu Hung +3,236,000(L) HKD 2.209
12/01/2016 Shum Siu Hung +88,000(L) HKD 2.871
11/01/2016 Shum Siu Hung +772,000(L) HKD 2.881
26/08/2015 Shum Siu Hung +1,400,000(L) HKD 2.924
08/07/2015 Shum Siu Hung +3,138,000(L) HKD 2.852
06/07/2015 Shum Siu Hung +2,492,000(L) HKD 3.010
Purchasing at the current price of HK$ 2.11, will allow you to get in bellow Mr. Hung's lowest purchase at HK$ 2.145.
So are you saying you think this company is risk free? (A Risk Assesment)
While I believe the company is of great value here, even using our prudent approach, it is worth going over some of the possible risks.
1. Reduced LPG Demand
As China rolls out its 'Natural Gas' Infrastructure, with companies like 'China Gas Holdings' etc. customers could potentially switch from LPG to Natural Gas. This is why NewOcean energy has put expansion into LNG a top priority.
Having said this, switching to Natural Gas will take time and in Asia energy demand is a lot more price elastic than it is in the west. Cheap LPG will likely tempt customers to stick to LPG, especially Industrial customers who are trying to make up for rising labor costs in Guangdong province.
On the Supply side NGL production in the US has increased dramatically due to efficiency improvements in shale. This should keep LPG prices low for a prolonged period of time vs LNG which is expected to forecast before 2020.
2. Low Dividend
While the company has maintained a very low Dividend payout ratio of under 15%, they cut the Dividend in 2015 by over 50% due to the crisis in the energy market. This could deter investors who are looking for Yield. The Current yield is only 1%. If our hypothesis about this company plays out correctly, they will have no problems increasing the dividend significantly from here.
3. Contract / Counterparty Risk.
While we have been prudent about the risks that exist on with debtors, there also exists a risk with contracts. How secure is their contract with the Hong Kong Government? How Secure is their land lease in Zhuhai? Can regulation in China have a significant impact to the business?
4. Who is selling at these levels? - BLOCK TRADE
According to etnet.com.hk, there was a BLOCK TRADE of 5m shares at HK$ 2.14 on the 14th of October. While it could just a regular sale or even a panic sale, It is of course worth questioning who sold these shares and why?
Conclusion
While certain risks do exist, I do believe they are more than priced in at this deep value of an EV/EBITDA of under 2.
Considering the Strong Balance Sheet / Insider Buying / Potential Growth a fairer EV/EBITDA should be around 3-4.
Hence I will put a personal price target of HK$3.00 - HK$3.50. (40% - 60% upside from here.)
Disclosure: I am/we are long NOCEF.
I wrote this article myself, and it expresses my own opinions. I am not receiving compensation for it (other than from Seeking Alpha). I have no business relationship with any company whose stock is mentioned in this article.