NOTE: Namaste Technologies is a microcap companies and subject to many of the risks associated with smaller companies. Offsetting risk to some degree is a very high level of sales relative to market cap.
Looking ahead, I expect the small and microcap Canadian cannabis will be the leading performers in 2017. (Why small cap Canadian cannabis stocks will lead the way) My initial selection was Lexaria (OTCQB: LXRP) which has performed very well more than doubling in four months and it generated a robust level of commentary indicating a high level of interest in LXRP's technology.(see Lexaria: the best cannabis technology you can eat)
My next small/microcap selection that I think merits investor attention is Namaste Technologies (OTC: NXTTF) and (CSE: N). NXTTF is an Internet marketer of vaporizers and accessories to the marijuana industry around the world.
Here is a summary of my thinking:
NXTTF has a simple but exceptionally high growth business model. Management is key to a small company. Namaste is substantially undervalued based on market cap relative to sales trading at a market cap of approximately one times sales. Our entry point is one of accelerating sales and an explainable decelerating stock price.
I cover each of these points below.
Business Model: NXTTF has a simple and logical business plan - apply retail e-commerce to market cannabis products internationally.
High growth in Internet sales: e-commerce sales are forecast to continue to grow rapidly long into the future. The chart below shows the projected growth in international retail e-commerce sales from 2015 to 2020. The data is provided by eMarketer.com.(read full report here) As can be seen, e-commerce retail sales are projected to rise to $4.1 trillion by 2020. This is an average growth rate of approximately 22.0% per annum. At the same time, overall retail sales are forecast to grow by only an average rate of 5.9% per annum. In other words, retail sales via the Internet are expected to grow at over three times the rate of all retail sales. Combining these trends, e-commerce will still only represent less than 15% of all sales in 2020. In other words, the above average growth rates in Internet retail sales can continue for many years into the future.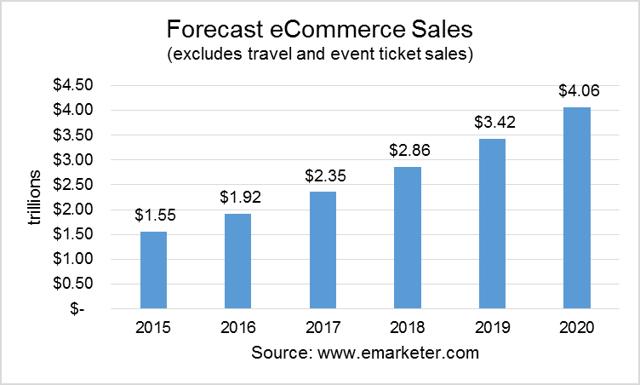 Marijuana is expected to be the highest growth industry in the U.S.: not only is Namaste working in the high growth Internet sales market, they are selling products associated with the higher growth marijuana industry. The chart below shows the forecast growth in marijuana sales through the year 2021 as prepared by ARCVIEW Market Research.(read Executive Summary here) This chart shows medical marijuana sales forecast to grow from $4.16 billion in 2015 to $7.74 billion in 2021. Recreational or Adult Use marijuana sales grow from .95 billion in 2015 to $14.85 billion in 2021. Although adult sales start off at a lower level, sales are projected to surpass medical sales in 2019. Total marijuana sales are expected to grow at a compound annual growth rate of 27.2% making marijuana the highest growth industry in this time frame. In other words, while Namaste is based in an e-commerce industry that is expected to grow at 22.0% per annum, they are marketing into an industry forecast to grow at 27.2% per annum.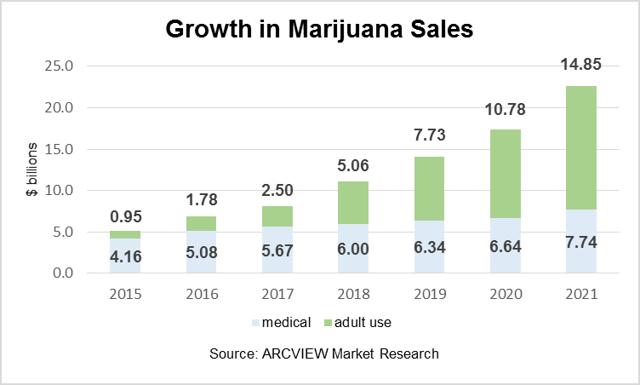 Sales of vaporizers and accessories: Namaste is not only engaged in e-commerce that is expected to grow at nearly four times the rate of regular retail sales, they are involved in marketing products to the new and burgeoning cannabis industry that is expected to be the most rapidly growing industry in the foreseeable future. On top of that, Namaste is marketing vaporizers and accessories that are expected to be one of the most rapidly growing subsets of the marijuana industry. Vaping is a healthier option than toking as it does not involve inhaling smoke from combusted marijuana or tobacco. In addition, it allows a person to enjoy their substance of choice with, in some cases up to 30% lower cost and can be used in a shared, social setting. Finally, as public smoking becomes less acceptable, vaping is preferred because it is more discrete and less disruptive to people in the vicinity.
According to Wells Fargo securities analyst Bonnie Herzog, use of vaporizers and accessories will overtake sales of combustible cigarettes in 10 years. The chart shows the projected growth in this sector out to 2022. This is a growth rate of 35.3% per annum. It is reasonable to assume the sales of vaporizers and accessories will outpace the growth rate in marijuana sales for many years to come. In October 2016, it was reported with Namaste's closure of the URT1 Limited acquisition, it "…is now the world's largest e-commerce company focused on the sale of vaporizers and accessories."(read full report here)
So Namaste is operating in the high growth e-commerce sector, marketing to the highest growth marijuana industry selling products that will outgrow the sales of marijuana.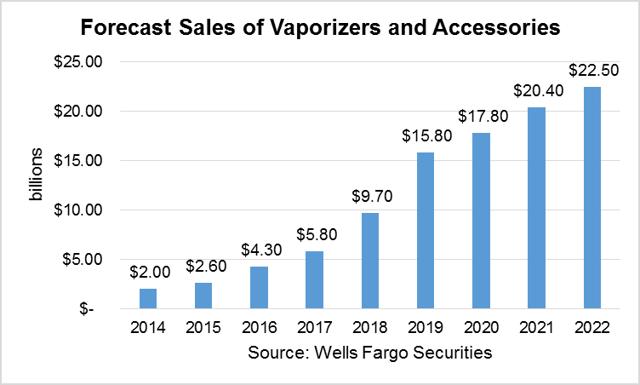 Acquisitions: should drive Namaste's growth to a higher level than the internal growth rate of its business sectors. The next chart shows the impact acquisitions have had on the growth in site traffic in 2016. As shown, site traffic increased 1,500%. The formula is simple: higher site traffic = higher sales.
Site visits jumped in August 2016 when NXTTF acquired VaporSeller an e-commerce portal selling vaporizers and accessories. When a site is acquired, integration activities follow including: software integration, inventory storage and controls and the transition of customer service and support functions. This takeover produced:
An annualized revenue increase of 142% to US$5.8 million; An increase in the customer list of over 150,000 names; New manufacturer relationships and products accompanied the transaction to be sold by VaporSeller as well as Namaste's sales divisions; and, a strategic entrance into the US market.
A major increase in site visits can be seen in November 2016 when NXTTF acquired everyonedoesit.com (URT1 Limited), one of the top five domains in the world selling vaporizers, pipes and accessories. URT1 operates two websites, www.everyonedoesit.com and www.everyonedoesit.co.uk, and retails through select third-party marketplaces.
The combined companies will operate 26 websites in 20 countries offering over 3,000 products with distribution centers in North America, South America, Europe and Asia Pacific. Sales and product support is provided in English, French, Italian, German, Spanish, Portuguese, Hebrew and Dutch. This acquisition elevated Namaste to a whole new level as the largest business to consumer e-commerce retailer of vaporizers and accessories globally. Unaudited pro-forma sales for the year ending August 2016 were $10 million.
Acquisitions have a potentially positive impact on the bottom line as well. Improved gross margins can result from increased buying power for an expanded vendor base and increased private label sales. In addition, there is a reduction in overhead costs due to shared technology and e-commerce platform, leaner centralized management team and outsourcing of staff functions to India. NXTTF concludes the resulting increased cash flow generation creates a financial platform for further industry consolidation (acquisitions).
Private label sales is a reference to NXTTF's own line of vaporizers and accessories that carry a higher margin. With each acquisition comes the opportunity to offer these higher margin private label products to a completely new market.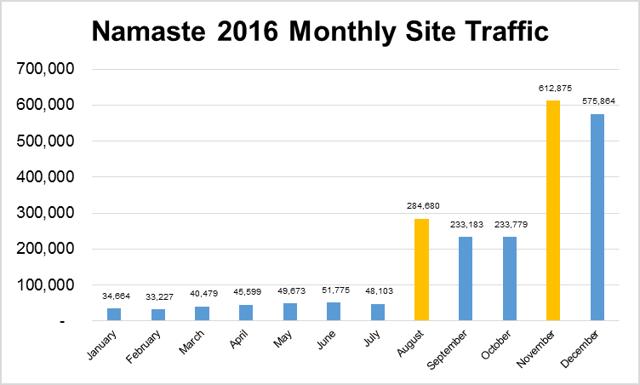 Conclusion: The growth potential presented by NXTTF's business model is significant. When you combine the growth prospects offered by e-commerce into the cannabis market with a focus on the most rapidly expanding product lines topped off with industry consolidation through acquisition, it adds up to very high growth potential.
As Namaste management said on September 15, 2016 "Following from the acquisitions of VaporSeller and URT1, revenues for the fiscal year ending August 31, 2017 are expected to be C$15.7 million and C$24.9 million for the fiscal year ending August 31, 2018. It is expected that the company will generate positive earnings before interest, depreciation and amortization by December 31, 2016. It is anticipated that Namaste's revenues will increase in line with projected growth for the industry of 35% per year for the period 2014 - 2020 (Source: Wells Fargo Research)."(read full report here) The company anticipates operating profitably in fiscal 2017 (yearend August).
Management: I believe management is the key to any small/microcap company. NXTTF has two co-founders with very complementary skills: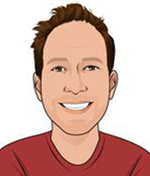 Sean Dollinger is a Co-Founder, President, Chief Executive Officer and Director. He has over 12 years of experience as an entrepreneur focused on online marketing, website design, retail and real estate. Core areas of expertise include concept and market creation through international e-commerce channels, formation of strategic supply and distribution partnerships, opening logistics channels and customer service. Sean's educational background is in computer science and business management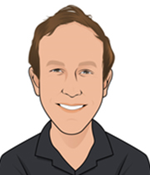 Kory Zelickson is a Co-Founder, Chief Operating Officer and Chief Technical Officer. Kory has over 12 years of experience as an engineer (BEng. U of Manitoba) focused on designing, developing, manufacturing and distributing new products and concepts internationally. He has expertise in online marketing and e-commerce and has been involved in developing multiple companies from scratch. Kory also has skills encompassing the vaporizer/industry technology online content publication.
Together, Sean and Kory have assembled an impressive team that includes:
Darren Collins: Executive Vice President, Corporate Development with over 8 years of corporate and project finance experience. Previously with Alegro Capital, Scotia Capital, and Quest Capital (currently Sprott Resource Lending) and several corporate issuers. Darren has been involved in over $1 billion worth of transactions spanning mergers and acquisitions, debt and equity financings, joint ventures and commercial supply agreements and holds a BCom in finance from Dalhousie University
Justine Anderson is Vice President of operations with a background in warehouse and inventory management, international imports and exports, order processing/management and fraud risk management.
Michael Roche is Vice President of customer relations with expertise in international sales management, returns issuance and processing, end user sales and technical support and product quality review.
Chelsea Palmer is the Social Media and Marketing Manager with experience in online content management, social media management, photo/video media production and vaporizer reviewer and is a product expert.
The following table illustrates what management has accomplished and the potential that remains to improve results following the acquisitions described above. Acknowledging some of the differences may stem from geographic differences, Namastevapes produces a higher conversion rate and a higher average ticket than the two acquired sites. This is a reflection of management's accomplishments. It also reveals management's challenge and opportunity which is to increase the conversion rates and ticket prices of the other two acquired sites.
Conclusion: Dollinger and Zelickson entered this area consciously. They saw an opportunity and went after it. To date they have been very successful and I believe these positive trends will continue. I conclude this management leadership and team have the skills necessary to carry out their business plan. If they are successful, investors will be richly rewarded.
Namaste Technologies is undervalued. The fiscal year end is August.
For the first quarter ended November 30, 2016, net revenues were $2,087,188 compared with $1,175,341 in the same quarter a year earlier, up 77.6%. In December, traffic was recorded from 184 countries of which the United States (68%), the United Kingdom (16%) and Canada (5%) were the largest. Trailing revenue stands at $12.4 million, sales for the fiscal 2017 year are expected to be C$15.7 million rising to C$24.9 million for fiscal 2018. For the calendar years 2017 and 2018, sales should be in the range of $17 million and $28 million. With 113.4 million shares outstanding, Namaste's market cap is approximately $22.7 million. The stock is trading at 1.3 times fiscal 2017 forecast sales and .8 times fiscal 2018 estimated sales. This is an extremely low valuation relative to sales in the small cap marijuana group.
The chart below records the Canadian trading of Namaste (CSE: N) provided by TMX Money. We have used this chart because Namaste is not yet trading actively in the U.S. What the chart shows is the stock rallied to a high in the Canadian marijuana stock rally in October/November 2016 but since that time, especially so far in 2017, the stock has been very weak.

On October 17, 2016, Namaste announced the closing of a non-brokered private placement of 25,000,000 units at a price of $.12 per unit for gross proceeds of $3,000,000. Each unit consisted of one common share of the Company and one-half of one common share purchase warrant with each full Warrant being exercisable for one common share at an exercise price of $0.20 per common share for two years from closing.
In Canada, private placements are typically subject to "hold periods" of four months. That means these shares and warrants were free trading effective February 17, 2017. I believe this is the reason the shares have been soft for the past several weeks. The stock did bounce smartly on the last day of last week. So the timing for a new investor is excellent. While it is true, today's buyers may have to "eat" shares offered by private placement investors, it also means positions can be established without driving the market price higher. The stock popped late last week so I wouldn't chase the stock too aggressively from here. When shares have transitioned from weak hands to strong hands, I suggest the stock will move substantially higher.
Conclusion: It's not often you find a small to microcap company that is trading at such low multiple to sales. N's growth rate should be 30% a year plus for at least five years and if they can make another acquisition, they will have another leap to a new level. Profit should be attained in the next six months and possibly sooner. This is one of the few smallcap companies that is backed up by fundamentals.
Disclosure: I/we have no positions in any stocks mentioned, and no plans to initiate any positions within the next 72 hours.