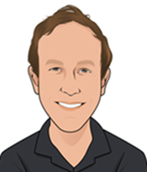 I had a chance to speak to Kory Zelickson of Namaste Technologies(OTCQB: NXTTF) recently. Kory is a Co-Founder of Namaste. He has over 12 years of experience as an engineer (B.Eng. U of Manitoba) focused on designing, developing, manufacturing and distributing new products and concepts internationally. He has expertise in online marketing and e-commerce and has been involved in developing multiple companies from scratch. Kory also has skills encompassing the vaporizer/industry technology online content publication and is one of my two main contacts at the company. I have liked the prospects for NXTTF for some time.(see my previous post 'Namaste - It's Time to Fill Your Boots.'

I conclude things are coming together for NXTTF that will put it in a prominent place in the international cannabis space. I expect it to have the only marketplace where medical cannabis users can go to purchase their medication as well as the appliances they require. Conceptually, this brings together their online marketing of vaporizers and related hardware and their plans for subsidiary CannMart.

Internet Marketing: NXTTF has built an international internet distribution network that records traffic from over 180 countries and directly reaches 26 countries in nine different languages. The company offers virtually all high end brand vaporizers and generated over $3 million in sales in the first year of business. That trend has continued and to date this has been a very successful initiative. As I reported in the Let's Toke Business newsletter, the N ew Cannabis Ventures 'Public Cannabis Company Revenue Tracker' ranked NXTTF 8 th in the Canadian list. Six of the seven companies ranking higher are licensed producers, that is, companies licensed to grow marijuana.(see full New Cannabis Ventures rankings here) In CannaInvestor's Top 25 Cannabis Companies based on Quarterly Revenue based metrics, NXTTF was also in good company with an 8 th place ranking.

Moving ahead, NXTTF sales will benefit from the current rollout of its new machine learning algorithms. This approach, used by all major online sellers such as Amazon and eBay, analyses and remembers the characteristics of shoppers and visitors to the website. This enables the website to guide shoppers to the products that will most likely appeal to them. This has the effect of increasing the conversion rate of visitors to customers and exposes buyers to different, upscale products. In other words, NXTTF revenue will benefit from the dual impact of increasing traffic to their websites and the increasing conversion rate and buying per shopper. In the longer term, additional acquisitions are likely.

So as investor preferences move toward revenue and fundamentals, NXTTF will feature what the market wants.

Cannmart: the objective is to create a single marketplace where a patient can access cannabis strains offered by many Licensed Producers together with a complete range of appliances. This will be a site that also offers improved fulfillment and aftermarket services. This will be truly unique in the industry and will expand and grow internationally as laws change.

The application for a license to sell cannabis is progressing. When received, the approval will enable Cannmart to purchase cannabis from other Canadian Licensed Producers on a wholesale basis for resale to their online customer base. In the meantime, NXTTF will be able to reach agreements with LPs to purchase their cannabis products. This is a positive decision for growers because it is another marketing channel working with the Company that is in a leadership position in this channel. For example, NXTTF just announced a supply agreement with Aphria (USOTC: OTCQB:APHQF) that is a revenue and EBITDA leader in Canada and one of my favorites in the Canadian Licensed Producer group.(see press release here)

The Cannmart plan also envisions NXTTF providing improved fulfillment and aftermarket services. In terms of fulfillment, the Cannmart facility is near the Toronto airport. So an order by an Ontario patient from a B.C. grower, for example, can have a much shorter delivery time using this approach.

NXTTF makes a valid point with respect to dispensaries. To date, both Ontario and New Brunswick have announced plans to restrict cannabis sales to government operated liquor stores. They question if medical users want to access their medication through a vendor at a government owned liquor store. It is doubtful that a liquor store clerk will be able to provide advice regarding strains that work best with a particular affliction or the aftermarket follow-up depending on the effectiveness of the strain. When you blend in NXTTF's expertise with vaporizers and accessories, this provides a unique opportunity with respect to medical cannabis. No one else is able to provide such a full service marketplace for patients. As a result, the medical market will be their initial focus.

The Investment Opportunity: As Anthony Cataldo observed in Seeking Alpha last year "…fundamentals do not matter."(see Cataldo's '… If History Repeats, Sell Your Marijuana Stocks In November') I have followed Cataldo's advice to great benefit. As Cataldo's research found, cannabis stocks have been primarily event driven. But after a prolonged stock market correction, I think things are about to shift and fundamentals will begin to gain in importance.

For example, consider Alan Brochstein's recently introduced New Cannabis Investor service 'Public Cannabis Company Revenue Tracker' that I referred to above. Brochstein has been successful because he is able assess what is important to investors and cater to those needs. One of his new focusses is cannabis companies with revenues. Similarly with CannaInvestor's 'Top 25 Cannabis Companies based on Quarterly Revenue based metrics.' So as we come out of this prolonged correction in cannabis stocks, I think revenue and fundamentals will be increasingly important.

This not to say events will no longer matter. But approximately a year ago, Cataldo analyzed the data and concluded fundamentals didn't matter. Events were the main market driver. In the year ahead I expect to see more balance and by this time next year, fundamentals such as revenue and EBITDA might be just as important as events in determining stock market prices. At that time, several LPs will be generating much higher and growing cash flow.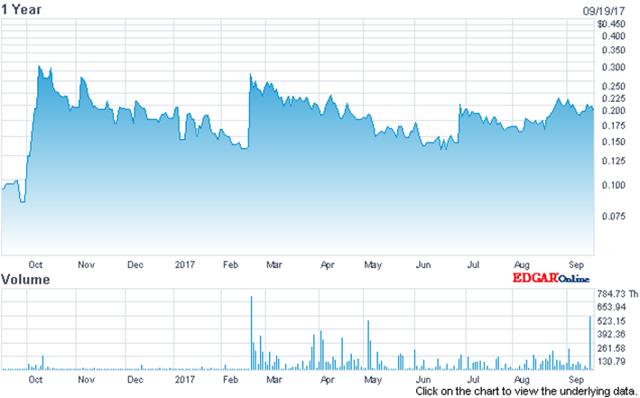 Which brings me to NXTTF – a smaller company generating bigger company revenue. Namaste's business model combines the highest growing segments of the current economy: international retail e-commerce, cannabis and the sale of vaporizers and other cannabis accessories. If you add in the potential of a high powered Internet sales platform for cannabis and the potential for additional acquisitions, I think NXTTF is an exceptionally attractive opportunity.

As the chart also shows in November 2016, February 2017 and June 2017, when investors jump on the bandwagon, it is difficult to buy the stock at an attractive price. The only way to do that is to accumulate in anticipation of these buying panics. I believe now is an ideal time to do this.

Conclusion: although NXTTF has been in a holding pattern for almost a year, it has still outperformed the average one year return from the Let's Toke Business Indexes by a wide margin as the following table shows: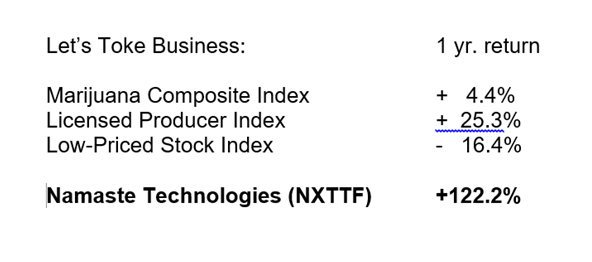 Moving forward, I think the stock will recover as improved sales are reported. In my original report, I expected sales to reach $15 million this year and $25 million next year. I believe these targets are still attainable which will be both remarkable and rewarding for shareholders. So this is not a time to over-wait. It is a time to over-weight NXTTF.
Disclosure: I/we have no positions in any stocks mentioned, and no plans to initiate any positions within the next 72 hours.