In response to a question I received on Seeking Alpha, I asked both John Docherty, President of Lexaria Bioscience (OTCQB: OTCQX:LXRP) (CSE: LXX) and Chris Bunka, CEO about the VESIsorb technology. This is my interpretation of what I learned from a fairly technical description I received from Docherty. I also included some information from other sources.
I should point out LXRP has not done any scientific tests or lab review of other material nor have they done any business review with respect to VESIsorb. As a result, it is possible there is more to the VESIsorb process than they know about. Clearly, LXRP may have a real or perceived bias toward their own DehydraTECH technology. 
With that disclaimer, LXRP investigated the VESIsorb technology including having their expert patent counsel look into it as well. It is important for investors to know LXRP management looked into possible competitive technologies in the early going. What they learned, in this case, is the technology is fairly old dating back to Ciba Specialty Chemicals and VesiFact Switzerland. It appears many of the patents in their portfolio expire in 2020 with one that expires around 2026. So LXRP's technology is newer and will have patent protection for much longer.
VESIsorb has a U.S. patent. It was filed October 20, 2000 and published April 17, 2012. LXRP received a Notice of Allowance as described below that was announced on October 31, 2017. Since the U.S. patent office does not issue patents for something that is already patented it is fair to conclude the two technologies are different in important ways.
In layman's terms, the VESIsorb technology levers an oil base to influence bioavailability enhancement. In other words, VESIsorb significantly reduces particle size that enables a more complete permeability and transfer across the epi-intestinal barrier. A major advantage of LXRP's technology is it seems to elude liver metabolism because rather than focusing on particle size reduction, LXRP focuses on long chain fatty acid (LCFA) association which then levers existing human physiology that "actively" absorbs LCFAs via bile salt combination into the intestinal tissues and away from the liver toward the lymphatics.
LXRP's background work suggested the Ciba/Vesifact science originally focused on lipophilic drug molecules. There have been examples in the past of a technology developed for one application does not work or work as well when repurposed to another application. LXRP developed its DehydraTECH first and foremost for cannabinoids and has been gathering a wealth of performance and consumer data since its inception entirely in that space to date. LXRP is dedicated to demonstrating their benefits in terms of taste, absorption, rapidity of onset and cost feasibility.
A corollary is the fact that LCFAs also have been well documented to elude receptors in the mouth that signal bitter flavors which is believed to be the main reason LXRP's formulations are powerful at masking unwanted bitter cannabis extract flavors.
There are other advantages that LXRP's technology might have including the fact that when used with food products, it will not have to disclose what seems to be a complex array of chemicals. This is only true, of course, if competing technologies require such disclosures.
Here are my two takeaways from this. I knew this before and I have said it here before but they are worth repeating:
LXRP's technology is real. The science is real and has enormous potential of which cannabis is the first but may be the smallest of the opportunities. Business risk always exists. There might be something that is not anticipated but I think in this area, LXRP is in the lead and in technology being first is often a major advantage.
If LXRP is to be successful, I believe management requires three unique skill sets. First, you need someone that spends their day trying to convince a very skeptical audience comprised of financial analysts, investors, and others about the value of their technology. Chris Bunka who is the CEO, largest shareholder and paid cash for his shares bears this responsibility. He has been my major contact and I can attest to the fact that he gives LXRP the investment credibility it needs. Second, you also need someone that knows and understands the technology from a scientific point of view. This is President John Docherty's function and whenever I have had the opportunity to interact with him, I have been impressed with the depth of his knowledge and understanding. He gives DehydraTECH the technical credibility that is crucial. The third skill is the ability to put the project far ahead of individual egos. With Bunka and Docherty, neither is trying to get involved in the other's area of responsibility. Both know and do their respective jobs very well and trust the other to do theirs. In their individual roles, ego is necessary. They have to believe in themselves and what they are doing. But this has to be done constructively and positively and that is the case in LXRP.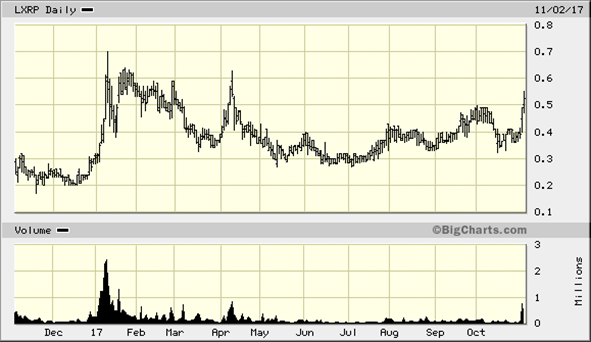 Regular readers know I have been pounding the table on LXRP for some time. (see Lexaria - the Best Cannabis Technology You Can Eat). (see Before You Can Sell LXRP High, You Must First Buy it Low) and (see U.S. Patent on It's Technology + THC et al Lifts Lexaria to a Much Higher Valuation Level) You will also know I regularly advise against chasing stocks when they are running higher and against dumping stocks when they are falling. If you have been following my comments for a while and have a position – great. I think it's going to be an exciting few years with LXRP.
But if you're new or haven't taken the big step yet, I conclude that LXRP is the exception that proves my rule. You have missed some of the gains but don't compound that into missing all of the gains. When you consider the highs the stock reached earlier in 2017 and how much more we know now compared to what we knew then, you have to believe new highs are only one short-term target. I think LXRP has the potential to go well beyond that.
Disclosure: I/we have no positions in any stocks mentioned, and no plans to initiate any positions within the next 72 hours.