Overview: For some time, I have espoused the theme that the future of Canadian cannabis and cannabis, in general, is international. Less expensive and high quality cannabis will come from:
Locations where the combination of climate and resources such as labor, water, and power are ideal for growing cannabis.
Developing countries where the costs of production are significantly lower.
Companies that recognize the need to adopt the highest standards of production to ensure consistently high-quality product.
Management that understands these characteristics and has a sincere desire to produce the highest quality medical cannabis products possible.
This is where Khiron Life Sciences (TSXV: KHRN) comes in. KHRN has commenced growing legal, high-grade cannabis in Colombia. I believe KHRN will produce pharmaceutical grade cannabis at a cost that cannot be approached in Canada, the United States or other developed countries. As a result, I believe KHRN embodies the characteristics that will shape the world cannabis industry for years to come.
Everyone is familiar with Juan Valdez and Colombian coffee that regularly wins top international awards for its quality. Colombia is the world's third-largest grower of coffee. If you are an American and buy cut flowers, chances are they were grown in Colombia that produces three out of four cut flowers imported into the U.S. Unfortunately, many people think of other less reputable products grown and shipped from Colombia. As I explain below, we cannot ignore the problem of drugs and narcoterrorism but most attitudes about this illicit activity are at least 25 years out of date. The Colombia of Pablo Escobar and the Medellin Drug Cartel is not the Colombia of today.

Colombia has an ideal combination of the stage of economic evolution, social development, geographical conditions and political governance to become an international leader in the production of low cost, pharmaceutical grade medical cannabis.
As a result, I think in the very near future we will be talking about KHRN as a leader in the Colombian and world medical cannabis industry. They have all the required Colombian licenses to grow, sell and import and export cannabis and their first crop should be harvested before the end of 2018. I expect in three to five years, we will be talking about Colombian grown, top quality medical cannabis and derivatives in the same way we talk about Colombian coffee and cut flowers. I also forecast Colombia will become the center of the Latin America/South America cannabis world and KHRN has already taken steps to position itself to be the leader in this region.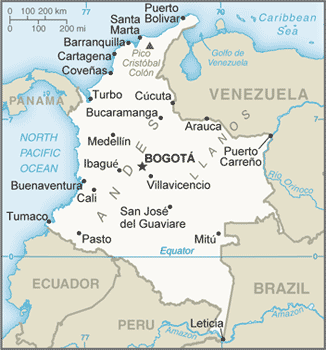 Colombia: The Republic of Colombia is located in northwest South America and is bordered by Panama, Venezuela, Brazil, Ecuador and Peru. It is the fourth largest country in South America and has a population of 49.46 million with a population density of 41 people per square kilometer. The capital is Bogota which has a population of 7.6 million making it much larger than other major Colombian cities such as Cali (2.4 million) and Medellin (2.0 million). Spanish is the official language and is spoken by over 99% of the people. Colombia is ranked second in world biodiversity. The country includes Pacific Ocean and Caribbean Sea coasts to the northwest and northeast, the Andean mountains and the Amazon natural region to the south.
In considering Colombia in terms of stage of development, the United Nations' Human Development Index (HDI) ranks a country as a combination of life expectancy, education, knowledge and standard of living. Colombia has an HDI of .727 that is better than the world average of .710. This ranks Colombia slightly better than China at .720 but well behind the United States and Canada at .920. Colombia is in an economic growth mode and is considered a developing country. The World Bank describes it as an 'upper middle-income economy' while most others rate it an emerging market economy. Colombia remains heavily dependent on resources including energy and mining but the export of agricultural products such as coffee, cut flowers and bananas are important economic contributors. According to the United States Central Intelligence Agency World Factbook, the Colombian economy ranks 32nd largest in the world just behind the Philippines and South Africa and just ahead of United Arab Emirates and Bangladesh.
Colombia is a democratically governed nation. The President is both head of state and head of government and is elected for one, four-year term through a multi-party system. Executive power rests with the government whereas legislative power is vested in an elected senate and house. The judiciary is independent. The Democracy Index compiled by the Economist Intelligence Unit rates Colombia as a 'flawed democracy,' a nation where elections are fair and free and basic civil liberties are honored but with other issues.
In 2016, the government approved a peace accord with the Revolutionary Armed Forces of Colombia (FARC) allowing it to form a political party and integrate former fighters into society. FARC's objective had been to create a Marxist-Leninist regime in Colombia through violent revolution. Integration is a delicate process that is being managed by the government. In the meantime, organized crime (narcotics), guerrilla and paramilitary groups still exist but primarily in the jungle regions and near neighboring borders. As a result, issues associated with drugs are there but Colombia today is not the country of two or three decades ago dominated by images of Pablo Escobar and the Medellin cartel as vividly depicted in films such as "Blow" starring Johnny Depp and Penelope Cruz.
Cartels and narcoterrorism are still a fact of life but vast improvements have occurred in recent decades. The Colombians with the help of the Americans have reduced illegal drug production by an estimated 60% in the past decade. The Colombian homicide rate is still too high but has been improving and is now well below new drug centers such as Honduras and by this measure, life in Colombia is significantly more secure than American cities such as St. Louis, Baltimore, New Orleans and Detroit.
This is an ideal time to be in business in Colombia as the country is, in my opinion, in the early stages of a secular economic growth cycle on the world stage but costs of production have not yet caught up. For example, based on a 2017 magazine survey of 7,000 people in Colombia:
50% said they make less than US $410 per month.
29% said they make between US $411 and US $800 monthly
21% said they make over US $801 per month.
The minimum wage is US $260 per month. The labor force is reasonably well educated, averaging 13.6 years of schooling compared to 16.3 years in Canada and 16.5 years in the U.S. In Colombia, 61.7% of the population is employed compared with 61.0% in Canada and 58.8% in the U.S., In addition, there is an ample supply of laborers with experience in growing in open greenhouses and under controlled conditions.
In summary, the CIA that is traditionally very cautious with international assessments says, "Despite decades of internal conflict and drug related security challenges, Colombia maintains relatively strong democratic institutions characterized by peaceful, transparent elections and the protection of civil liberties."
The Company: in December 2015, Colombian President Juan Manuel Santos signed a decree that made it legal to grow, process, import and export cannabis and derivatives for medical use. This seemed a little ironic in light of the country's decades-old struggle against drugs but I think it will prove to be a brilliant move. KHRN was an early adopter and Alvaro Torres, Chief Executive Officer, was the first person to apply for licensing under the new regulations. In September 2017, KHRN became the first company to receive a license from the Ministry of Justice to cultivate cannabis. Since then KHRN has rounded out its license portfolio so it is now permitted to cultivate both high and low THC medical cannabis, produce extracts and sell domestically as well as export. I have analyzed the situation and conclude developing a medical cannabis industry is the right thing at the right time for Colombia and KHRN is my choice for success.
Management: As regular readers understand, management is the most important factor in my investment decision-making process and I have had the opportunity to speak directly with many of KHRN's team. For this report, I have limited my comments to a smaller group of people but they are representative of the entire team. For more information on the management team, please visit the Khiron website here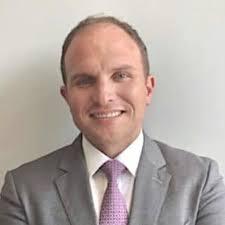 Alvaro Torres, Chief Executive Officer and Director: Alvaro is a Colombian with extensive business experience as an engineer working with major companies. Having spoken to him and having heard him speak in public, he is clearly a builder and motivator. Alvaro was the person who initially had the idea of starting a cannabis business and was able to secure commitments from certain key individuals when KHRN was still a dream. I have seen Alvaro network and interact with employees, investors, and others and I believe he is an outstanding Chief Executive. I also believe he has the vision to grow KHRN into a major international company and to find and attract the best people to join him on the journey. In addition, although Alvaro has great pride in what has been accomplished to date and what he sees ahead, he remains humble, honest and avoids excessive hype. These are qualities I think are very important for a person in his position. He is quietly confident about Khiron's past and future without being unnecessarily promotional.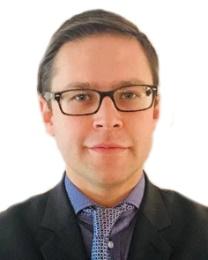 Juan Diego Alvarez is Chief Regulatory Officer: he is a Columbian and the recognized authority in medical cannabis regulations having been appointed by the Minister of Health to create and draft regulations for the legalization of medical cannabis. It is clear that other authorities in countries in the region look to him as the "resident expert" on all things relating to the regulation of cannabis and call on him from time to time for information. This is a significant asset because it fits very well with KHRN's plan to expand into Latin and South America. He has rapidly developed expertise on the regulations within neighboring countries and KHRN is developing plans for future international expansion. He is an ideal person to guide KHRN through the complex and sometimes treacherous regulatory processes at home and in neighboring countries.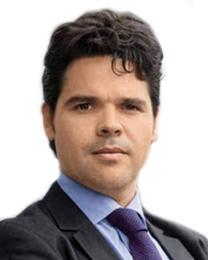 Andrés Galofre is Chief Commercial Officer: Andrés is a Colombian and a co-founder of KHRN. He has 15 years of leadership experience in pharmaceutical marketing, brand management, and distribution of ethical drugs and consumer products in Latin America. Andrés led the launch of Pfizer's Advil in Colombia that attained a 28% domestic market share. He is an energetic young man that I saw actively and enthusiastically providing information and perspective on KHRN during meetings. His family owns the land that has been leased for the first site. I think Andrés is an excellent choice to market and develop KHRN's line of products based on what I perceive as a strong work ethic combined with the experience the position demands.
Mark Monaghan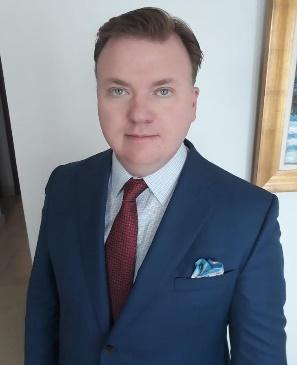 Darren Collins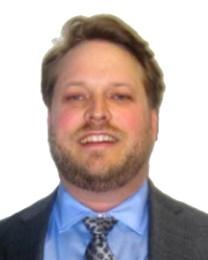 To hear Alvaro Torres describe his initial fundraising experiences, the early stage capital necessary to get KHRN launched was simply not readily available in Colombia. After knocking on many doors, he soon realized something else had to be done. Enter Canadians Darren Collins, now Chief Financial Officer and Mark Monaghan, Director. I have a historical link to both Collins and Monaghan as they were involved at a very early stage in financing Namaste Technologies (TSXV: N), one of my earlier recommendations. So KHRN is an example of the expertise Canada and Canadians have developed in the cannabis industry aside from growing the plant, in this case, investment banking. Monaghan and Collins worked closely with Torres, explaining what investors wanted to see and Torres worked hard to provide it. This developed into a symbiotic relationship as Collins and Monaghan were able to bring in $11.2 million of early-stage capital in a private issue that closed in January 2018. Ultimately, this led to KHRN going public on the TSX Venture Exchange.
The message is simple. KHRN has a management team fully capable of taking the company to a leading position in the world cannabis industry while based in Colombia. I expect KHRN to be offering high quality, pharmaceutical grade cannabis and derivatives grown at a fraction of the cost of North American producers. I expect sales to begin in late 2018 and to grow very rapidly moving ahead based on additional facilities in Colombia and in other countries in Latin America and South America.
KHRN might become recognized as a model for this type of transaction: development of an international cannabis operation, in this case in Colombia, managed by a strong team led by and comprised mainly of Colombians in a Canadian company traded on a Canadian exchange financed by Canadians.
What I also like about KHRN's Business Plan:
The initial property is located near Ibagué, about three hours drive from Bogota. It is 4.5 hectares (over 11 acres) property with a pesticide-free history, flat layout, with electricity, water produced from wells, leased for $1,000 per month and located at the end of a two-lane, mostly paved road approximately 40 miles from the highway. Large sections of the approach are bordered by rice paddies. KHRN has an option to lease a further 15.5 adjacent hectares.
The operating facility is much cheaper to build than North American greenhouse or indoor facilities and can be erected in a matter of weeks. The facility uses methodology incorporating many features from structures used in Israel and incorporating their good agricultural practices. Primary extraction and storage facilities are located onsite. The construction of Phase I, to be completed and yielding its first crop in 2018, is expected to produce ten tonnes of flower equivalent to 1,425 kilograms of extracts and will have a capital construction cost of approximately $420,000. In North America, this would usually not be sufficient for a down payment to purchase the land.
KHRN is designing best-in-class Standard Operating Procedures covering site design, growing practices, appropriate extraction and formulation processing and adoption of ISO/IEC 17025 that is the standard generally required for testing and calibration laboratories to be deemed technically competent.
The property is relatively secure as there is a military base and two police stations nearby. KHRN has implemented the highest standards in global controlled pharmaceutical compliance, including cannabis security, by adopting the U.S. Drug Enforcement Administration (NYSE:DEA) standard pharmaceutical compliance protocols in security and safety.
KHRN intends to expand into Latin America, a region made up of Belize, Costa Rica, El Salvadore, Guatemala, Honduras, Mexico, Nicaragua and Panama that has a population of 640 million and South America made up of Argentina, Bolivia, Brazil, Chile, Colombia, Ecuador, Guyana, Paraguay, Peru, Suriname, Uruguay and Venezuela that has a population of 423 million. This is a very large prospective market in which Colombia has the advantages of proximity and cultural familiarity.
In summary, KHRN is a company that is focussed on producing pharmaceutical grade cannabis and derivatives for domestic and international sales. Management has taken several important steps to ensure this will happen. As an early adopter, they are fully licensed and funded to carry out their plans. They have acquired an outstanding first property and the initial harvest is now just months away. To ensure quality, they are designing best-in-class Standard Operating Procedures. To ensure security, they have adopted U.S. DEA standard pharmaceutical compliance protocols in security and safety. In short, they have taken the necessary steps to ensure success.
Why is the stock attractive?
Background: KHRN is going public on a non-Initial Public Offering (NYSEARCA:IPO) basis, that is, they are not raising money out of the gate. This is a positive thing. In many cases, a cannabis company will go public and raise money at the same time which dilutes shareholders immediately. But the advantage of an IPO is it sets a benchmark price for the new shares. In KHRN's case, we do not have a benchmark for trading on day one. The company will begin trading with buy and sell orders matched by the Toronto Stock Exchange Venture Exchange.
On January 16, 2018, KHRN completed a private placement offering for a Subscription Receipt at $1.00 per share that effectively means the investor purchased one share and one 24-month warrant exercisable at $1.20 per share. I expect the stock will open higher than this given the significant progress the company has made so far this year including nearly completing Phase 1 of construction and being in a position to reap its first harvest before the end of 2018.
KHRN has approximately 45 million shares outstanding and 63 million fully diluted. Even adjusting for the risks of operating in a developing country, at a price of $2 or a market cap of around $100 million, I conclude the stock will still be undervalued. So I think the stock can be purchased in a range of up to $2 per share. Once we get a reading on how the initial crop is developing and other expansion plans KHRN might be getting ready to proceed with, I think the stock can easily trade significantly higher.
Given the current state of the cannabis stock market, we do not advise chasing the price above $2. Should it go there, we think investors can wait for a pullback. As a low cost, pharmaceutical grade international cannabis derivatives producer, I think the initial enthusiasm for KHRN might be high so investors should maintain objectivity.
Risk Factors: in an instance like Khiron, there are risk factors to be taken into account. At the same time, these matters can create superior returns if investor assessments are borne out.
1. Khiron is a relatively new company with little operating history. Of course, all companies in the cannabis industry are relatively young. If a Business Plan can be successfully carried out, investors will benefit from above average risk-adjusted returns.
2. The acceptance of cannabis as a legal product is a relatively new phenomenon and a historically illegal activity is moving above ground. This favorable trend might reverse but, in my opinion, it is more likely to accelerate toward legalization.
3. Colombia is a developing country that has had a history of problems with the illegal drug trade and narcoterrorism. On the other hand, the undergroup production of drugs has been reduced by an estimated 60% in the past decade. It is also worth noting that the legal medical cannabis trade does not threaten the illegal production of marijuana as it targets an entirely different demographic.
4. KHRN shares have just started to trade and have little history. At the same time, this can produce above average capital appreciation for investors who convert that risk into opportunity.
Conclusion: I believe investors in Khiron will benefit from riding the next great wave in cannabis stocks. It may take some time for investors to become accustomed to this new reality. Again, we see that as something that will evolve as superior returns for early adopters.