Introduction: there is some concern that the outcome of the June 17, 2018 Presidential run-off election in Colombia will impact Khiron Life Sciences (TSXV: KHRN). The election of 102 members of the Senate and 166 members of the House of Representatives occurred on March 11, 2018. The "right wing" parties made gains but not enough to attain a majority. The "left wing" parties of outgoing President Juan Manuel Santos lost ground.
In order to judge the risk and the most appropriate investment strategy, I reviewed the situation. Probably the most important presidential election issue is the agreement with Farc, the Revolutionary Armed Forces of Colombia – People's Army. Next are a variety of issues related to the economy. Cannabis is not a high profile matter. My conclusion is either candidate will have a positive impact on the cannabis stocks operating in Colombia with Duque more positive than Petro.
Background: Although recent political trends in Colombia find their roots in the former cocaine production days of the 1980's and 1990's, the drug cartels have not been able to erase the rich and diverse history of the country and its people. By the end of the last millennium, Colombia had become the leading producer of coca in the world and the United States was the largest consumer. Colombian cartel leaders such as Pablo Escobar became as notorious as American gangsters such as Al Capone. Through it all, Colombia maintained a democratic form of government and the political will to fight back.
In 1999, Colombian President Andrés Pastrana conceived 'Plan Colombia' and enlisted the support of U.S. President Bill Clinton. 'Plan Colombia' was designed to use U.S. foreign aid, military training and diplomatic initiatives to combat drug cartels and insurgent groups. It was signed into U.S. law in 2000 and was in effect until 2015. Plan Colombia is considered a very successful initiative credited with reducing drug production by 60% between 2000 and 2010 when Peru took over as the world's leading producer of coca leaves. In the past ten years, drug-related violence in Colombia has fallen in half and now is below other countries in the region such as Honduras, El Salvador, Venezuela, Guatemala and Trinidad & Tobago.
Around 2015, President Juan Manuel Santos floated a courageous idea aimed at ending the domestic conflicts by creating 'Peace Colombia' and reaching an agreement with the Revolutionary Armed Forces of Colombia – People's Army also known as FARC-EP (Farc). Farc is essentially a guerrilla movement that engaged in armed conflict with government forces from around 1964 to 2017. Farc was the oldest, largest and most well financed leftist group in Colombia with a goal of overthrowing the elected government and instituting a Marxist-Leninist regime. They funded themselves using tactics such as kidnap and ransom, illegal mining, extortion and the taxation, production and distribution of illegal drugs. The United Nations estimates Farc was responsible for 12% of the killing of civilians in Colombia.
'Plan Colombia' was developed by negotiation over many years during which time the Colombian government was able to further erode Farc's strength. A General Agreement for the Termination of the Conflict and the Construction of a Stable and Lasting Peace was signed in August 2012 to initiate a formal peace process, set the rules for negotiations and establish a thematic agenda. The six thematic issues for discussion were: integral rural development, political participation, end of the conflict (including bilateral and definite ceasefire and cessation of hostilities including the surrender of weapons), solution to the problem of illicit drugs, solution to the problem of victim compensation; and, ratification, implementation and verification of the above.
A final negotiated agreement was reached in August 2016. Obviously, the contemplated reforms are far too complex to describe in detail in this short report. We are simply trying to provide a hint of what was involved:
Rural development: Farc appealed to its constituents promising to combat unequal land ownership which is quite extreme in Colombia. To corrrect this, some ideas included: a land fund; legalization of property titles on small to medium sized rural properties; special regulations for people impacted most by past conflicts and implementation of national plans for comprehensive rural reform, aimed at reducing poverty, eradicating extreme poverty, hunger and malnutrition.
Transforming Farc guerrillas into a mainstream political party: this is one of the most contentious and unpopular parts of the process. A method had to be developed to bring Farc into regular society. Ideas included: creating opposition parties, guaranteeing security for those engaged in politics, giving Farc temporary appointed seats in the Congress, greater transparency, electoral reform, new media for political discourse and a new political party created by Farc when it decommissioned.
End of Conflict: The surrender of Farc's weapons had to be verifiable. In the end the United Nations collected, verified and disposed of all weapons. All Farc members moved to a designated area where weapons would be surrendered over a period of six months. The UN would certify compliance and inform the public. At that time, a bilateral ceasefire would become effective.
Illicit Drugs: at the root of most of Colombia's problems over the past 50 years is the drug trade that financed most illegal terrorist groups including Farc and has been behind much of the crime and violence that plagued the country. The illegal drug trade has been reduced but not eliminated in the same way the underground cannabis production will be reduced but not eliminated in Canada. The key is it has been reduced and Colombia with Farc must continue to work to eliminate it.
Helping Victims: the treatment of victims is a complex problem including issues such as justice, reparations, truth and victims' rights. FARC's position is its insurgency was justified and it was a victim of state oppression. The government had to come up with a transitional justice system to satisfy its people, international treaties and Farc. The approach included: recognition of victims, recognition of responsibility, satisfaction of victims' rights, truth, amnesty and pardons, reparations for victims, guarantees of protection and security, guarantees of non-repetition and reconciliation.
Ratification: There were other aspects to the ratification of the agreement between the Colombian Government and Farc guerillas but the plebiscite vote says it all. The "Yes" side was championed by Juan Manuel Santos who promoted the peace talks and, among others, Gustavo Petro. The "No" side was led by former president Alvaro Uribe. In the vote, held on October 2, 2016, 49.78% voted "Yes" and 50.22% "No." Even though the referendum failed, President Juan Manuel Santos was awarded the Nobel Peace Prize in 2016. In November 2016, the Government and Farc signed a revised peace agreement that was ratified by both houses of Congress bringing the conflict to an end.
Conclusion: Our purpose in describing this brief history leading up to the current Presidential run-off election in Colombia is to show the depth and complexity of the issues. As this is the first Presidential election since the passage of the Farc agreement, we believe this will be an important issue. Santos, who brokered the Farc deal was not eligible to run again. Security and the economy rank well ahead of cannabis as issues. Here are some points: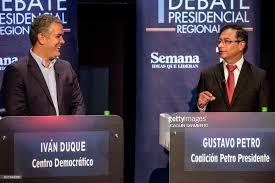 For the first time in many years the choices are between a "right wing" candidate, Iván Duque, and a "left wing" candidate Gustavo Petro. Colombia has generally been ruled by right wing conservatives.
One popular view of the election is "a return to traditional values" by electing Duque or "continuing the left wing experiment" by electing Petro.
Duque (41 years old) is an American educated lawyer. From 2014 – 2018, he was a Senator so he has less political experience and less political baggage than his opponent. He appeals to the traditional political class. Among his proposals are: fiscal and tax reform focused on reducing companies' income tax; expanding the base of the Value-Added Tax (VAT); strengthening Free Trade Agreements; and increasing foreign investment in extractive industries. With respect to the Farc agreement, he would be tougher with more severe penalties and less lenient concessions. He is also less likely to approve recreational cannabis but has promised he will retain medical cannabis.
Petro (58 years old) is an economist from the University Externado de Colombia. He has more political experience serving as a Representative of the House (1991 - 1994 and 1994 to 2006); Senator (2006 – 2010) and mayor of Bogota (2012 – 2015) but he also carries more baggage especially from his more recent term as mayor of Bogota. Among his proposals are: creating a tax on unproductive land of more than 1,000 hectares, reducing VAT from 19% to 16%; moving from mining and oil extraction to production of renewable energies and strengthening the agriculture industry. As a disciple of Santos, he would leave the current Farc agreement unchanged. He is more likely to move toward recreational cannabis.
Here is a summary of my conclusions for cannabis investors in general and Khiron shareholders in particular:
This election will not swing on a cannabis issue. Cannabis has not been a high profile platform for either candidate.
The election of Duque is probably better for cannabis investors. His policies are more pro-business and less disruptive for the economy.
The election of Petro is probably less positive for the economy and therefore the cannabis industry but still positive if he approves recreational cannabis.
We think Duque is the favorite because he represents the "establishment," he got more votes in the election prior to this run-off (39.1% to 25.1%) and he has around a 5% - 20% lead in the polls. Either way, it appears Iván Duque will be good for cannabis investors while Gustavo Petro will also be positive.
To the extent investors are concerned about the election and are waiting for the outcome before investing, we think there is an opportunity to invest in Khiron Life Sciences now in advance of the upcoming June 17, 2018 election.