Summary: On March 6, 2018, I wrote an article on DMGGF Blockchain (TSXV: DMGI) (USOTC: DMGGFGF) that I looked into because of their association with Emerald Health (TSXV: EMH) (USOTC: OTCQX:EMHTF). The timing was terrible. The stock had run up to over $1.25 per share U.S. and had settled back in the $0.90 per share U.S. range. The stock, along with all the other blockchain public companies, immediately plummeted. It isn't the first time in my life that my timing has been off and it won't be the last. But taking a lesson from the past, I have found persistence frequently pays off. If my fundamental assessment of management and the company were correct just two months ago, the stock market will come back to reflect those facts.
After my discussion, I felt positive about the basic business of DMGGF and the way in which management is responding to the market. From DMGGFGF's current price, which is close to the level of cash and equivalents on hand of $.20 to $.22 per share, I believe the returns could be extraordinary.
Introduction: My philosophy is that if I expect followers to take my advice good times and bad, my followers have every right to expect that I will provide keep you updated good times and bad. What we need to determine now is whether the current price reflects reality or is DMGGFGF vastly undervalued? My conclusion is the stock is greatly undervalued. The fundamentals at DMGGF Blockchain are excellent in my opinion and aggressive investors will be rewarded on investments from current levels.
Management: I spoke to Dan Reitzik, CEO recently and I was pleased to learn the company is forging ahead with its business plan. They understand as I do that stock prices fluctuate but that should not stand in the way of moving forward with building the company. They continue to work toward diversification in operations and report progress on several fronts. As a consequence, I am even more confident in my positive assessment of management than I was three months ago.
Bitcoin mining and hosting: "mining" Bitcoins is the way they are created. DMGGF mines for itself and for others known as Mining as a Service (MaaS). "Miners" use computers to solve complex mathematical problems and success is rewarded by receiving new Bitcoins. In the beginning it was decided that 21 million Bitcoins would be the maximum and so far a little over half that amount have been "mined." As "miners" work on their computers they also verify transactions and that prevents fraud. This information is recorded as blocks of information that are joined together in chains. This process also creates additional income for the miners. In the beginning individuals could mine using their own equipment from home. But as mining gets popular, it is more difficult because you need more equipment, power and problem solving ability.
To address these challenges, DMGGF is having a substation built by their power partner to boost their access to power. They currently have approximately 2 megawatts available at the new facility, they expect to be at 40 megawatts by August and 85 megawatts in the Fall. When complete it would be the equivalent of powering the city of Kelowna. Such a development would ordinarily require 12 – 18 months and they will do it in approximately four months. If complete by the fall of 2018, DMGGF will be the largest Bitcoin mining operation in Canada by a health margin.
There is strong third party demand for their services from China and Japan as well as local companies such as MOGO. DMGGF sells machines to third parties who pay a monthly fee have the machines operated. In addition, DMGGF receives a share of the Bitcoin mined. At the present time, all the mining is for customers as operations ramp up. But on an ongoing basis, DMGGF expects 10% to 20% of the mining will be for their own account. They are now into revenue now that is expected to grow substantially as the year goes on.
Blockchain platform and product development: their recent acquisition of Blockseer in Silicon Valley is progressing well. They have two excellent people to drive the business: Danny Yang who is a PhD. from Stanford in computer science and artificial intelligence, and, Tim Eller, a Harvard graduate in mathematics and a PhD from UCLA in data science and mathematics. To date they have pushed out two products:
Blockseer: which is a forensics service used by law enforcement, the Internal Revenue Service, and others to track transactions in the blockchain from inception. This technology enable you to find wallets that contain stolen Bitcoins.
Bitscore: we have extensive data on any wallet used on the dark web or that has been flagged by law enforcement, for example. This product will allow an exchange to make a risk assessment on whether they should do business with a particular wallet on a scale of zero to one hundred. DGM is now selling this product and customers have started to use it.
In development: there is a new product being developed to help hedge funds, crypto traders and others to have intelligence to make better decisions when buying and selling crypto. This product will be launched in a month or so.
The mining side will be developing stronger revenue as we move ahead and should be doing very well by the summer. The programming operation is developing and introducing new products. So that side of the business is doing very well. Recently we put out a press release to announce that companies that are auditing blockchain companies are engaging DMGGF to help them ensure all the crypto currencies are there and haven't been skimmed off, for revenue recognition and so on. This was a very small contract but it was the first one and we can expect more to come.
Financials: the next quarterly report is due out in a couple of weeks. The company is in solid financial shape with approximately $20 million in the bank. They will not require financing anytime soon. So there is minimum threat of dilution from having to issue shares at currently low prices.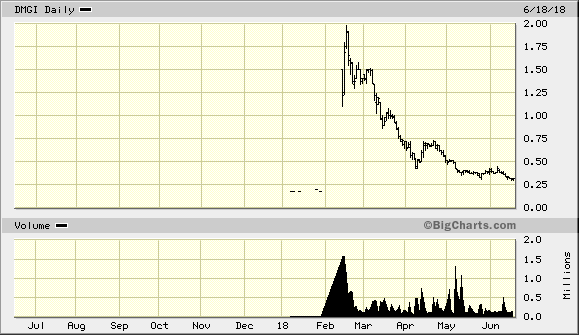 The Share Price: obviously the stock price today doesn't reflect all the things DMGGF is doing from a business perspective. Right now the market is in a funk and DMGGF could make the greatest announcement in history and no one would care so the company is planning a different, "old school" approach. Steve Eliscu is the Executive Vice President of Corporate Development. Formerly he was head of finance for Bitfury and for nine years previous to that he was a semiconductor analyst on Wall Street. So Steve is very much the analytical, numbers guy. Dan Reitzik is more of the big picture, visionary type. Steve and Dan plan to combine their skills and take DMGGFGF's message direct to investors through road shows across Canada and into the U.S. Managment wants to explain to people the basics such as: Who is DMGGF? What does DMGGF do? What sets them apart? In this instance, management is responding to feedback from their shareholders and financial advisors. DMGGF's investment bankers are supportive and will set up meetings in Vancouver, Calgary, Edmonton, Toronto, Montreal, Ottawa, New York and Boston. Management wants to get started as soon as possible and will outline details of their plans at the appropriate time.
Risk Factors: there are risk factors that investors should keep in mind:
The blockchain business is relatively new and unproven and carries the risks associated with an immature industry. For example, there is little operating history. This is the case for everyone in this industry.
The company is not yet realizing net income or positive cash flow and may have to raise equity to fund to operations although an equity issue is not expected in the near future. Such capital may not always be available.
The shares of blockchain companies will likely continue to be highly volatile and there may be lack of liquidity in the financial markets.
Factors that May Offset Risks:
(A) Although the industry is new and unproven, more seasoned and experienced businesses have engaged DMGGF as clients and investors.
(B) Although the company is still dependent on the market for capital, management has a proven track record in this regard. Management also appears to have a sound vision that will create both short term and long term revenue and income.
(C) The ups and downs in the market are generally beyond a company's control. However, it appears this management group knows what is necessary to satisfy investors and the markets and this can have the effect of reducing some of the volatility. In the recent correction, DMGGF has shown this to be the case.
Disclosure: I/we have no positions in any stocks mentioned, and no plans to initiate any positions within the next 72 hours.