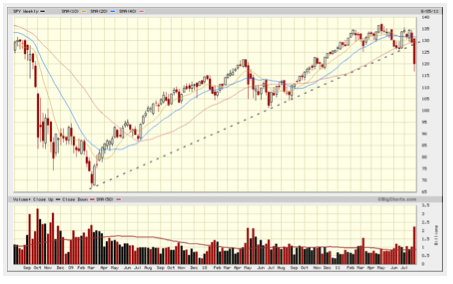 The above chart shows a 3 year weekly view of the SPY. It has broken a three year trend line and as of right now the uptrend looks severely damaged. After a strong down move like this I feel the market is going to take some time to heal. As of right now I am not seeing any evidence of a bounce. The price action has been very weak. This market is going to take some patience. This is not the ideal environment for long side swing trading. Now is the time to have a strong defense and preserve capital to deploy when trading conditions improve and there are high probability trading opportunities.    The market environment is always changing and even though it may not seem like it now, there will be time when market conditions improve.
In a earlier post (
marketharmony.blogspot.com/2011/07/07011...
), I discussed how the end of QE2 may bring a deflationary environment followed by the Fed starting QE3 to re-inflate. I still think that QE3 has a good chance of being implemented. I wonder how long the Fed might wait, especially if market conditions worsen in this non QE environment.
Rahul Parikh
marketharmony.blogspot.com