Game-changing business model; stellar growth ahead? We believe so!
"First they ignore you, then they laugh at you, then they fight you, then you win"-Gandhi.
This is a story about a business model that is starting to prove that it's changing the rules of the game for the Auto sector in China, in a positive way, and sets an example to other countries.
The article consists of eight sections:
Setting context behind the "Game-Changers" story
The China Car & EV market overview: Drivers, Volume & Growth
KNDI Overview of business model
KNDI revenue segments: 2012 to 2020
Scenarios for KNDI's Sales, Profit & price per share
Comparison ratios for valuation
Addressable weaknesses
Is the growth unrealistic?
For transparency, the author is LONG KNDI.
In summary:
The company, KNDI, trading on the Nasdaq has exhibited significant growth already: 277% YoY
It has a forthcoming ER this Monday (August 11) where growth is expected to be >1000% for it's EV segment and >250% for Sales
The EV Market is already growing 66% excluding the impact of government subsidies to significantly drive volume of EV"s
These subsidies have recently been implemented, and amount to an 80% discount off small EV's
On the back of innovative policy-led change, the EV market itself is forecasted by JPM to rise between 700-2000% % in China by 2020
No long-term (5 year) financial forecast has been created and we have created three scenarios for 2014-2020 Price per share growth
These three scenarios see the share price going from $19 today to between $478 and an enormous $3385, depending on the rate of EV rollout in China.
A number of addressable weaknesses exist for investors to be aware of.
Moving to numbers, the projected Price-per-share for KNDI for FY 14 to 2020 based on scenarios are as follows:
| | | | | | | | | |
| --- | --- | --- | --- | --- | --- | --- | --- | --- |
|   | Price per share today | 2014 | 2015 | 2016 | 2017 | 2018 | 2019 | 2020 |
| Scenario 1: Maintain current share | $19.25 | $31.39 | $48.72 | $89.77 | $111.67 | $210.43 | $344.45 | $478.17 |
| Scenario 2: 50% YoY Growth: competitors enter & gain share | $19.25 | $29.58 | $39.72 | $58.31 | $90.46 | $144.56 | $234.44 | $382.72 |
| Scenario 3: Nationwide rollout: 100% growth YOY | $19.25 | $47.67 | $81.93 | $164.04 | $352.61 | $778.96 | $1,737.18 | $3,885.23 |
1. Setting context behind the "Game-changers" story
We were recently set a challenge by a client to "find me the game-changers in sectors AND where is >500% investment potential in the next 10 years?"
Through that exercise, we shared what we found with our own game-changers network, and in the first of our "Game-changers" series, we will expand on a story about growth & breakthrough business models that are currently, or about to, break / change the rules of the game for their sector.
Our first game-changer story is about a company that is currently, in our opinion, in the midst of changing the rules of the game for the Auto Industry. It's about a relatively new business model that's simple, yet verges on the cusp of being genius AND follows good execution principles, with the potential to be great; for shareholder, economic growth, job creation & for the environment.
The company, whilst still only relatively small with a market cap of $787m, is getting a lot of attention for it's size in an industry of giants for it's potential to not just be a significant leader in China, but be a catalyst that alongside other game-changers like TSLA, offers a more sustainable future model for the whole of sector, as well as a build-up a more sustainable eco-system.
This articles looks at shedding light on the drivers of growth behind that business, the barriers the company has overcome, challenges and it's future value (or price per share, from an investment perspective) that answers the challenge; >500% growth in 10 years.
N.B This Article does not look at the short-term (Q2) NOR take a technical view on the historic current price movements.
2. The China Car & EV market overview: Drivers, Volume & Growth
Before we look at Electrovehicles, we first look at the China Car market.
On the back of the rising Incomes in China and the movement from rural to urban areas, China is experiencing strong car growth and this growth is expected to accelerate through to 2020.
According to a recent McKinsey study on the China market in Mar 20142. China is already the largest single-country Car market, and will drive c35% of the TOTAL car sector growth through to 2020. Relatively, it's 1.5 times higher growth than the US and 3 times more growth than Europe. As a result, following a simple principle of "follow the money", we expect it be a key focus for all players over the foreseeable future.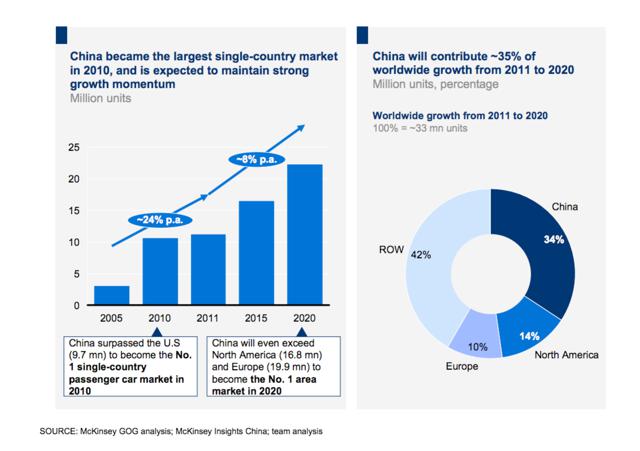 Within the ICE car market, the key growth segment is the entry point price segment, or low-to-medium income range, (80-150k RMB/$12k to $25k), occupying the highest share of growth (>40%) and the greatest CAGR growth for 11 to 15 (13% p.a.)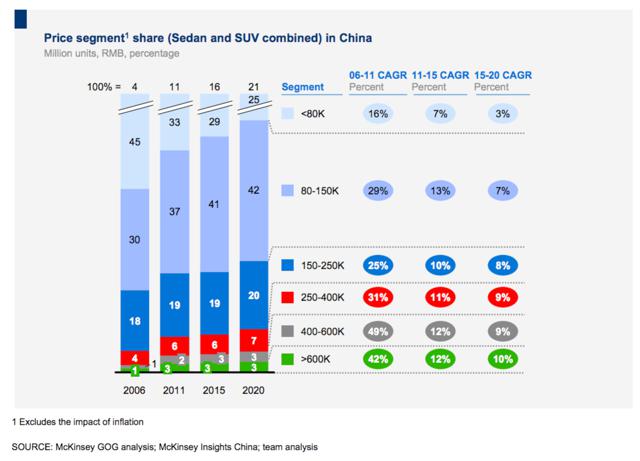 This means that the Chinese market could see a minimum of 21m in annual sales by 2020, of which, c5m will be in the low to medium price segment.
Looking at the Electrovehicle (NYSE:EV) element of the market, the EV market was covered in an excellent report by JP Morgan published on 24th July. The JPM report is more up-to-date than the McKinsey report, as it contains important changes to reflect the policy-led growth. We have to point out that this is a key difference in growth compared to developed/"stagnant" economies, where China is demonstrating leadership through what, for simplicity, classify as:
1."Doing the right things"
2. "Getting things done"
3. "measuring both the above"
Of course, that can be applied to any organization, so for examples of the above being:
"Doing the right things": China has publicly & boldly declared a War on Pollution. With 40% of Smog being generated by ICE cars (up to 70% by 5 million old 'yellow label" cars)4. Removing the old cars not only improves health & wellbeing of citizens, but also generates growth of a new EV sector for the Chinese to lead globally, create jobs AND improves GDP by enable citizens to get to work more efficiently
"Getting things done": The government supports the policies with clever & relatively large subsidies to kick-start the right things and establish the new sector. These subsidies can be For example, NEV buyers get a free licence plate whereas ICE vehicles have to pay 80-90,000 RMB for a licence. The licences for ICE's are also restricted, with the probability of "winning a licence" in the licence lottery now less than 1% in Shanghai. So, from a consumer perspective, it's "cheaper, faster & better for the environment" to buy an EV
"Measuring success"; The above "war" isn't simply rhetoric, as unlike developed countries, local politicians will now be measured on their implementation/execution of air pollution reduction policies (unlike in developed worlds)
Examples include such great leadership acts that lead by example:
Government acquired vehicles must be 30% EV's by 2016
Building an eco-system to support the EV sector, with set targets made public to hold people & government accountable for; e.g. 1885/210,000 charging stations to be built across 40 pilot cities by 2015
Subsidizing home electricity for residents to be able to charge their EV's using cheaper costs
The table below is the JPM forecast for New EV's and PHEV/Hybrid cars.
Importantly, JPM are forecasting a sales volume surge of 20 fold (2000% growth) increase in sales between 2014 & 2020. This is much higher than ICE, due to the policy to move away from ICE.

Despite the 2000% growth, the penetration is still very low, with China's EV penetration being 3.3%, or 800% lower than it's neighbor, Japan, and c500% lower than the US.

As a result of the low penetration in spite of the high incentives, we believe the JPM forecast is conservative and see growth rising exponentially on the back of a) rising awareness and b) a great proposition to commuters to chose EV over ICE; cheaper transportation that's healthier for society that improves the environment.
The China EV market overview: Drivers, Volume & Growth
China EV market is set to explode. On the back of government policies to create not just a better environment, but establish an EV & Solar ecosystem that has sufficient scale to export.
The recent JPM EV research covered this in-depth, so readers can read the research, but in summary relating to market size:
EV market to expand from 15,000 Cars in 2013, 25,000 cars in FY14 to 105,000 Pure EV Cars by 2020.
KNDI itself has grown from 3,915 EV Cars sold in 2013 to 5,329 in H1 and we're forecasting 11,800 in H2 to give 15,000 this year
In market share terms, KNDI's share of EV market was 31% and looks like it will be 60% share in FY 14
3. KNDI Overview & Business model
Kndi's game-changing business model consists of manufacturing EV"s, as part of a JV and selling these units to service business. This business then rents the cars to customers (B2C and in the not-to-distant future, B2B) on both long-term contracts and hourly charges.
It's like Apple in a way; creating an eco-system (Developers/suppliers at one end, and a service on the other to generate volume and lock-in customers (itunes/icloud)). As per any Auto manufacturer, more volume = more power = more scale to bring down costs, generating free cashflow, which can be re-invested in innovation and further establishing an eco-system.
Given the rapid rate of the market growth, KNDI has established JV's with various partners up & down the supply chain to reduce cost, increase speed-to-market, minimize supply chain risk (e.g. of battery supply), and increase profits.
The current & future channels of distribution are summarized as follows:
Channels

Number of cars per location

Summary of channel

Current

Towers/vertical garages

80-130 cars

Large "Towers/vending machines" in communities & cities that dispense cars

Flat spaces

10-30 cars

On-street or off-street locations; usually next to streetbikes

 
 
 

Geely (JV) car showrooms

 

Contracts sold in Geely (JV partner stores). Currently being piloted. Could see rollout to the other 1,000 stores

High-end Hotels

10-30 cars

Partnered with various hotels (e.g. Radisson) . Reportedly booked out each weekend / excess demand

 
 
 
 
 
 

Online: Discount deals

Varies

Company is offering annual rental packages via online sites (Chinese Group-on equivalent). Achieving 5" ratings

Future

Online & Mobile

TBC

Sale of contracts through online to sit alongside the real-time scheduling system

Business locations: Private sector

TBC

Located in businesses car-parks

Business locations: Government sector

TBC

Government EV's to be 30% of all governement cars. Expect towers and/or flatspaces

Airports

TBC

Located in Airport car-parks

Train stations

TBC

Located in Train station car-parks
Kndi's business model has been articulated in a great SA blog here for those unfamiliar with it, so instead of rehashing the business model, I suggest reading it there.
The build on the above business model blog is the multi-channel approach KNDI has and is taking to generate it's significant growth.
4. KNDI revenue segments: 2012 to 2020
Accompanying the above channels, we'll now look at KNDI segments for financials for the different segments.
Kndi distributes it's products through several segments, but this article focuses on four segments to calculate the 2014 -2020 forecast.
EV Sales to B2B (e.g. ZZY rental business)
EV rentals to consumer via towers
EV rental sales to consumer via flat-zones
Legacy business
EV Sales to B2B
Kndi generates sales of EV parts to B2B Channel partners
Sales assumptions. The same sales assumptions are assumed for each scenario:
ASP of each EV's is as per Q1 2014 actuals: $13,496
ASP price rises 5% p.a. for 2015 to 2020 to reflect a mix of new model addition and inflation to exit 2020 at $18k
For the Profit assumptions. For simplicity the same profit assumptions are assumed for each scenario:
The Profit of the EV sales are assumed at 9.5% for FY 14, rising 1% p.a .on the back of a) scale and b) pricing benefits
The Profit share is 50% on the Sales due to the JV with Geely
EV rentals to consumer via towers.
The sales from Rentals from the towers are as follows:
Number of on-street locations (e.g. 100)
X
Rental cost per hour (e.g. $3/hour)
X
Number of cars per location (e.g. 30)
X
Utilisation rate per day (e.g. 60%)
X
Efficiency rate per week (e.g. 6 of 7 days, 1 day for downtime)
X
Efficiency rate per month (e.g. 75%, 1 week of month out of use)
X
Efficiency rate per year (e.g. 75%; 3 months out for holidays / repairs)
X
Number of days per year (e.g 365)
X
Number of hours per day (e.g. 24)
The revenue calculation is the calculation of all the above factors
It ignores Long-term contracts and take low rental rates until company issues actuals.
The source of locations is taken from the company PR's
For number of locations, it increases in line with the growth of the EV vehicles (see scenarios in section 5 below)
No increase in efficiency is assumed despite rising volumes
N.B. I.t.o. sensitivity of the above, the net impact on sales & profit (given ownership is 11.5% and Profit share is 50%) is small.
EV rentals to consumer via Flatspace
The same rationale was used to calculate the rental revenue from flatspace locations as per the towers
The volume of flatspace increases per annum in line with EV growth as per the different scenarios generated in section 5
We've excluded the following segments until further clarity emerges, (or for a future article):
B2B rental sales to businesses, mentioned in the recent IR
B2B rental sales to government to comply with 30% share of government vehicles being EV's
Sales through Geely 4S 2,000 stores (being piloted at the moment)
Alibaba partnership
EV sales to B2C
Expansion into bikes
Expansion into Buses
Expansion into other CN cities
International expansion
Impact of Policy to subsidise electricity at homes of EV users
Legacy business
The legacy business sales (golf carts etc) are assumed to decline 20% for each year, from 2015 to 2020, as the assumption is the legacy business factory volume is used to produce EV's. The 2013 Revenue from legacy business was $47.8m in FY 13. Fy 14 assumes 20% decline. By 2020, legacy is $10m in Sales; a fraction of the above segments.
Moving to Net Profit level of each segment.
The profit of each BUSINESS segment is assumed the same (9.5%), irrespective of channel cost to serve.
The JV ownership share is assumed constant through 2015-2020; 9.5% of the towers and spaces for ZZY (i.e. no increase in ownership)
The Legacy business profit is assumed to be 15%, vs the 21% in 12, 10% in 13, so it's assumed to return to 15% with no increase in Profit. As above, legacy becomes as small % of above and isn't a focus for this article.
For further simplicity:
No profit is assumed to be generated from part sales
No profit is assumed to be generated from Tower constructions
No Income is generated from their QBEX battery swap patents
5. Scenario's for KNDI's Sales, Profit & price per share ("PPS")
To calculate the FY 2014 -2020 sales from these channels, the following assumptions were used to generate Sales volumes.
2012 & 2013 are taken from actuals
H1 2014 volumes were taken from Q1 & Q2 actuals
H2 2014 volumes assumes the H1 average MoM sales rate of 7%
continues for the next six months; i.e. no volume uptick from subsidies, which is conservative.
For 2015 to 2020; whilst the future growth is always a "unknown", to gauge a range of potential valuations, three scenarios are then used to create a median, bearish & bullish model 2015 to 2020.
Median: Kndi expands the successful Hangzhou model into a nationwide rollout, growing CAGR 84% from 14 to 20. but less than EV market's 700% growth from 14 through to 2020 (JPM forecast), achieving 201,417 cars by 2020
Bearish: Kndi extends model in Hangzhou & expands into Shanghai ONLY, achieving 170,894 cars by 2020, achieving 50% growth YoY but losing share to others, nationally to competitors
Bullish/exponential growth: Kndi rolls out nationwide AND gains share, growing 100% p.a. for 2015-2020, achieving 960,196 car sales.
For channel growth, the following assumptions for Tower & Flatspace growth were used.
Median: Channel growth of towers and flatspace rises in line with EV market growth p.a. (84%) for 2015-2020. No online or B2B government additions
Bearish: Channel growth of towers and flatspace rises in less than market EV growth p.a. (50%) for 2015-2020 No online or B2B government additions.
Bullish/exponential growth: Channel growth of towers and flatspace rises ahead of EV market growth p.a. (100%) for 2015-2020 No online or B2B government additions.
As a result of the above assumptions, the following are generated:
Volume of EV's sold to customers
No of channel points (towers & Flatshare spaces)
Sales for KNDI using JV volume as indicative of sales for KNDI
Net Profit
To calculate the PPS we've used the P/E based approach.
To calculate the PE we've used the FORECASTED Net Profit growth of each scenario over 2014 to 2020.
Specifically, the P/E growth for each scenario results from the assumptions, namely:
Scenario 1 (maintain share): P/E of 82
Scenario 2 (lose share): P/E of 77
Scenario 3 (gain share): P/E of 125
As a result, taking the Net profit and multiplying it by the P/E above, the following is the projected PPS over the years in the following table from now, FY 2014 through to 2020.
| | | | | | | | | |
| --- | --- | --- | --- | --- | --- | --- | --- | --- |
|   | Price per share ("PPS") today | 2014 | 2015 | 2016 | 2017 | 2018 | 2019 | 2020 |
| Scenario 1: Maintain current share | $19.25 | $31.39 | $48.72 | $89.77 | $111.67 | $210.43 | $344.45 | $478.17 |
| Scenario 2: 50% YoY Growth: competitors enter & gain share | $19.25 | $29.58 | $39.72 | $58.31 | $90.46 | $144.56 | $234.44 | $382.72 |
| Scenario 3: Nationwide rollout: 100% growth YOY | $19.25 | $47.67 | $81.93 | $164.04 | $352.61 | $778.96 | $1,737.18 | $3,885.23 |
6. Comparison ratios for the above valuation
In the absence of P/E projections for TSLA, the graph below compares some investor metric's between KNDI and TSLA (Price per share, P/S ratio and Revenue growth (quarterly YoY))
Of interest was when TSLA rose linearly last year (Jun 13) AFTER it announced 3 consecutive quarters of double digit growth (678% growth in Dec 12, 1780% growth in Mar 13, 1420% in Jun 13).

The above KNDI forecast shows the anticipated growth for Q2, Q3 & Q4. Whether right or wrong, directionally, KNDI appears to be heading in a similar growth direction.
Our key question is, with the forthcoming quarterly growth, will KNDI do the same as TSLA did after three consequent quarters of growth and rise, forcing significant short positions to cover?
We could be wrong, but we believe KNDI is about to experience a similar rise.
Why?
1. In the most basic sense, on a Price-to-sales ratio comparison, Kndi is c100% lower than TSLA at the moment, offering upside over the short-term.
2. The second is a large, loyal retail investor base who are long-term holders, who share any & every source of insight before any institution could reach it & visit the company to demonstrate to others the future possibilities. In the new world of investing, word-of-mouth referrals, to friends, of such high growth, long-term potential.
3. When institutions add to the shares, it will add a long-term shareholder base that provides stability.
7. What holds KNDI back?
No company, nor person, is perfect.
Kndi has several addressable weaknesses. All of which we view as addressable, given the above growth and we call these "growth pains" as we see this as the company goes from small to medium to large cap, but each investor has to weigh risk/reward.
Current weaknesses include:
Lack of analyst coverage & Institutional holdings.
The lack of forward guidance by the company could be a key reason for the lack of analyst coverage & institutional coverage. It's also still "small cap", with a market cap.
The perceived (not actual) lack of clarity around the business model, business plan and communications outlining growth aspirations
SEC investigation still looming as a short reason to create "FUD"
Shelf offering used as a short argument to create "FUD"
IR & 2. Transparency / guidance
Transparency around KNDI's aspirations and high level plans, or even guidance, is a current weakness. Be it management choice / policy or due to capability or a mix of both, the communication of events tends to be reactive.
The IR website lacks detail around the business model, and whilst IR is approachable & responsiveness, it's doesn't make it easy to choose to invest in KNDI.
2. Lack of forward guidance
We'd like to see management giving guidance (albeit conservative guidance!) and quarterly conference calls to provide clarity around results. Investor roadshow attendance would also be a positive.
3. Understanding the business model
As an integrated EV play, there is the element that KNDI confuses the vanilla investor as it sits in Manufacturer & Rental-Multi-Channel model that may irk investors expecting a vanilla "build & sell through distributors" model.
This hasn't been helped by the rapidly changing business model which is "par for the course" in new business models.
We actually see the rapidly changing business model as a source of strength, as it shows the company and leadership not just willing to change business model & tactics as the only constant these days IS change. Arguably and more importantly, the team are now executing their ambition that has previously been communicated. We place a premium on management that have this ability to change & adapt.
4. SEC past clouds that still loom in the distant mirror…
Despite being Nasdaq rated and achieving the recent shelf effectiveness today, short's still use this past event to create FUD.
We have a different assumption; we assume, rightly or wrong, KNDI is working with the SEC to understand the impact of short trading and HFT on the stock, given it's high Beta
5. Shelf Offering of $300m
Strategically, all the above are fixable, and we believe the management can and will address these in due course as the company matures.
Without confirmation from the business on the above weaknesses, our guess is the focus on execution of the business, alignment of parties (government & suppliers) and the focus on communications will come down the line.
The announcement of the shelf effectiveness clearance, by the SEC today (7th August), underscores that the SEC have no concerns with the company.
The value of the shelf ($300m) pales in comparison to the future growth and we believe the shelf invites institutional investors to participate in the stellar growth ahead.
8. Is the growth unrealistic?
Rightly or wrongly, we believe KNDI is tapping into the millennial generations needs with their proposition. These needs being:
"Rent, not buy; why own a depreciating asset when we can rent a car that's cheaper for me?"
"Help me, help the environment and think what in it for WE, NOT what's in it for ME": KNDI saves it's consumer money and is better for the environment AND creates a EV sector that overhauls the auto sector, creating jobs.
Going back to some consumer metrics, we looked at the penetration of KNDI amongst Shanghai & Hanzhou (key cities for KNDI) for the Bearish scenario. By 2020, penetration is STILL only 0.9% and 1.6% of the population.
The above numbers may seem "incredible"/"unbelievable"/"ridiculous", but as Gandhi said ""First they ignore you, then they laugh at you, then they fight you, then you win"…we believe KNDI is a winner.
In summary, given the scrutiny & noise around KNDI, this article aims to shine a light on what, in our opinion, has the potential to be a game-changer of a company and provide stellar results in terms of longer-term shareholder value.
What do other investors think? Look forward to the comments! Long KNDI!
Disclosure: The author is long KNDI.