Strategic Mindset: Playing IV Drop from Earnings Announcement
Target: LULU Trading @ $66.78
Commit Criteria: (NASDAQ:LULU) Lululemon has its Implied Volatility in the near term options at an excessively high 140%. The Oct expiration options have an IV of roughly 52%. Right after the Earnings Announcement on Sept 7th the IV of LULU will drop significantly. By selling a position in the next weekly expiration and protecting ourselves with the Oct expiration options we should be able to capture the crash in IV while keeping moderately protected from price movement. We are looking for possible price movement but for it to stay roughly between the $60 to $72.50 price range until the exit of this trade on Friday, Sept 7th. We will likely hold this trade until the short positions expire, giving us the max profit.
Our goal is to capture the high IV of the options expiring right after the earnings announcement while protecting ourselves with the Oct exp options at the same strikes.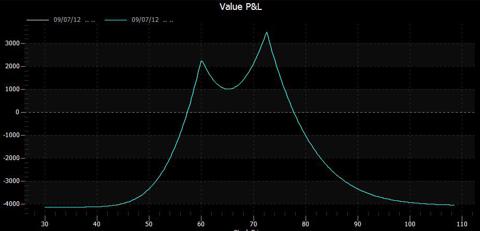 Tactical employment:
Selling to Open 15 LULU Sept 7th Weekly 72.50 Calls
Selling to Open 15 LULU Sept 7th Weekly 60 Puts
Buying to Open 15 LULU Oct Monthly 72.50 Calls
Buying to Open 15 LULU Oct Monthly 60 Puts
As a Custom Trade (Dual Calendar)
For a net Debit of $2.72 per Dual Calendar ($272 per position for a total of $4080)
Maximum Gain: ~$3000 (estimate)
Maximum Loss: $4080
Profitability Target: We will allow the short position to expire worthless and capture our profits while closing our long protective position near the close on Fri Sept 7th
Mid-Course Guidance & Exit tactics:
If we hit a 15% profit before the earnings announcement then exit early. Position value of $3.13.
On Friday, Sept 7th exit for a profit if LULU trades close to $60 or $72.50.
If at any point LULU trades below $60 or above $72.50 close trade as a stop loss.
Allow short positions to expire worthless and immediately close the long protective positions near expiration on Friday.
Disclosure: I am short LULU.
Additional disclosure: We are looking to enter this position in our Advanced Model Portfolio at Top Gun Options.