Strategic Mindset
: The
Top Gun Options
trading team has locked on to a perfect target to initiate a Put Diagonal takedown.
Target: TJX trading at $67.50
Commit Criteria: TJX is in a moderate uptrend and has been for several years, the Implied Volatility (IV) is low suggesting no upcoming downward action. Fundamentally the stock is edging out earnings a notch or two above estimates, keeping the stock chug a lugging towards the $70 mark. At Top Gun Options we believe wholeheartedly that the trend will continue for several more months, and would like to initiate a Diagonal Spread on this particular stock.

Tactic: Buy 10 of the Mar/July 65/70 Put Diagonal
.

Tactical Employment: Buy 10 July 65 Puts @ $3.20
Sell 10 Mar 70 Puts @ $3.40
For a credit of $.20 ($200)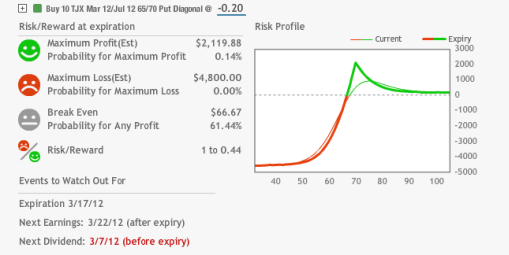 Midcourse Guidance: During the course of this diagonal spread trade on our Primary/Intermediate Model Portfolio we will be monitoring several key factors. One being the market and stock seem to be reaching new highs and could turn on a dime and retrace 5-10%. Another mid course move is going to be rolling the Mar to the April in several weeks and I will notify all subscribers of this move in advance. Also, if IV continues to drift lower we might have to find another trade that we feel confident in and that is short Vega; this would help offset any Vega problem in our portfolio.
Once again I will notify all subscribers of any trade adjustments.
Profit Target: Our potential profit target on this diagonal is $1,100 and we are receiving a credit of $200 to put the trade on and theta decay from front month should add to our credit. We will assess the profit target when we decide to roll next month.
Threats to Success: A strong move down past $66.70 would be a threat to the success of this particular spread. We are bullish price movement, Vega and have theta working in our favor. Anything thing opposite of those would hurt our trade.
Eject Criteria/Contingency Plan: Eject plan will be at the $-1.00 level and this would be a negative $800 from our account and that is the most I am willing to lose on this position.
Exit: To exit the trade we would buy back the Mar 70 puts for a debit or roll them out one month and sell the July 65 puts for a credit.
At Top Gun Options we believe the trend is your friend and that charts do not lie with this trade.
We will look for any upward or downward disturbances that will take money out of our pocket. We are aware of these threats and are prepared to adjust our trade accordingly in the coming weeks and hopefully months.
We are bid below on the open for this trade on Feb 1st. We are not filled on this trade yet in our tradeMONSTER model portfolio.
Disclosure: I have no positions in any stocks mentioned, and no plans to initiate any positions within the next 72 hours.