Strategic Mindset:
Moderately bearish with expectation of an increase in volatility.
Target: VXX Trading @ $24.44
Commit Criteria: (NYSEARCA:VXX) iPath S&P 500 VIX Short Term ETN is settling in at a low point in its overall range. At Top Gun Options we believe we have significant risk of an IV (implied volatility) surge in the next few days if the issues around Greece's debt explode. By setting up a Bull Put Spread we are hoping to take advantage of this surge in IV. The Feb expiration 24 strike puts have an IV of 63% compared to the 28 strike with an IV of 86%, giving us a great differential for a credit trade.
This trade has risks - it could fail completely so we are controlling our risk exposure by taking this as a small trade in our Advanced Model Portfolio. The Max risk on this trade is $1800 with a Max profit of $6200. There is a significant chance this trade may fail, but if it wins the reward is very large. The Top Gun Options guiding precept is - Discipline and Risk Management result in Superior Execution.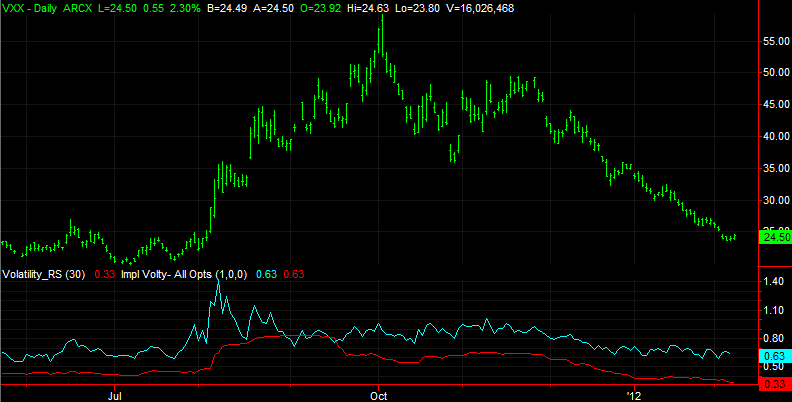 Tactic: Bull Put Spread @ $3.10 Credit
Opening 20 VXX Feb 2012 Long 24 Strike Put/Short 28 Strike Put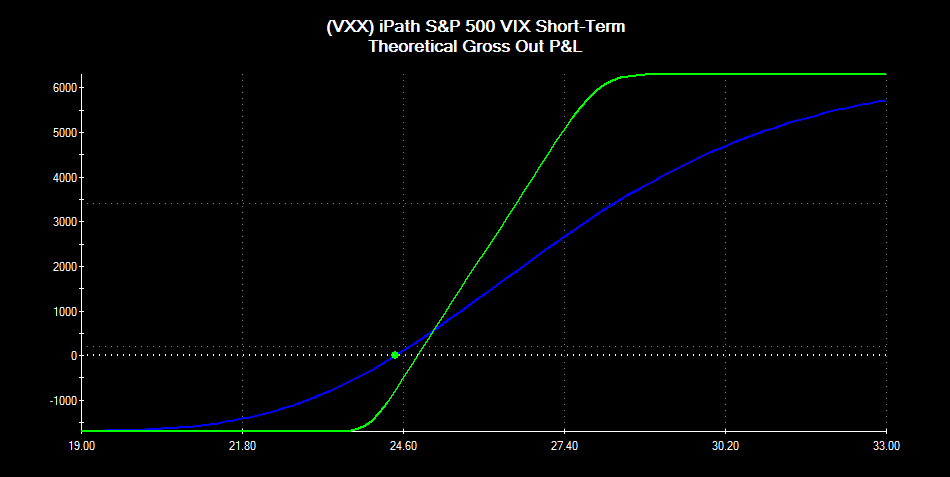 Tactical employment:
Buying to Open 20 VXX Feb 2012 24 Puts
Selling to Open 20 VXX Feb 2012 28 Puts
As an Bull Put Spread
For a net credit of $3.10 ($310 per Bull Put Spread for a total of $6200)
Maximum Gain: $6200
Maximum Loss: $.90 ($90 per Iron Condor for a total of $1800)
Mid-Course Guidance: We will be watching for VXX going down. If our position reaches a 60% loss I would evaluate the trade for a stop loss exit in our virtual Advanced Model Portfolio.
Profitability Target: We will wait for this Bull Put Spread to expire worthless taking the $6200.00 credit as profit. If we quickly reach 80% profit on this trade I would consider closing it early.
Exit tactic: We will wait for this Bull Put Spread to expire worthless.
Bottom Line: We've heard the words "Greek Debt Deal" before…followed by the sound of a can landing farther down the street. The ECB (European Central Bank) gave some ground on their holding of Greek government bonds, taking a haircut, provided the debt restructuring negotiations are successful. Sold. They're still partying in Ibiza like it's 2006. Make sure you 'Like' the TGO Facebook page and follow us on Twitter @topgunoptions. Happy hunting and make sure you hedge.