Strategic Mindset: With the FOMC announcement of further easing, the market has finally realized that this is bad news instead of good news. Stating the obvious, the FED believes economic conditions in the U.S. (and overseas) call for further extension of asset purchases by the FED to help lift our sagging economy. This is not good news by any stretch and only adds to our Bearish strategic mindset.
Target: Google (NASDAQ:GOOG) trading at $577.51
Commit Criteria: GOOG IV (Implied Vol) is slightly elevated relative to its HV (Historical Vol). We're looking to take advantage on the 'sell on the news' reaction to the FOMC action with a high probability quick strike trade on GOOG that expires tomorrow.

Charts compliments of www.trademonster.com/tgo
Looking at the 3 month and 20 day charts we can see that GOOG has found a channel with coming pressure to the downside.
3 Month Chart: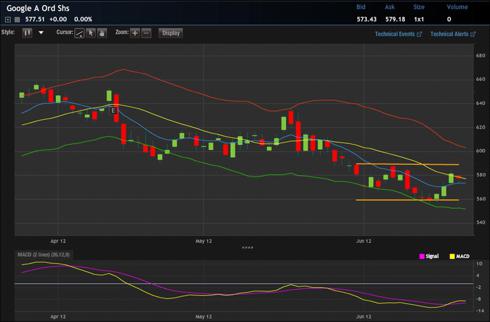 20 Day Chart:
We feel 585 is a near term top, certainly for 2 trading days, barring unforeseen positive news - which seems to be in short supply, even for tech behemoths like GOOG.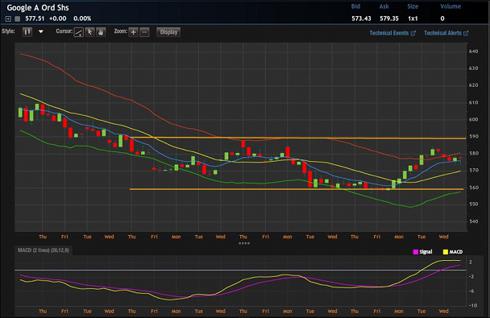 Tactic: Sell 15 Jul 585/590 22 Jun Bear Call Spread for a credit of $.61
Tactical Employment: A Bear Call Spread (credit spread) is where an investor simply sells an upside call at a strike they do not believe the stock will hit during the life of the trade, while simultaneously buying an upside call further out of the money to act as a hedge to minimize risk and loss should the underlying rally.
Sell to Open 15 Jun 22 585 Calls for $1.05
Buy to Open 15 Jun 22 Calls for $.42
Net credit of $.61 (GOOG will most likely open lower and we will seek to get filled on this spread, even if it is lower than .61)
Max Gain: $915 73% probability of achieving max profit
Max Loss: $6,585 15% probability of sustaining max loss. According to Top Gun Options trading ROE (Rules of Engagement) we will not risk more than 5% of the model portfolio on any one trade. We are a little north of this amount in the Primary Model Portfolio but I am comfortable with this risk due to the high probability of success. So our max loss is defined from the outset.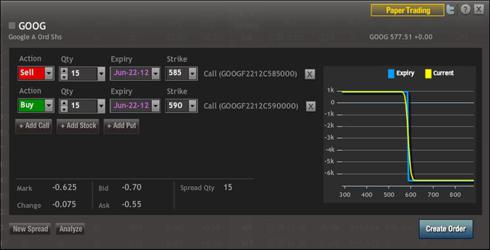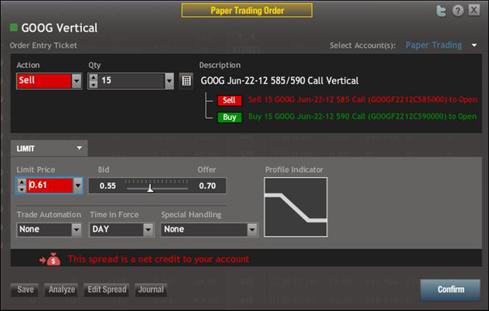 Midcourse Guidance: We will let this trade fly down range and manage throughout Friday as needed. Theta is our friend and is literally decaying by the minute after we put this spread in our Model Portfolio.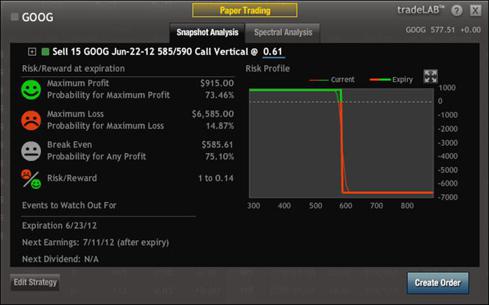 Eject Criteria: We will close this position if we incur a loss of 50% of our Max Loss, or $3292. We want to live to fight another day. As always at Top Gun Options, we close the position whenever the Commit Criteria change. We believe that the rest of the week will see sideways trading with not much to spark the market and see more downside pressure than room to the upside.
Disclosure: I am short GOOG.
Additional disclosure: We hold this position in our Primary Model Portfolio.