My favorite technical analyst, Chris Kimble, recently noted that AAPL may be embarking on a long decline from here. I very much agree in the mid/long term, but for the moment I have a pretty bullish take on the chart. The stock currently testing dual support - both a rising trend line that has been test 5 times since 2009 and a price level that held in the steep sell-off from this spring.
In today's action, AAPL appeared to put in a sizeable bullish wick, and may actually close green (market is not yet closed as I write).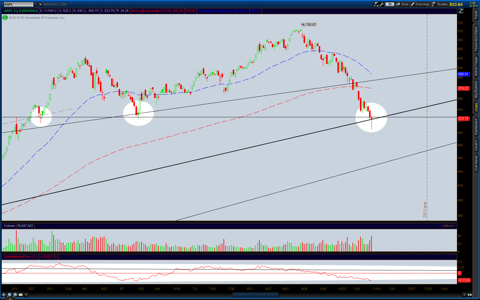 I have long loathed Apple for largely personal reasons (I hate their "closed garden" approach to product development), and have been of the belief that their best days are behind them. It is very hard to manage a company of their size, and even harder to continue growing at the rate the market expects and demands. As a Bear, my ideal set-up would be a rally back to the 330's or so in the first quarter of next year. That would set up a potential right shoulder in a 12 months Head and Shoulders pattern. We shall see how it plays out, but whichever the direction, AAPL is fairly likely to remain a bellwether for the entire market.
Disclosure: I am long AAPL.