The S&P (NYSEARCA:SPY) continue to track along a rising wedge that starts in 2009 and took shape last year. The pattern has now predicted five bottoms and three tops in the last year. To me, it feels toppy. But who knows what shape the topping pattern will take? A double top? A clean break from new highs? A head and shoulders? We shall see. Junk bonds remain unflinching, showing unperturbed confidence in corporate balance sheets and the market at large. If we ultimately see an upside break to this pattern, I suspect it will be because inflation has broken free and all asset prices are heading skyward.
I have drawn the full picture many times. Here is a SPY chart from the last year: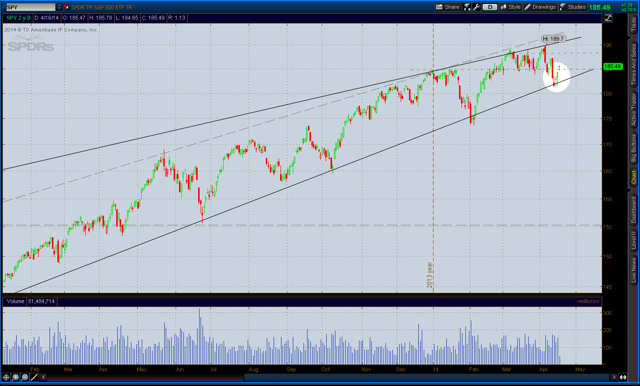 Momentum stocks may be putting (temporary?) bottoms in place at supporting price areas. Many of the high-fliers that have suffered dramatic losses in the last month have similar charts. Most broke down from longer term rising wedges and put a bullish reversal "wick" on the chart yesterday. Here is a look at some of charts that look like possible reversals to me.
Small Caps (NYSEARCA:IWM) have formed a bullish falling wedge in the recent sell-off and seem poised for a possible rally after yesterday's reversal: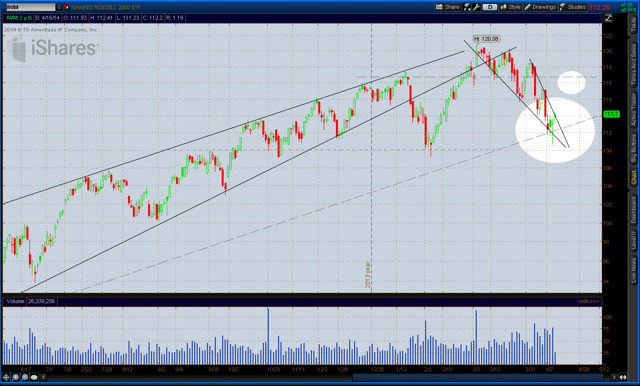 Amazon (NASDAQ:AMZN) has formed a bullish falling wedge in this sell-off. A break above resistance would seem to set the stage for a rally to 340 or higher: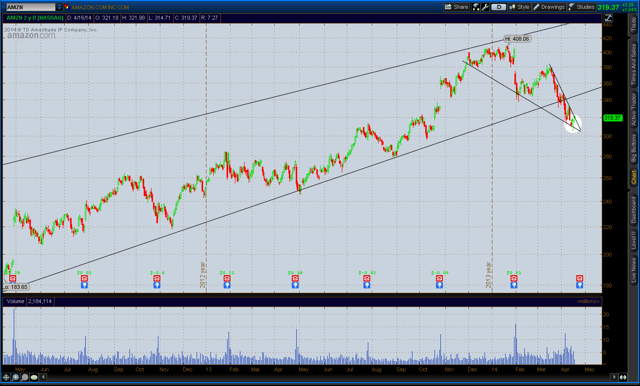 Yelp (NYSE:YELP) has also sold off hard after breaking down from a bearish wedge. It if takes out the downtrending resistance, it may rally: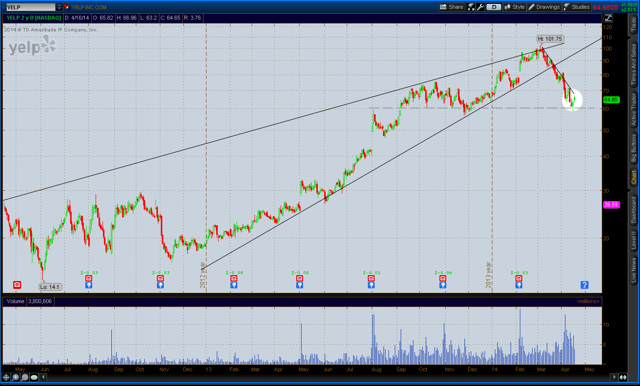 Tesla (NASDAQ:TSLA) put a big reversal wick on the chart yesterday, finding support at its 2013 highs: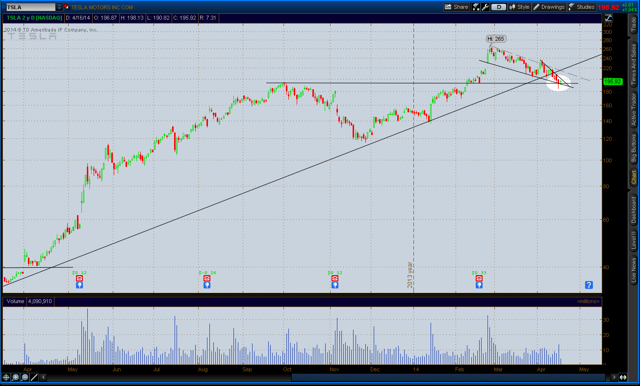 At this point, I still suspect the market is in a topping process. But I've thought I was seeing topping action at this time of year EVERY year since 2010. I will try to hold my bearishness loosely. Speaking of bearishness, a couple of bearish position that seem appropriate: Coffee (NYSEARCA:JO) seems to have confirmed suspicions of a double-top with wretched action the last couple of days: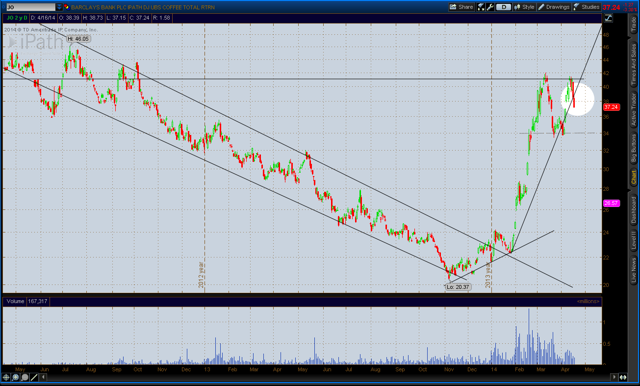 Bank of America (NYSE:BAC) seems to have confirmed the breakdown from its rising wedge. There is room for a rally, but I suspect more downside in the mid-term.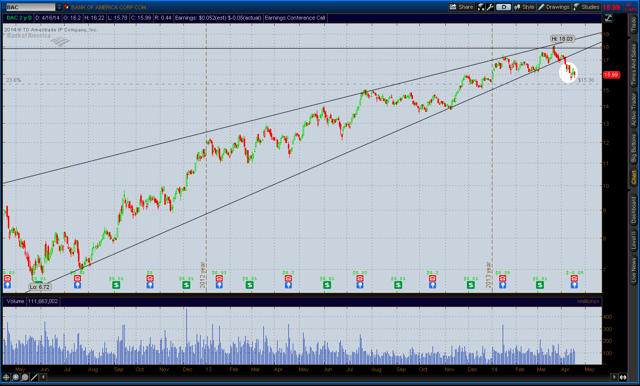 I still like copper as a short, but then I read that Dennis Gartman does too. And so do most traders. Seems like two very good reasons to bail on the trade. We shall see.
Disclosure: I am long TSLA.
Additional disclosure: I have put options on JJC and JO, and am short BAC and IWM.