The U.S. markets have rallied with the S&P topping 2000 as I suggested may happen a few weeks ago. The S&P has continued trading within the rising wedge that we've been following her for quite a while. The end of the pattern is near... by early 2015 at the latest, it would seem. I would be surprised to see such a long-standing, well-defined pattern fizzle into nothing. But we shall see.
One note is that I am waiting until at least the middle of next week to add to short positions. There has been a trend of equity inflows on the first of the month (next Tuesday will be the first trading day of September) and we may see a pop that day. Many major market turns have come near seasonal dates in March and September, so it may be worth waiting until later in the month.
Here is how I see the S&P pattern (actually S&P futures, which has a slightly cleaner pattern than SPY):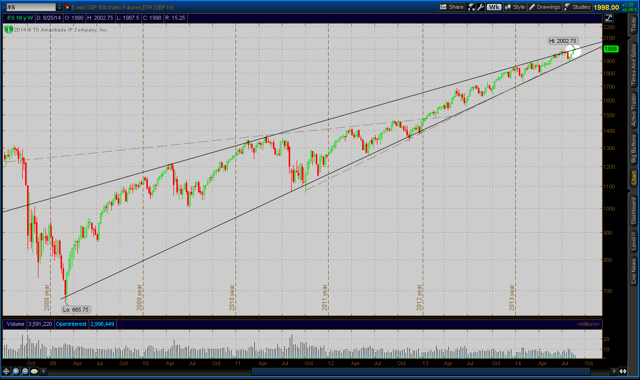 We are back to the top of the range.
The last couple of pivot points have been foreshadowed by action in VIX (XIV, the inverse of VIX, is actually what I have traded with) and small caps (IWM/RWM). Once again those two have recently started underperforming the S&P. First small caps (NYSEARCA:IWM):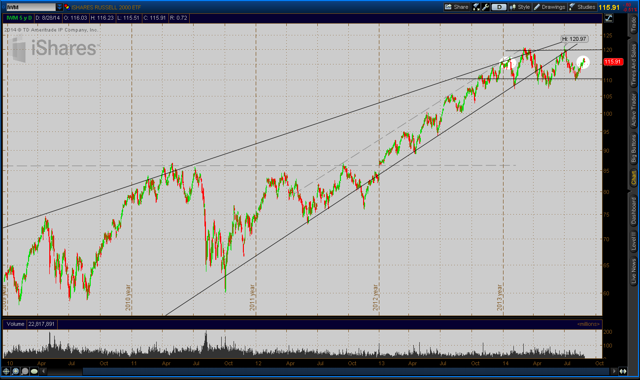 XIV (inverse of VIX) has also under-performed lately: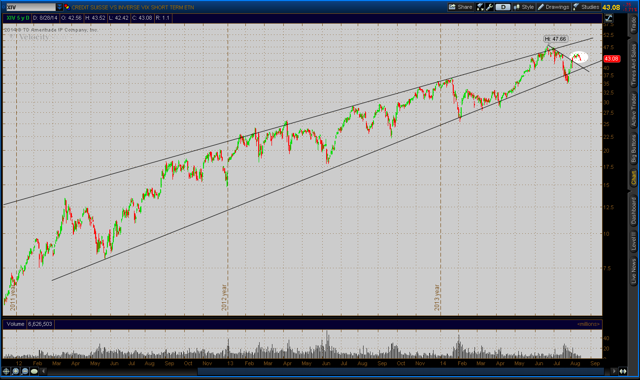 Some of the securities that i have been bullish on appear to be hitting resistance.
Brazil (NYSEARCA:EWZ), which I think still looks to be in a healthy bullish channel longer term, may be due for a pullback or some consolidation after the run-up of recent weeks. Given the pullback that I expect to see in U.S. markets, I am taking profits in EWZ at this time with the thought that I will buy back if it works its way back to the bottom of the channel.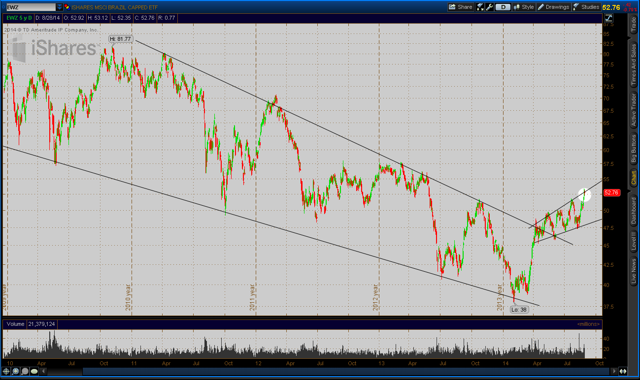 30 year Treasuries (NYSEARCA:TLT) have rallied in the last week and are hitting significant resistance. Like EWZ, it appears to be in longer term bullish channel, so the rally may not be finished, but it seems more likely to pause here.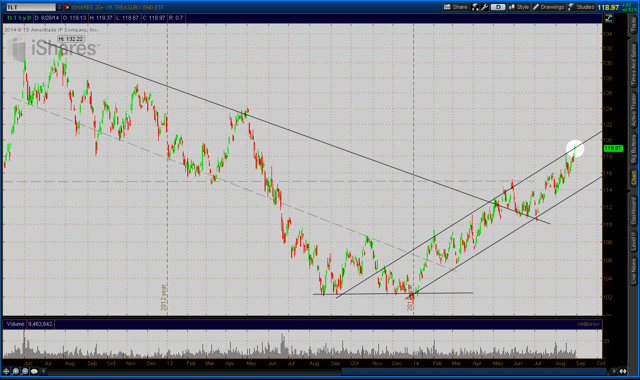 I may have saved the best, or at least most telling, for last. VEU, which is the Vanguard international equity ETF, has a multi-year ascending triangle in place. That is a bullish pattern, and we are at the top of it... read to break out?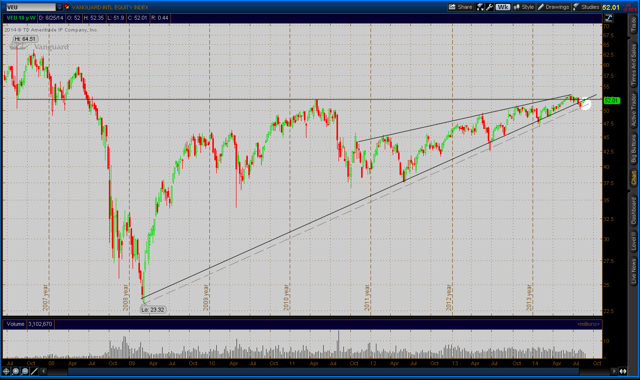 In the shorter term, however, there is a 2-3 year bearish rising wedge in place, and it may be starting a downtrend.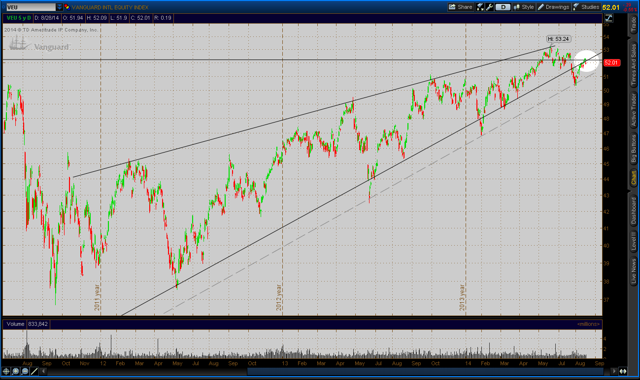 It will be very interesting to see how this resolves.
Hold loosely to your beliefs, and good luck trading!
Disclosure: The author is long TLT.
Additional disclosure: I own RWM calls.