The major indexes appear to have pretty conclusively broken down. There was a large bullish wick put in place at the bottom of the initial breakdown, but upon returning to the old support, major indexes have since retreated. Here is the long term Nasdaq (NASDAQ:QQQ) weekly chart that shows a (7 year old!) rising wedge failing at the old 2000 high, forming a double top, and now breaking down. Just based on the time and percentage moves involved in this chart, I'd imagine we have a good ways to fall.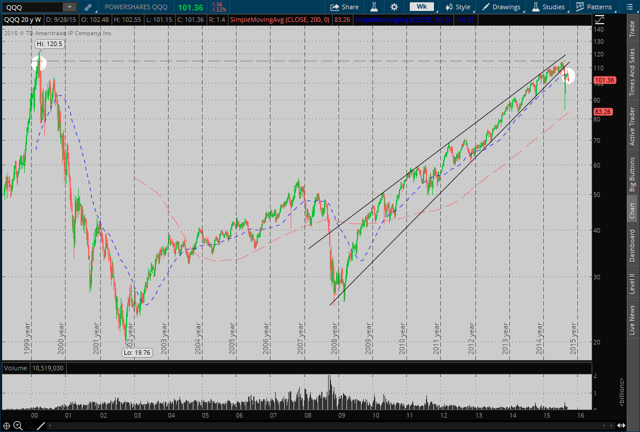 Same ugly story in the S&P, minus the double-to (this one is a 1.61 Fibonacci extension of old highs) (NYSEARCA:SPY).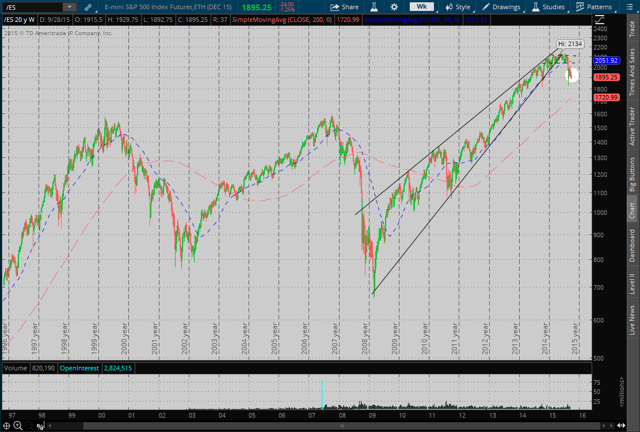 At this point I am settled into my shorts and have taken most long exposure off the table. Bear markets are typically incredibly volatile (much moreso than bull markets), so I am viewing big rallies as opportunities to add shorts and trim longs.
Disclosure: I/we have no positions in any stocks mentioned, and no plans to initiate any positions within the next 72 hours.