The S&P has continued to rally happily on the rumors and echoes of quantitative easing from the Fed and/or ECB. Hopium, in short. The arrival (or not) of that support will likely decide the mid-term future of the market, but it's also worth noting that S&P is edging into dual resistance. A fakkubg trend line from the tops of 2007 and 2011 resides here (the fat line). A rising trend line from late May that connects three different short-term tops from this summer also resides around 1400 here. So the S&P has rallied into a couple of different resistant trend lines.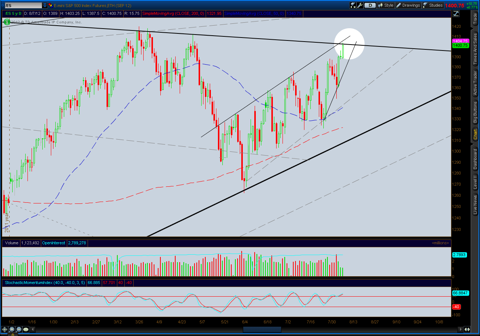 There's a lot of Bullish momentum. Let's the see if the Bulls can push through this resistance, as they've managed to do each of the last two years after last spring sell-offs.
Here's a look at the longer term S&P chart as I see it.