AAPL Bull Call Spread
Apple scheduled to release its Ipad 3 on March 7th, 2012. It is rumored that the Apple TV may be announced as well. PC Magazine reports that Apple has been getting their supply chains ready for a "next-generation TV" which is scheduled for release in Qt 2, or Qt 3. PC Magazine states,
"In December, it was reported that Apple was revving up its supply chain in order to deliver components for next-generation television products due out in the second or third quarter of 2012.
What's more, South Korean media reported late last year that Samsung began producing chips for next-generation Apple TVs back in November, while Sharp is reportedly supplying the displays for the units."
Since Apple began building their supply chain in December, the stock has risen 39.9%.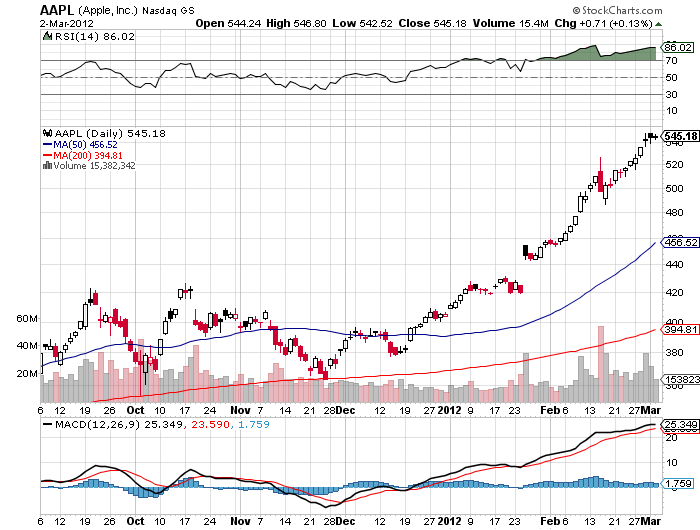 I see a short term, event driven, options opportunity here. Buy the March 12, 545 / 550 bull call spread for a net cost of about $ 2.20. This spread does not have much time on it, but why should it. All of the action on Apple is happening in the next couple days; let the time decay work for you. All Apple's stock has to do, is make a $ 5.82 increase over the next 10 days and the trade is a winner. That's only 1% rise. Ya the stock is expensive, but why should little guys not get a piece of the event driven action?
TRADE:
Buy Long Call (NASDAQ:AAPL) MAR12 @ 545
Sell Long Call MAR12 @550
Expiration - 10 days (Mar 17th)
Break-Even - $ 547.45
Max Gain - $255
Max Loss - $215
Return % on Risk - 104.08 %
3/5/2012
CL.
Disclosure: I am long AAPL.