iShares FTSE NAREIT Mort. Plus Capp(ETF) (BATS:REM)'s Top Ten Holdings and Dividend Yeilds: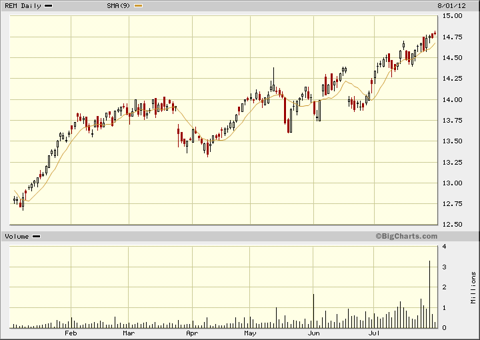 These yeild % are based upon current projected annual dividends, divided by current stock price.
Osprey Dividend Valuator:
NLY - Bearish
AGNC - Bearish
TWO - Bearish
CYS - Bull
IVR - Bearish
STWD - Bull
MFA - Bearish
HTS - Bearish
ARR - Bull
CIM - Bull
Top Three:
1) ARR
2) CIM
3) CYS
Also our Osprey Economic Indicator has signaled an increasing risk level in the SPY. It seems the market sentiment has moved above fundamentally supported levels.
It could be time to cash out, invest in some high yielding REITs and let the money work for you. Continue Reading.