There comes a time in any market where it is impossible to not realize that some very serious over-buying is taking place. Since March 2, 2009, when the Dow Jones Industrial Average hit a low-point of 6626, the DJIA has risen to an all-time high and is now sitting over 14,400. This is in spite of massive government bailouts, government easing, and almost everything else to make things seem better than they really are.
Regardless of the reasons for the markets spiking up so much (especially of late), the bottom line is that there are plenty of stocks that are unreasonably overvalued and should take a nosedive quite soon.
In this article, I would like to write about three stocks that I feel are the most likely to fall rather quickly and that should bring a nice return on investment.
Back in late September 2012, I wrote an article here on Seeking Alpha recommending three stocks to buy puts on. You can read that article here seekingalpha.com/article/895981-consider-put-options-with-these-3-stocks.
It is extremely important to note that I have a time-frame with these options that uses strike prices and expirations that I feel will bring a healthy ROI rather quickly, so exiting the trade with a profit is always the way I trade, and I highly encourage readers to do the same. Holding too long can wipe out most of the gains that were there for the taking, so please do not be greedy hoping for more gains if it is simply not there.
Here are the three stocks that I will be purchasing put options with this week, with strike prices and expiration dates listed:
1.) LinkedIn Corporation (LNKD) - Once again, LinkedIn makes my list. In my opinion, this is one of the most overpriced stocks I have seen in a while. Back in September 2012, I felt it was overpriced at around $115.00/share. Now currently sitting at over $180.00/share as of Wednesday afternoon, this is an opportunity to buy put options at a much lower strike price from where it is currently trading at, with a high expectation it will tank soon. This is my number one pick on the list.
Still with an outrageous price-to-earnings (P/E) ratio over 900 and a measly earnings per share of 0.19, this is simply a stock that is too overpriced.
The great news too is that there is still plenty of downside here. The 52-week range is $87.75 - $179.35, so it is just a few dollars off of its 52-week high, which is another statistic I love with overvalued companies.
I am recommending purchasing May 2013 $155.00 put options with the anticipation that within this time-frame the stock should be well below what it is trading at right now. Hop on this one.
2.) Priceline.com (PCLN) - While I like this company a lot, it does have a bad tendency to fall very fast when reaching near 52-week highs, as it is getting close to now. I would wait another week or so to make this trade, let it gain some more (in upwards of $730.00/share), and then pull the trade.
Currently, Priceline.com is trading at $715.00/share. The 52-week range is $553.42 - $774.96.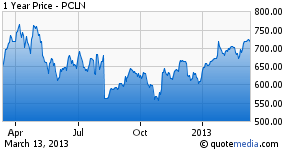 This is one of those type of trades where it will need to be monitored closely, as huge drops can happen at any time on any given day. On a previous article I wrote about Priceline.com, I recommended puts and was in-and-out of the trade it days with a very nice return on investment. I am expecting the same in this situation.
I am recommending purchasing May 2013 $615.00 strike put options. While I do not fully expect that the stock will trade down to this level, I do feel that it will move down in price significantly enough to have the premium of the option price increase substantially enough to make this a trade well worth placing.
3.) Salesforce.com (NYSE:CRM) - another perennial favorite of mine to buy puts on, Salesforce.com, like LinkedIn, is extremely overvalued, in my opinion.
Currently trading at $180.73/share, this stock is only $7.00+ off of its 52-week high, which has a range $120.18 - $187.94.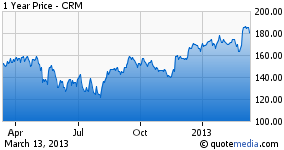 Yes, this is a momentum stock and it does go on some heavy rolls of upward movement, but I feel that will be coming to an end rather shortly.
The company's earnings-per-share is still horrible, at -1.92, and it has yet to really prove (although they have had plenty of time to) that they can become consistently profitable. A lot of excuses, to be sure, but no results. While growth is a big reason why the stock price is so inflated, it is time to start delivering. Plain and simple. I am not going to hesitate buying up a large quantity of put options, using May 2013 $145.00 strike put options. Expect this stock to drop a lot within the next month, where your ROI should make you a happy camper.
I hope to have an influx of articles coming out within the next month, especially during earnings season.
If you have any questions, please leave a comment or send me an e-mail.
Disclosure: I have no positions in any stocks mentioned, but may initiate a short position in LNKD, CRM, PCLN over the next 72 hours. I wrote this article myself, and it expresses my own opinions. I am not receiving compensation for it (other than from Seeking Alpha). I have no business relationship with any company whose stock is mentioned in this article.
Additional disclosure: I will be purchasing put options on all three stocks mentioned in this article this week.
Disclosure: I have no positions in any stocks mentioned, but may initiate a short position in LNKD, PCLN, CRM over the next 72 hours.