Johnson & Johnson (NYSE:JNJ) is scheduled to report their quarterly earnings on Tuesday, April 16, 2013, before the market opens. The stock is currently trading at $82.57/share. The 52-week range is $61.71 - $82.96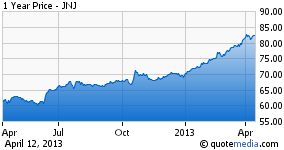 This is an ideal price to be trading at because the strike prices are in increments of $2.50. This is extremely non-volatile stock that does not move too much after reporting earnings.
The trade I am placing is a Neutral Calendar Spread. I will be using the April 2013 expiration (sell) and May 2013 expiration (buy). Here is how the trade is placed:
Entered Trade
Sell -10 JNJ Apr13 82.5 Call
Buy 10 JNJ May13 82.5 Call
Requirements
Cost/Proceeds $590.00
Option Requirement $0.00
Total Requirements $590.00
Estimated Commission $30.00
The NBBO bid/ask: 0.56 - 0.59. I would pay no more than 0.61 for this trade using a limit order. Here is a look at the profit/loss chart:
I would not be too surprised if this trade profited ahead of their earnings release, but it is never a good idea to always count on that, ahem. Hint, hint.
If you have any questions, please leave a comment or send me an e-mail.
Disclosure: I am long JNJ.
Additional disclosure: I have this trade already placed.