Last week, I wrote an article outlining five trades based on this weeks earnings, which you can read here seekingalpha.com/article/300811-great-options-plays-on-5-stocks-reporting-earnings-next-week.

While my expectations were high, Netflix (NASDAQ:NFLX) really made my strangle strategy a huge winner. Some may point out that I limited my total upside because I recommended taking both sides of the trade by purchasing calls and puts. However, I have no regrets. Earnings releases are really a roll of the dice. It is pure gambling if you only take one side. In the past, I learned my lessons the hard way with companies like Research In Motion (RIMM) and a slew of others.

When it becomes obvious that there is going to be a large price move in the stock after they report earnings, the strangle option strategy is one of the most conservative ways to make money. No matter what numbers and forecast (NFLX) reported, there was going to be a big move.

I am very careful as to what stocks I choose for strangle options strategy. This knowledge has come from years of trading them solely for this purpose. Generally, only stocks that are high-priced really work using the strangle ($100+/share or more for the most part). For companies such as Cisco (NASDAQ:CSCO), Intel (NASDAQ:INTC), and others that are similarily priced, the cost to put on the trade by buying the same amount of calls and puts will not work because the price movement is too little. We are talking about movement in dollar amounts here for the trade to work, not cents. Occassionally, there are exceptions (Akamai Technologies being a good example), but they must be extremely volatile stocks.

As for Netflix's (NFLX) earnings release and future forecast, all I can say is what a complete disaster. While it was not unexpected by any stretch, the loss of subscribers was even more than I anticipated. Their forecast was even worse. See this article for more on this: finance.yahoo.com/news/More-challenges-seen-for-rb-1091739203.html.

Netflix (NFLX) fell a whopping $41.47 Tuesday, or 34.9%. The stock is now trading at $77.37.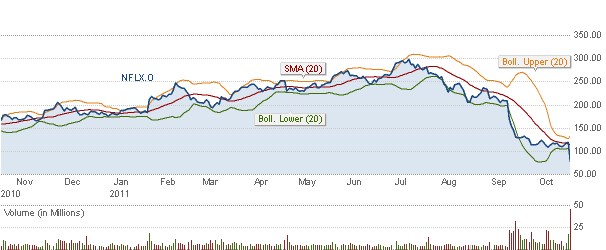 Netflix (NFLX) is now down about 75% off its all-time high of $304.79 in July 2011. CEO Reed Hastings is under some serious pressure now. Once looked at as one of Wall Street's most savvy CEO's, his poor choices to increase pricing while losing content has really backfired. This company just seems lost.

As of right now, I have no positions in Netflix (NFLX). I still don't trust this company to be buying puts right now. They are notorious for releasing "positive" news that seems to spike up the price up for the short-term. I will re-evaluate in the coming days.