NPWZ: Neah Power Systems Inc
www.neahpower.com
Description: Founded in 1999, Neah Power Systems, Inc. is engaged in the development and sale of renewable energy solutions using its direct methanol micro fuel cell technology. The Company's power solutions include devices, such as notebook personal computers (PCs), military radios, and other power-hungry computer, entertainment and communications products. The Company uses a silicon-based design for its Powerchip micro fuel cells. Its fuel cell design utilizes a porous silicon electrode structure and circulating liquid streams of fuel, oxidant and electrolyte that produce the chemical reactions needed to generate power. In addition, the Company's fuel cell contains all chemical reactants within the fuel cell and cartridge.
Leadership: I wanted to begin by mentioning some key players within the company and highlight their past experience with large corporations such as Honeywell (NYSE:HON) and Intel. Corp. (NASDAQ:INTC)
Dr. D'Couto
President and CEO
Dr. D'Couto has a Ph. D. in chemical engineering from Clarkson University and an MBA from Berkeley.. He has held positions within Intel Corp., Novellus Systems, and FormFactor Inc. prior to OTCPK:NPWZ. He is the author of multiple patents and journals articles. Dr. D'Couto's salary was $209,496.
David Schmidt
Acting Principle Financial Officer
Joined in 2012, Mr. Schmidt is also a member of the board and has held senior management roles at Honeywell International Specialty Materials (HON) and several others.
Dr. Tsali Cross
VP Manufacturing
Over 11 years experience with MEMS and semiconductor fabrication, thin film deposition and Nano-characterization. Dr. Cross oversaw NOR Flash memory processes at Intel and developed new film deposition techniques for MEMS while at Sandia National Laboratories.
Insider Buy In As of the 10K filed for 2012:
Dr. D'Couto (8%) 48,778,432
John Toedtman (5%) 27,011,927
Jon Garfield (2.8%) 15,038,829
Jeffery Sakaguchi (1.8%) 9,312,737
Mr. Schmidt (1.3%) 6,818,748
19.4% for executive holdings.
Green World Trust (16.5%) 90,545,088
Summit Trading Limited (5.6%) 31,059,750
Sierra Trading Corp. (4.4%) 24,000,000
26.5% ownership.
45.9% of current shares held are large block holders or executives that have kept or increased shares as the years have progressed.
Summary:
Neah Power Systems has several products on the market, using their award winning technology, specifically their PowerChip and Buzz Bar, that have already been purchased and in current use by leading defense companies. The difference between them and perhaps FCEL, is that they believe their product has the advantage when the application requires several batteries for longer use and needs to be lightweight. They promote that their product can be applied to military, first responders, and individual consumers via mobile technology. Personally, I believe their product can be applied to a government program for the next generation power source to unmanned vehicles requiring long battery life and very little load barring capabilities. Their silicon-based process allows easier manufacturing which gives them the advantage compared to other similar companies.
In the latest 10-Q (Q3 2013) Dr. D'Couto states "We require additional financing to execute our business strategy and to satisfy our near-term working capital requirements. Our operating expenses will use a significant amount of our cash resources. Our management seeks to raise additional financing to fund future operations and to provide additional working capital to fund our business. There is no assurance that such financing will be obtained in sufficient amounts necessary or on terms favorable or on terms acceptable to us to meet our needs. In the event that we cannot obtain additional such financing will be obtained in sufficient amounts necessary or on terms favorable or on terms acceptable to us to meet our needs. In the event that we cannot obtain additional funds, on a timely basis or our operations do not generate sufficient cash flow, we may be forced to curtail our development or cease our operations altogether, which may include seeking protection under the bankruptcy laws. " This obviously raises a red flag. If they do not report additional funding or sales within the next few quarters then this company may be looking at selling their patents or being bought out. Either way, without funding, Neah Power may not be in business past Q2 2014.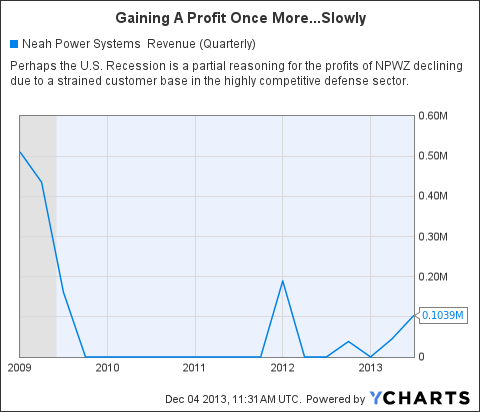 NPWZ Revenue (Quarterly) data by YCharts
NPWZ Tangible Book Value (Quarterly) data by YCharts
Issues:
-Fuel cells have not been successful on the market due to their notoriously low power density, sensitivity to ambient, short life spans, and difficult manufacturing.
-I am also curious about Dr. D'Couto's salary, which seems somewhat high given the numbers aforementioned.
-Even though they do have customers within the fortune 150, I am wondering why the sales have not increased at a quicker pace. Why is the market not following suite?
-I have been unable to get in touch with the investor relations at Neah Power, they have not returned my email. I am interested in knowing what there current strategy is to gain new contracts whether it is different governments or just trying to convince current defense contractors like Lockheed Martin (NYSE:LM) and Boeing (NYSE:BA) to use their products in their future drone products. For me, the answer to this question is a make or break for future investors.
Benefits:
-Approximately half of the available shares have been insider purchased and held for the long term providing some stability; as much as a penny stock can be.
-Net loss $999,544 in 2012 compared to $1,633,217 in 2011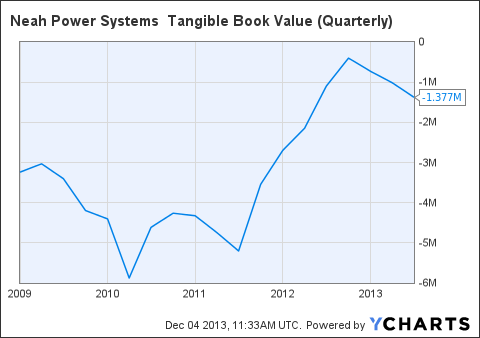 -12 current patents
-Liabilities down to $1,035,609 from 3,638,136 in 2012
-In comparison to other fuel cell companies, they require low capital, rapid ramp up, and can leverage existing quality systems. Industry standard of 72 hours currently requires 12 BA-5590 military standard batteries weighing in at 27 pounds (below picture). Neah Power and their technology requires a fuel cell with nine fuel cartridges weighing in at only eight pounds.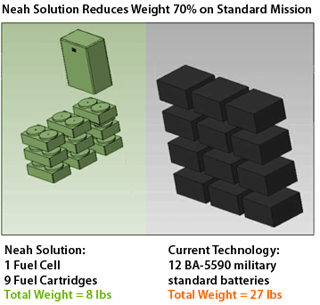 Amazon (AMZN):
Jeff Bezos recently told Charlie Rose of his plans to use "octocopters" that can carry as much as 5 pounds within a 10-mile radius of an Amazon fulfillment center. Amazon may start using the drones, "which can make a delivery within 30 minutes, within five years pending Federal Aviation Administration approval," Bezos said.
"It will work, and it will happen, and it's gonna be a lot of fun," he said in the "60 Minutes". http://www.bloomberg.com/news/2013-12-02/amazon-testing-octocopters-for-delivery-ceo-tells-60-minutes-.html?alcmpid=mostpop
Just the idea of drones being used for other than military options creates an entirely new
market for Neah Power.
Conclusion:
For me, the need for lighter and longer lasting power for military UAVs and the likes of Amazon , and Neah Power's ability to fill this void makes it worth the risk. I believe current price is perhaps a bit overhyped and should go down and settle around $0.004 at which time I would recommend NPWZ a buy starting with a small position for the risk tolerant investor IF THEY FIND A FUNDING SOURCE be it sales or investors. If they to not, I would hold off on investing until they do so.
Disclosure: I am long OTCPK:NPWZ, FCEL.