I am no longer a neutral observer of this REIT sub-sector. I have purchased shares in CyrusOne (CONE), CoreSite Realty (COR), Equinix Inc. (EQIX), American Tower (AMT) and Crown Castle (CCI).
The combined holdings are 2.4% of my total portfolio. I normally made investments in units of 1% of my portfolio. Thus my weighting in each is atypically low.
It is still fresh in my mind buying the Shell and Phillips 66 MLPs in 2015 at low yields and high prices. I have had the distribution growth I expected at the time of purchase. But the share price appreciation went into reverse.
I am aware that there is a decent change that I am repeating that kind of error with the above purchases at the current high valuations (based on yield - but not on Price/FFO). At the same time, one's REIT portfolio was not likely to come close to sector average in 2017 without exposure to this REIT sub-sector. I saw a "damned if you do - damned if you don't" scenario - and tried to navigate to a half-damned course. I purchased what I project to be the highest growth options. I am too new to this sector to have a high degree of confidence that I have done so.
I did make several minor tweaks to my portfolio this week. I would normally update this audience about that. But . . . .
I believe I merit compensation for my "same day" earnings release updates that I do. Seeking Alpha takes too dang long with their approval process for these "paid article" posting to get to the market before the market opens. Thus to deliver this very timely service, I current must do it for free.
I am considering "going pro". Those with a fee based service can post to Seeking Alpha their fee generating content without going through the approval process. So the switch solves a problem on my end.
But . . . I was surprised that the lowest price that Seeking Alpha allows is $25/month. I could imagine my full service (on 9 sectors) as being worth $60 a year -- if one were to value my BDC content at $30.
I am saving an update on "what I own" as an intro article to a potential (but still unlikely) fee service. Given that I have told this audience of my interest in the Data Center and Cell Tower sectors - I did want to provide an update to you - and not leave you hanging. The data: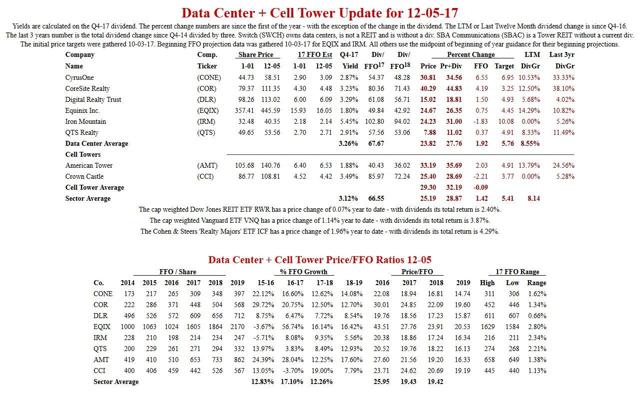 Disclosure: I am/we are long CONE, COR, EQIX, AMT, CCI.