From the Magellan Midstream Partners (MMP) earnings press release:
Distributable cash flow (NYSE:DCF), a non-generally accepted accounting principles (non-GAAP) financial measure that represents the amount of cash generated during the period that is available to pay distributions, was $308.3 million for fourth quarter 2017, representing a quarterly record for the partnership, compared to $277.2 million for fourth quarter 2016. 
 Annual DCF was a record $1,021.4 million in 2017, or 1.25 times the amount needed to pay distributions related to 2017, compared to $947.5 million in 2016. 
Management remains committed to its previously-stated goal of increasing annual cash distributions by 8% for 2018 and currently expects to generate annual DCF of $1.05 billion in 2018, resulting in approximately 1.2 times the amount needed to pay cash distributions for 2018. Current DCF guidance assumes throughput will equal minimum volume commitments on the Longhorn pipeline and be slightly above minimum commitment levels on the BridgeTex pipeline. DCF guidance also assumes volumes on the Longhorn pipeline will continue at historical levels once current contracts expire in the fourth quarter of 2018, but at lower tariff rates due to the increased competition in the Permian Basin. However, both BridgeTex and Longhorn pipelines have available capacity for spot shipments, which if utilized during 2018 could result in higher 2018 DCF up to $1.08 billion.
Looking further ahead, management is targeting annual DCF growth in the range of 5% to 8% for both 2019 and 2020. Magellan intends to manage distribution growth consistent with its expectations for DCF growth for the foreseeable future while maintaining annual distribution coverage of 1.2 times, which correspondingly could result in annual distribution growth of 5% to 8% each year, as well. Guidance specific to 2019 and 2020 has not been provided previously.
My comment - the "5%" potential of forward distribution growth will probably scare the market. If MMP can sell the market that it is only being prudent in giving a conservative projection - MMP could do OK today. MMP - in my opinion, needs to connect a WTI with the 5% number and also have that WTI connected to 5% to be low and out of the consensus.
My spreadsheet: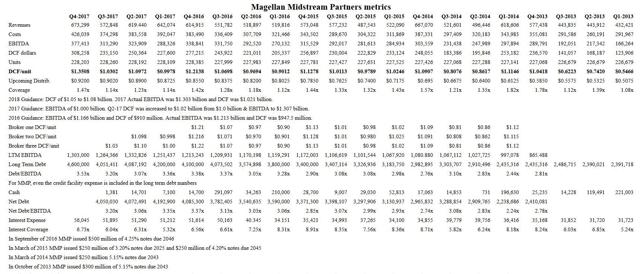 Disclosure: I am/we are long MMP.