This morning we have interim results from Sasol, one of South Africa's biggest home grown companies. On the by market capitalisation ranking tables Sasol is in 8th place, 260 billion Rands. Just, and I mean just behind Naspers (265 billion), which have overtaken them in recent days. MTN is comfortably ahead of those two with a market cap of 331 billion Rand. And then there are the big 5, all with primary listings offshore. BATS, SABMiller, BHP Billiton, Richemont and Anglo American are those big five, remarkably SABMiller's market cap is more than double that of Anglo American. Over ten years SABMiller in Rand terms is up 872 percent, whilst Anglo American in the same time is up 97 and a half percent. A shrinking giant (relative) and a new giant, dominant in our home market.
Back to Sasol though. This company was formed, as a government parastatal, in 1950 with the intent of pursuing a coal to liquids technology that existed, but production at scale. Those were dark old days for South Africa, obviously the powers at the time wanted energy independence for the country. Sasol listed locally in 1979, the ADR listed famously on the day that Saddam Hussein's statue was torn down in Baghdad in 2003. Ernie Els bought the first ADR share, he was interviewed on the floor, I remember it pretty well. Condea was bought in Europe in 2001. Oryx was a monster achievement back in 2007, the Qatar plant started production back then, after having originally been commissioned in 2001. There were some serious problems at the start, but that changed as they managed to settle. More recently the Lake Charles announcement was a huge push to be taken seriously at a global level. In case you missed it, from last year December: Sasol. This changes everything. These projects are huge, and generally take a whole lot of time.
So the company continuously changes, in order to meet the needs of their customers and a changing market. The fluctuations in the oil price and the Rand to the US Dollar (their products are priced in Dollars) make forecasting this company a tough old business. Really tough. But having said that, the market usually trades the business as a function of Rand oil price. And on that metric, a mere two months ago the percentage of the Sasol share price to the Rand oil price was around the crisis levels. Leading some to believe that the company offered some of the best value around. The stock is up around 11.5 percent this year, moving higher as I write this. Jumping around a little in this message, Sasol is 7.2 percent the size of Exxon Mobil. I guess that is not bad. 13.6 percent the size of the ADR of Royal Dutch Shell. And 22.3 percent the size of the BP ADR, so I guess not bad at all for a "little" company down here at the end of Africa. Enough history and enough background, let us jump oily boots and oil into the numbers.
Sasol synfuels production increased ten percent. Operating profits increased 4 percent to 18.9 billion Rands, remember that these are half year numbers. This was on revenue that was 3 percent higher at 85.440 billion ZAR. Headline earnings per share edged up 2 percent to 24.01 ZAR per share, the dividend declared for the half is 5.70 ZAR, payable on the 15th of April. The enterprise value was five percent lower at 246.479 billion ZAR, mostly as a result of several write downs. Refresh your memory here, with this piece that we wrote: Sasol, you have to be patient here.
The average crude oil price for the first half was relatively unchanged at 109.81 Dollars per barrel, the average Rand to the US Dollar over the same period was 8.48. The average currently is comfortably above those numbers. This excellent table tells you almost everything that you need to know about the business currently. The massive synfuels business is hugely profitable for their shareholders. A modest contributor to group revenues, but the most important contributor from a profitability point of view. Also, note that the Synfuels international business has similar margins to the local business.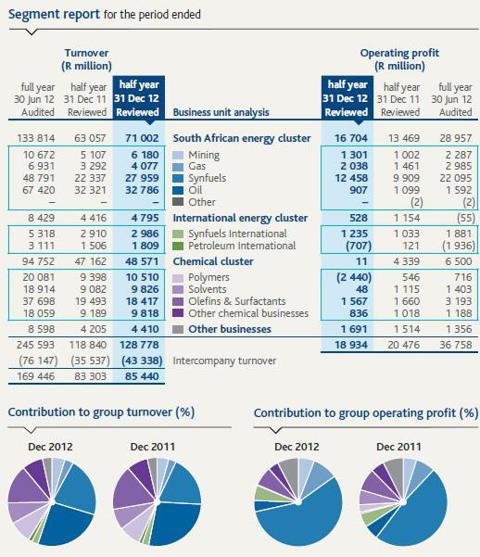 So what do you get when you buy Sasol? A fairly well diversified business geographically and by segment, with reliance on one particular business, the local synfuels business. For their profits. And I guess, like we said earlier in the message, the Lake Charles expansion is possibly more key to this company in the medium term than anything else. And I guess the company is being priced for that, this is not a very demanding rating at all.
The execution risk of that project means that you have to be patient and trust that a company of this size and scale will get it right. The company is really cash generative and will have to juggle with their capital raising (so far so good) and using existing cash flows to fund a 21 billion Dollar project. I suspect that although this is not quite a swing for the fences approach, it is close. I suspect that if any company globally can bring off this type of project, we have to back David Constable and his current team. We continue to hold this business, and add on weakness.
Disclosure: I am long SSL.