Count to four, that is all that mattered, as the platinum majors put out SENS releases yesterday afternoon. Because you can put two and two together, so you only need to count to four. First of all, our nearly neighbours here at Melrose Arch (if we walk onto the street, they are on the other side), the Royal Bafokeng Holdings pulled their pending listing. Whoa! I am a Pirates fan, so I didn't need to own a part of Platinum Stars. Kidding, the grand daddy of the assets in the Royal Bafokeng stable are of course the platinum assets, Royal Bafokeng Platinum or just simply RBPlat. The platinum asset in question stalling the listing is the Bafokeng Rasimone Platinum Mine. Or BRPM.

The SENS message from Anglo Platinum, some background first from them on the asset in question here: "RBPlat holds a 67% interest in Bafokeng Rasimone Platinum Mine ("BRPM"), a joint venture established in 2002 between RBPlat's wholly-owned subsidiary, Royal Bafokeng Resources (Proprietary) Limited and Rustenburg Platinum Mines Limited, a wholly-owned subsidiary of Anglo Platinum Limited ("Anglo Platinum"), and which owns the remaining 33% of BRPM."

And more importantly "Anglo Platinum Limited wishes to draw attention to the announcement today by RBPlat. The announcement states that the shareholders of RBPlat, being RBH and Anglo Platinum (the "Shareholders"), received a written offer to acquire 100% of BRPM (the "Offer")." Interesting. Who could it be?

Less than a hour later, a SENS release from our favoured platinum company: "Shareholders are advised that Implats has entered into discussions regarding a potential transaction which, if successfully concluded, may have a material effect on the price of Implats' securities." So there is your two and two. Well, not really material, the stock added two percent to close at 180 Rand a share exactly.

The Anglo Plats annual report says that a BEE transaction with Royal Bafokeng Resources took place in 2009: "The transaction whereby RBR obtained a majority interest in the Bafokeng-Rasimone Platinum Mine, became unconditional and therefore effective on 7 December 2009." The mine has been around for 11 odd years. If you want to know more about the mine, get hold of the general manager of BRPM, a chap called Glenn Harris. Or just dig further in the Anglo Plat annual report from last year, here goes on the mine production:

"Anglo Platinum's attributable share of equivalent refined platinum ounces, which includes 88,805 purchased ounces from the joint-venture partner, decreased by 1% to 173,302 ounces in 2009, compared with 175,035 ounces in 2008."

I managed to find from the Anglo Plat annual report last year, the mineral reserves. I hacked the reserves by project to get the following table. Sorry Anglo Plats, and thanks for the data: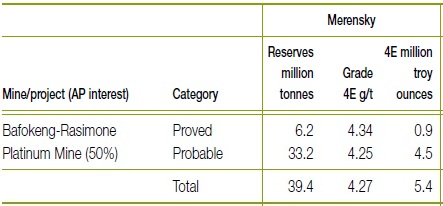 The next two questions are, a) What would Impala pay for that production and reserves as per the table above And b) Would they use a mix of cash and stock, cash to Anglo Plat and more Impala shares to the Royal Bafokeng Holdings.


I suspect that is what will happen is that the Royal Bafokeng 67 percent stake will be swapped for more Impala shares, Anglo Plats will be paid cash for their stake. Remember that the Royal Bafokeng own 13.2 percent of Impala already. Price is what matters here I guess, we will hear no doubt in the coming weeks what the price tag is. I wonder how Anglo Plat feel about all of this, a little dirty no doubt at the thought of maybe selling to Impala. Don't speculate, rather wait.Disclosure: Long Impala Platinum