A $2.1 trillion revolution is sweeping through North Dakota.
And today, I'm going to show you how you can harness it to lock in one of the fastest-growing income streams the market has to offer.
It all started in 1912 when a college sophomore student, W.T. Thom, stumbled across coral in the Cannonball River, a tributary of the Missouri River, in North Dakota.
Thom was a geology major. And even as a sophomore student, he knew that coral was an odd thing to find in small creek bed in rural North Dakota. He knew he had made a major discovery. The coral he found pointed to this area once being an ancient sea... and to potential oil deposits.
Although most folks think of oil as the remains of long-dead vegetation, about 95% of the oil on the planet was formed from the remains of tiny sea creatures. So soon after Thom found the coral, the search for oil began.
Thom became fascinated with the area. After getting his doctorate in geology, he started publishing academic papers on his discovery and the surrounding areas - including one 1921 paper titled "Possible Oil in Northeastern Montana."
Two years later, Thom coined the term "Williston Basin" for the oval-shaped depression that extends roughly 475 miles north to south and 300 miles east to west and covers parts of Montana, North Dakota, South Dakota and Saskatchewan in Canada.
Today, we know that the Williston Basin has more proven and probable oil reserves than anywhere else in the lower 48 states. But it wasn't an overnight boom for the region. In fact, few people made much money on this discovery until just the past few years.
Take a look at this chart. It shows the hockey-stick growth of oil production coming out of North Dakota, mainly from this Williston Basin (the blue line), compared with total US oil production (in gray).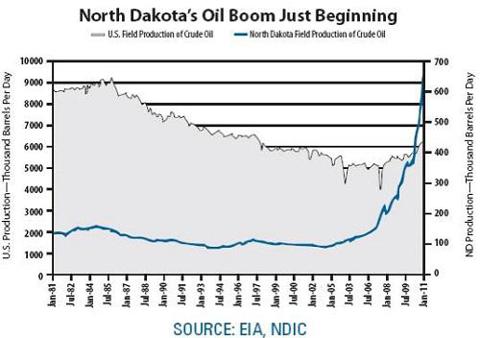 This isn't your grandfather's oil. This new production is something called "tight oil," a type of light crude oil found in shale formations. This kind of oil has been around for a long time. But we can access these rich deposits only because of the great leap forward in advanced drilling techniques.
You've probably heard of a few of these before: horizontal drilling, hydraulic fracturing and through-tubing drilling. These technologies have opened up deeper, harder-to-access oil and natural gas deposits in shale formations like the one in the Williston Basin.
Total recoverable oil estimates for the Williston Basin range from 4.3 billion all the way up to 10 billion barrels. To put that in perspective, the technically recoverable resources in the Permian Basin in Texas amount to 1.3 billion barrels. And the Western Gulf, which is home to the Eagle Ford Formation (also in Texas), has 3.4 billion barrels. That makes this Williston Basin the largest oil field in the lower 48 states. It's estimated to contain up to $2.1 trillion of oil at today's prices. And those estimates are growing every year.
In short, the Williston Basin is shaping up to be the epicenter of America's new oil boom.
And I know just how to play it...
I recommend you buy shares of Occidental Petroleum Corp. (NYSE:OXY) - one of the 10 largest players in this Williston Basin. Occidental is no small fry. With a market capitalization of $66.6 billion, this is clearly a "Big Oil" company.
But why I like this right now is because of its recent moves in the Williston Basin.
Occidental bought up more than 277,000 acres in this oil-rich region in just the last three years. It is doubling down on this oil boom. And with its financial situation in perfect shape - low debt, stable earnings and large dividend coverage ratio - there's no better time to buy its shares.
Occidental currently pays a 3.1% dividend yield. But I expect that to grow. So far this year, the company has increased its quarterly payment by 18.5%.
I recommend you get in now.
Sincerely,
Jim
Disclaimer
Article brought to you by Inside Investing Daily. Republish without charge. Required: Author attribution, links back to original content or www.insideinvestingdaily.com. Any investment contains risk. Please see our disclaimer.
Disclosure: I have no positions in any stocks mentioned, and no plans to initiate any positions within the next 72 hours.