Dominion Resources, Inc. (NYSE:D) showed up on my 'look for wedge' scan on July 11, 2012. The scan looks for stocks forming a wedge which are usually stocks in a nice consolidation pattern. The scan also filters out low volume stocks and stocks that do not pay a dividend.
The purpose of the scan is to help me find dividend stocks that have the possibility of breaking out. After a stock shows up on my scan I usually have to watch it for a while before it completes the pattern.
I have been watching D waiting for a break out.
The price movement has continued to bounce between the top and bottom lines of the wedge and we are getting tight into the squeeze of the wedge. Naturally, three things can happen now, the price could go above the top wedge line, below the bottom line or stay the same.
Of course I would like to see it break out to the upside accompanied with more than average volume.
In today's (Friday July 20, 2012) price movement you can see the bottom tail of the candle poked through the bottom wedge line that I drew.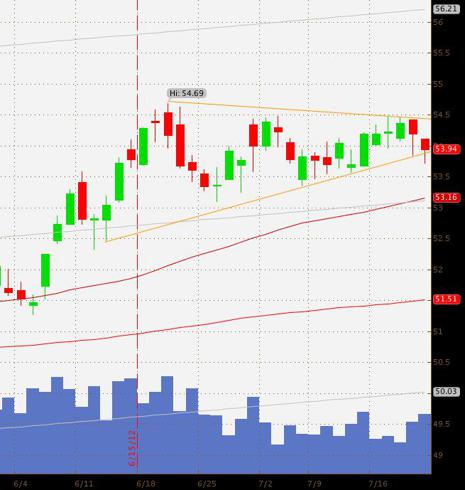 From a technical point of view the stock is in an uptrend when you look at the monthly, weekly and daily linear regression channel, 200 period moving average and the 50 period moving average. This is what I like to see from a long term hold 'investment' point of view. The stock's current dividend yield is at approximately 3.91.
Strong earnings growth can be an indication of stable dividend yields. To find this fundamental information I use MSN Money. http://investing.money.msn.com/investments/earnings-estimates?symbol=d Select "Earnings" and then "Earnings Growth Rates." Use the "Next 5-Years" column. Predictions are positive however notice they lag a little behind the industry and the S&P 500. However, past performance shows it outperforming the industry and S&P 500.
I also like it when a company is below the industry average in term of Debt/Equity Ratio. Go to: MSN Money, Select Fundamentals "Key Ratios," then "Financial Condition." Right now D is above the industry average. This does not negate my desire for the stock however, it does cause me to use caution.
I like to look at volume on a four hour chart wanting to see above average volume for the break out. Notice that on Friday's chart we had about average volume and the price fell below the 50 period moving average. The price closed on the bottom wedge line with a doji candlestick.
Conclusion
My trading plan at this point would be to enter the stock if it goes above $54.00 and is accompanied with above average volume. My stop would be $53.50 with a price target of $56.00.
I'm currently holding shares that I purchased in 2011.
Disclosure: I am long D.
Additional disclosure: I might add or subtract from my position in the next 3 trading days.