There are calls to prepare to short gold. See for example the article today by Quandry Fx and an article yesterday at Zero Hedge about the negative call on gold by Goldman Sachs.
A chart today on the 5 Min. Forecast raises a significant question: What is the support level for the price of gold?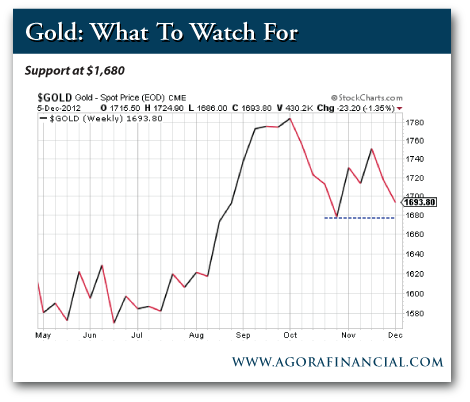 This abbreviated chart leaves the impression that the current position of the price of gold is like that of a man after a hanging waiting to be cut down. That would allow the golden corpse to drop to ground level, somewhere about $120 lower than the last price shown on the chart above.
Based on this graph alone a break of gold below the $1678 level (indicated by dotted line in the graph) greatly increases the possibility that the "cut down" will occur.
In that event, the 5 Min. Forecast has the following quote from Greg Guenthner:
"If gold gives back all of its gains since the summer and thinks about retesting $1,550, then it might be time to start questioning its multiyear uptrend."
Taking a longer view, let's look at a 20-year perspective with a graph presented last year: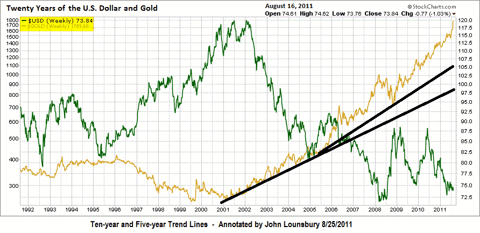 Taking a longer view, say five or ten years as done in the graph above shows support levels for gold near $1,200 and below $1,000.
The speculation that the bull market for gold could be ending is not on the strongest footing until the 5- and 10-year trend lines are broken.
Until the long-term trend lines are violated, buying gold on dips is a strategy that should be considered, negative calls to the contrary.
Disclosure: I have no positions in any stocks mentioned, and no plans to initiate any positions within the next 72 hours.