Here
is
an
earthquake
risk
map
of
the
U.S
.
from
the
Daily Mail
: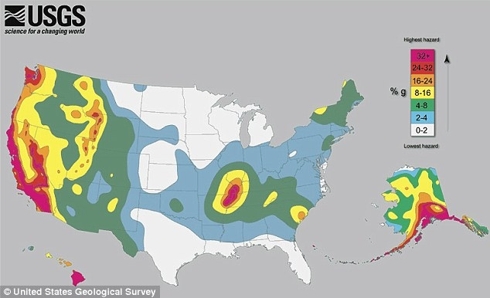 The earthquake map of America: A seismic map shows that living far from the West Coast is no guarantee of safety from earthquakes. The colour-coordinated map shows a high probability of earthquakes along the West Coast - but it also shows an alarming patch of red at the 'New Madrid fault line straddling Tennessee, Arkansas, Missouri, Illinois and Kentucky, in a dangerous patch that spreads outwards all the way to the South Carolina coast.

Hat tip to Barry Ritholtz at The Big Picture/.

Note:  A longer article has been posted at GEI News Blog .