An interesting graphic from the reveals why we may not be at a top for stocks: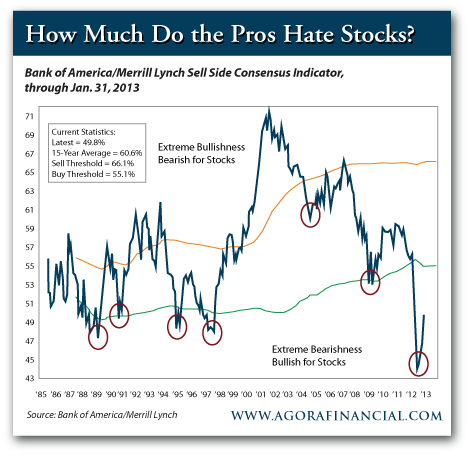 The minimum in sentiment in 2012 implies that there may be between six months and more than a year before the stock market peaks.
That is certainly not the way it feels to me, but I have not sold much up to now.
From the viewpoint that the market will make the maximum number of investors into fools, it would be appropriate for a further rise above the peaks of 2000 and 2007 should be achieved, the pundits all declare the 13-year (plus) bear market to be over, and only then have a significant market decline after suckering in all the last hold-outs.
But you are just reading the thoughts of an insufferable cynic.
Added note: I am not suggesting that the Nasdaq peak in 2000 will be taken out before a decline, just all the other (non-tech bubble) indexes.
Disclosure: I have no positions in any stocks mentioned, and no plans to initiate any positions within the next 72 hours.