The 5 Min. Forecast has a graphic showing a tight correlation between qualitative easing and commodity prices.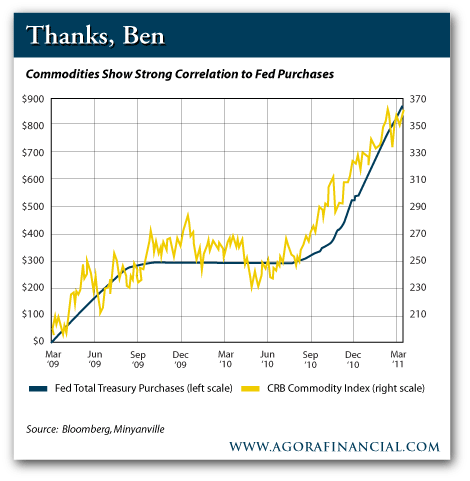 Correlation does not prove cause and effect, but the extremely well correlated money pump output and the rise in commodities is compelling support for the argument that QE is primarily a support of bubbling activity instead of contributing primarily to real economc growth.

Because the release of the nearly $900 billion of QE dollars has been to the banks, presumably to shore up bank capital and increase their willingness to lend, the implication is that at least some of the bank activity, either directly or indirectly, has been to buy commodities.  This could be because the banks are lending to support increased economic activity and that is increasing the consumption of commodities, creating a demand push for prices.

Or it could be because the QE dollars are leaking to China and developing countries who are stockpiling commodities while the money is cheap.

Or it could be because the banks themselves are speculating in commodities.