The Daily Reckoning has an informative chart today, although I do not agree with the conclusion they emphasize.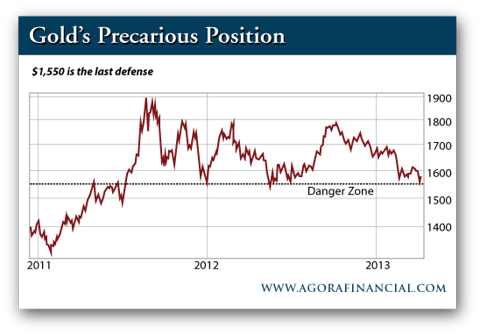 It is true that 1,550 is a strong support level for gold. But it is not the last defense. There are support levels at 1,480 and in the 1,300s.
Some time ago I looked at long-term uptrend support lines for gold.
Taking a longer view, let's look at a 20-year perspective with a graph presented last year: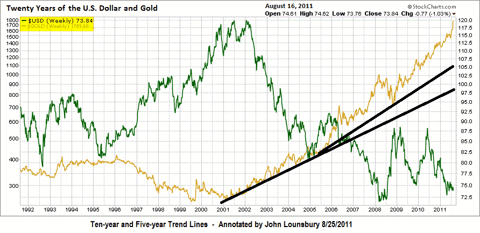 You must extrapolate almost two years to the right to get to today. If you eyeball that extrapolation the five-year trend line support is in the vicinity of 1,100-1,120 and the ten-year trend line support is around 1,020-1,140.
Now those levels are 30% to 35% below the current price, but that is where you have to go to say the long-term uptrend for gold is over.
However, if gold does go back to test long-term trend lines, and you hold all the way to that test, you certainly will not feel like you may still be in a long-term bull market.
Disclosure: I have no positions in any stocks mentioned, and no plans to initiate any positions within the next 72 hours.