The following graphic from the 5 Min. Forecast shows loans during the height of the Financial Crisis to the biggest borrowers: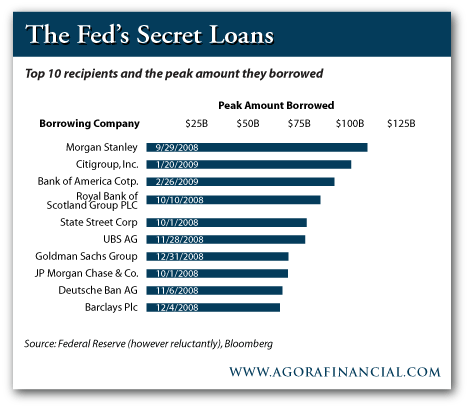 The 5 Min. Forecast quotes Bloomberg as a source.  Here's what they said:

Secret loans from the Fed to Wall Street totaled $1.2 trillion at the height of the 2008 panic.

The top 10 recipients alone account for 56% of the total. The $669 billion these 10 borrowed is, um, rather larger than the "official bailout figure" of $160 billion represented by the TARP program.

"These are all whopping numbers," according to former Justice Department official Robert Litan, who served on a commission that looked into the savings-and-loan scandal of the 1990s.

"You're talking about the aristocracy of American finance going down the tubes without the federal money." To say nothing of the European banks that make up nearly half of the top 30 borrowers.
That's the conclusion of Bloomberg after analyzing 29,346 pages of documents released by the Fed only because Bloomberg went all the way to the U.S. Supreme Court to obtain them.

An article at the end of July at GEI News covered the result of a GAO (General Accounting Office) audit of the Fed which revealed that during the crisis and follow-on, the Fed has provided $16 trillion of support to financial institutions.  A perusal of the report indicated that the total was a cummulative number of repeated loans which was estimated never exceeded something of the order of $1 trillion at any time.

The Bloomberg report has fixed that number to be $1.2 trillion.