Barry Ritholtz at The Big Picture has an interesting chart (here) prepared by Bianco Research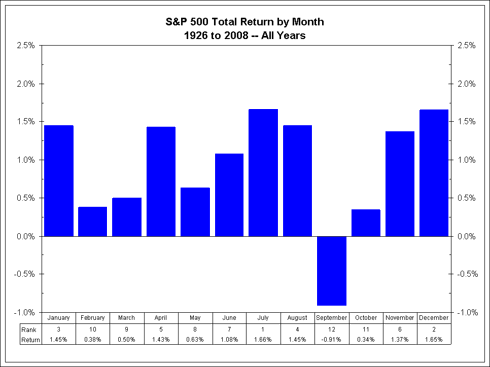 Why do I say this is surprising?  Here are a few specifics:

1.  Sell in May and go away looks like very poor advice.  June, July and August are the best three month period in the year.

2.  November through January is a three month period (split between two years) that has better performance than the best three months within one year.

3.  It is not surprising to me that September and October are the worst two month period, but February and March as the number two poor performing pair is surprising.

4.  The compound return for the twelve month averages is 11.65%.  Multi-year returns like that seem like such ancient history.  It is just a reminder that markets do move in cycles and the part of the cycle we have been in for the past nine years has not been the enjoyable part (at least for buy and hold).

5.  It is not surprising to me that April does so well in the middle of the poor February to May period.  For the past 25 years, this month has benefited from a high influx of retirement funds.

Maybe readers will add some more observations.