Mike Shedlock (Mish) has a revealing series of posts on deflation.  The graphic below shows what happens if CPI uses the Case-Shiller home price index in place of owner-equivalent rent from the NAR (National Association of Realtors).  Source:  here.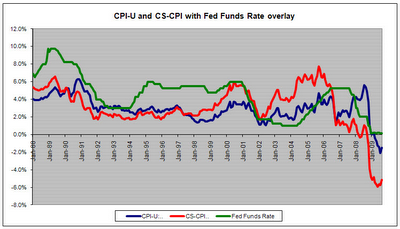 The CPI by this measure was 6 to 8% during the housing bubble and has been below -5% for all of 2009.

Other deflation measures from Mish (with good graphs) can be read here and here.

Perhaps my recent article "Deflation Looms" (here) has understated the risk?