This is getting repetitious.  But I guess it takes a lot of repetition to get through to ostriches.  And that is what all too many are - ostriches with heads so far in the sand that they may suffocate without knowing that they missed the rest of the financial crisis until it is too late to take corrective action.

Paul Krugman, the Princeton professor and Nobel Lareate that many like to hate, repeated his opinion again this weekend in The New York Times (here) that there are still major problems.  Krugman says the failure to address the insolvency of several major banks poses long term dangers to the economy.  He states that economic policy advisors in the Obama administration are becoming disillusioned with the vigorous battle fighting needed reform. The battle is being waged by bailed out banks still dependent on government largess.  Krugman specifically mentions advisor Larry Summers as one who is speaking out.

The problems Krugman mentions are ones that he has pointed out repeatedly before.  My summary of the problems was detailed in an article in August, "Coming Soon:  A Banking Crisis of Historic Proportions" (here).  The problem with bank earnings (or I should say bank losses) being hidden by asset sales and accounting magic was described in "A Tale of Two Banking Worlds" (here) in July.  A graph from the latter article shows the dire position of earnings for CitiGroup (NYSE:C) and Bank of America (NYSE:BAC) when asset sales are stripped from their earnings reports.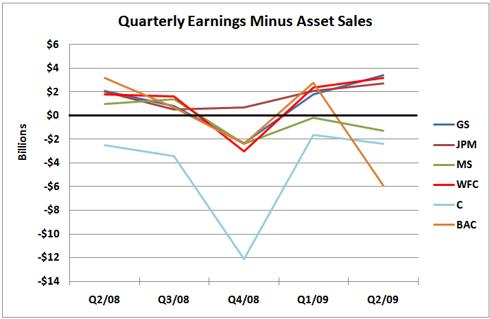 The chart has NOT been updated to include the earnings reports by C and BAC last week.  Citi had very nearly zero earnings and BAC posted a $2.2 billion loss.  That brings the losses for BAC for the six quarters starting 2Q/08 to at least $4 billion after asset sales are removed.  For the same time period, the losses at CitiBank are an astounding $22 billion, net of asset sales.  In addition, the seemingly good 1Q/09 was positive only because of accounting changes that allowed banks to remark assets to higher levels than had been allowed under mark-to-market rules.

Krugman is not blowing smoke here.  The numbers are clear and they have been ignored.