Yesterday I posted (here) an indicator chart (reproduced, second chart below) from Guy Lerner at The Technical Take (here) that showed Rydex money market accounts were at a record low, indicating Rydex traders are fully invested.
In the chart immediately below, Guy shows that most of the Rydex leveraged fund investors are bullish.  This was posted today (here).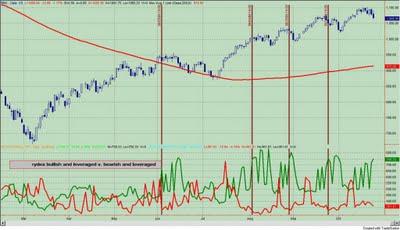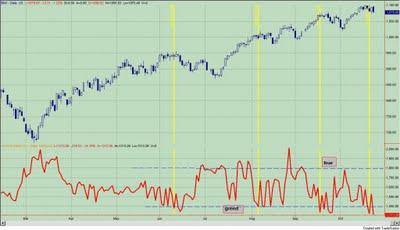 Guy states that these two conditions represent a contrary indicator; when sentiment swings to an extreme it may indicate that a market reversal could occur.

Of course, when following contrary indicators, one should always remember that a trend is a trend until it reverses.  Contrary indicators can remain in place (or be repeated) for quite a while in a strong market.

My positions are hedged with long and short positions.  My most aggressive accounts are net short.