Go (here) to read the article that goes with the following graph: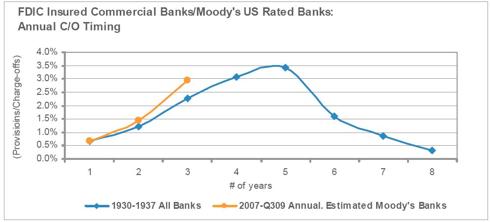 Note:  This is not a complete list of financial system write-offs.  Unlike the Great Depression we have:

*  A shadow banking system (Fannie, Freddie, AIG, GMAC, Lehman, Bear Stearns, etc)

*  Government supported banks which we too big to allow to fail (C, BAC)

The write-down numbers for the above are substantial, maybe even more than those listed.  See here and here.

The financial disaster now far exceeds the Great Depression, even in an inflation adjusted basis.  It should not have similar consequences because sovereign interaction (some say interference) with the economy around the world exists today.  But just because the consequences may not be the same, that does not mean they won't be dire.

Too many ostriches are oblivious to this.