In 2005 Barry Ritholtz published this chart and the commentary following it here.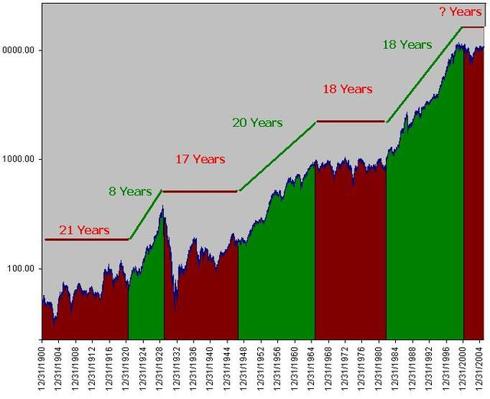 Is it possible that an 18 year Bull market (1982-2000) could be followed by a 2
1/2 year Bear (March 2000 peak to October 2002 low), and then launch into another multi-decade (2003-2018) Bull? Sure, anything is possible. But as the chart above plainly shows, it would be historically unprecedented.
One other thing worth noting:  The steepness of the gains from 1924-1929 are very much parallel to  the 1996-2000 moon shot. Both ended with near 80% drops (Dow for 1929, Nasdaq for 2000).
It took 25 years — until 1954 — for the Dow to regain its 1929 highs. I don't believe it will necessarily take that long for Nasdaq — but I am aware of the outside possibility.

Of course we now know that the Dow went on to a new high in October, 2007.  If we extend the previous 18 year climb by 7 years, we have a 25 year bull and a 2 year bear as of this date.