Hotel occupancy rates are at the lowest levels since the Great Depression according to Calculated Risk. But there is some good news:  There was a 5.9% bounce off record lows the last week in December, according to Stacey Mieyal Higgins writing at HotelNewsNow.com.  Higgins also reports that New Years Eve occupancy was up 8.5% over a year ago.  These upticks were accompanied by a 4.3% drop in the average daily rate.

As always, Calculated Risk has a great graphic:

Click for enlarged image.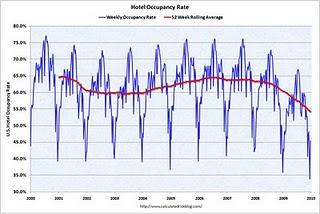 Disclosure: No stocks mentioned.