Here is a really scary graph from an article by Joe Wiesenthal at The Business Insider.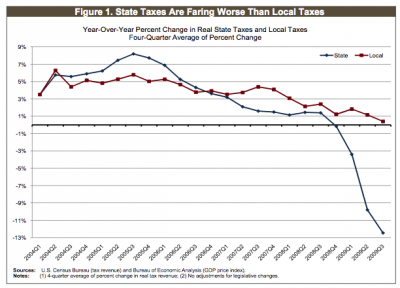 The decline in state tax revenues will necessarily cut state spending because states, unlke the federal government, can not print money when it has a revenue shortfall.  And if states cut spending it weakens the recovery.  We could have one hand giveth (federal stimulus) and the other hantketh away (state spending cuts).

The ten states with the biggest tax revenue shortfalls, in the order reported by Lawrence Delevigne, also writing in The Business Insider, are

1.   California
2.   Arizona
3 .  Rhode Island
4.   Michigan
5.   Oregon
6.   Nevada
7.   Florida 
8.   New Jersey
9.   Illinois
10.  Wisconsin

In records that only go back 45 years, this is the largest state tax revenue decline ever seen.  

Disclosure: No stocks mentioned.