With unprecedented Fed liquidity, how can the title be credible?

Here's how.  David Rosenberg, chief economist at Gluskin-Sheff, provides the following graphic.  The circles have been added by this author to draw attention to the minima in bank lending for prior recessions.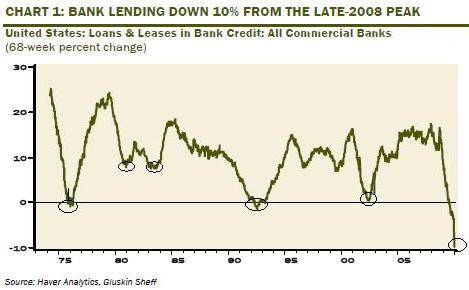 The title is credible when you look at private sector loans and leases, outside of the mortgage market which has been funded exclusively by the Fed and the Treasury for the past year.  Liquidity has also funded the national debt and the ballooning deficits of 2008-2010.  Banks are using the liquidity to use the ZIRP policy to avail themselves of funds at near zero interest which can earn 2-4% in Treasuries.  With 10/1 leverage, that would make the banks 20-40% a year.

So there we have it:  Unprecedented liquidity and unprecedented tight money are both occurring at the same time.

Disclosure: No stocks mentioned.