Calculated Risk
 has an astounding graph showing that Sacramento has distressed sales rising back toward 70% of all existing home sales after falling to the low 60s last fall. 
Click on graph for larger image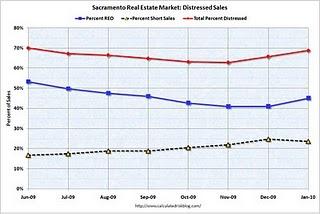 Distressed sales accounted for 69% of all existing home sales in January.
Calculated Risk
says:
On financing, over half the sales were either all cash (26.7%) or FHA loans (28.5%), suggesting most of the activity in distressed former bubble areas like Sacramento is first time home buyers using government-insured FHA loans, and investors paying cash.


The trends for the two categories of distressed sales show REO trending down and short sales trending up.  REO refers to "Real Estate Owned", properties being sold by lenders after foreclosure is completed.
The trend to more short sales will probably continue in 2010.  
Calculated Risk 
says:
This will probably be the year of the "short sale", especially after the
Home Affordable Foreclosure Alternatives
starts (scheduled for April 5th).

Disclosure:
No stocks mentioned.