Rolling Stone
features Matt Taibbi's
latest article
 "Wall Street's Bailout Hustle".  Here is the lead illustration: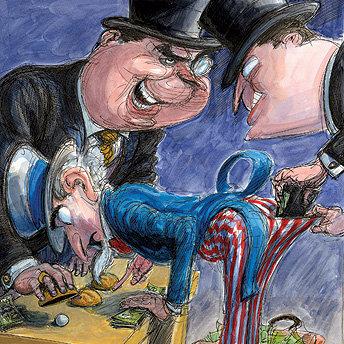 Illustration by Victor Juhasz
Here are a few juicy quotes to warm you up:
1.  A year and a half after they were minutes away from bankruptcy, how are these assholes not only back on their feet again, but hauling in bonuses at the same rate they were during the bubble?
The answer to that question is basically twofold: They raped the taxpayer, and they raped their clients.

2.  The bottom line is that banks like Goldman have learned absolutely nothing from the global economic meltdown. In fact, they're back conniving and playing speculative long shots in force — only this time with the full financial support of the U.S. government. In the process, they're rapidly re-creating the conditions for another crash, with the same actors once again playing the same crazy games of financial chicken with the same toxic assets as before.

3.  ...something very like the old insurance scam known as "Swoop and Squat," in which a target car is trapped between two perpetrator vehicles and wrecked, with the mark in the game being the target's insurance company — in this case, the government.

4.  Con artists have a word for the inability of their victims to accept that they've been scammed. They call it the "True Believer Syndrome." That's sort of where we are, in a state of nagging disbelief about the real problem on Wall Street. It isn't so much that we have inadequate rules or incompetent regulators, although both of these things are certainly true. The real problem is that it doesn't matter what regulations are in place if the people running the economy are rip-off artists.

In addition to the "Swoop and Scoop" scam in 3. above, Taibbi outlines six other classic scams that can be related to the current banking crisis.

Read all of Taiibi's article, which is written with his usual understated style.
Disclosure:
No positions.